Despite indications that the state BJP is courting them for the first time,the 36.5 lakh Muslim voters in Gujarat are in a Catch-22 situation.
While most of them are wary of voting for BJP for ideological reasons,they are equally disenchanted with the Congress which is allegedly insensitive to their community.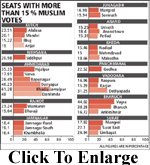 "While Muslims do not like BJP owing to ideological reasons,they find the Congress insensitive to Muslim issues," says Junagadh-based social activist Haji Harun. He cites the instance of Congress-ruled Junagadh Municipal Corporation (JMC),which has seven Muslim corporators.
"Congress came to power in JMC with Muslim support but did not give any important post in the civic body to a Muslim," Harun says.
Interestingly JMC is rumoured to go the Gandhinagar way,whose mayor and two corporators joined the BJP recently.
Vadodara-based social activist Munir Khairuwala cites the instance of the Congress's "silence" when Ahmedabad crime branch picked up the president of its minority women's cell,Noorjehan Diwan,for questioning in connection with in the recent rioting in Karanj. "This develops indifference among the members of the community,many of whom avoid voting".
"Muslims are no doubt feeling uncomfortable with the Congress," says Hamidullah Petiwala from Juhapura,who is an IT professional.
The community,which has remained loyal to the Congress for a long time in Gujarat,now wants its due share. The Gujarat Congress's minority cell is reported to have demanded 14 tickets for Muslims from the areas that have a sizeable population of the minority community.
In 2007 Assembly elections,Congress had given tickets to six Muslim candidates of which five won.
Muslim leaders argue Congress has been giving fewer tickets to Muslims — there were 15 Muslim MLAs in 1985 — since growth of communalism in 1980s reduced the prospects of Muslims winning the seats.
On the other hand,BJP is making some cautious efforts to reach out to Muslims and has even pulled off some surprises like weaning away former state Congress spokesperson Asifa Khan,which was embarrassing for the Congress since Khan was handpicked by none other than Sonia Gandhi's political secretary Ahmed Patel. Another big catch for the BJP is retired IPS officer Abdullah Ibrahim Saiyed.
While speculation is rife that the BJP may give more than five tickets to Muslims this time around,there are also murmurs in the minority community that even those of them who are backing BJP have to face some discrimination. As a worker of BJP's minority cell puts it,"All other office-bearers,except us,have got space to sit and work in BJP's head office in Khanpur."
In another instance,the name of Mahebubali Chishti's aka Mahebub Baba,who as president of BJP's minority cell was instrumental in mobilising Muslims for CM Narendra Modi's Sadbhavana fasts,was missing from BJP's official website until recently. However,Baba is the only Muslim in the list of star campaigners the BJP has sent to the Election Commission.
Baba,who was recently appointed chairman of the state Haj committee,says nearly 200 Muslims owing allegiance to BJP and winning local body elections showed the minority community's tilt toward the saffron party. "There has been no communal rioting under BJP's rule in Gujarat except the Godhra incident," he says.
Rajeeka Kacheria,BJP's IT Cell convener,says Baba's name was missing from the BJP's website because of a technical mistake that has now been corrected.
Ahmedabad-based businessman Zafar Sareshwala believes Muslim leaders from the Congress are mere "rubber stamps and doormats" who are faithful to the party,and not the community. "I would rather want honest and efficient non-Muslims to represent Muslims than dishonest and inefficient Muslims," says Sareshwala,who is known to be close to Modi.
Apart from Congress and BJP,there are other parties like the Samajwadi Party,BSP,JD(U) and the Lok Janshakti Party in the fray,but most Muslims in Gujarat are likely to vote either for BJP or the Congress since the state's politics has traditionally been bipolar.