Written by
Nandini Rathi
| New Delhi |
Updated: February 19, 2018 12:46:06 pm
What women wear can be and has been the subject of intense debate and discussion in the world. Designer Sabyasachi Mukherjee might have now apologised for his remark invoking shame on the women who cannot tie a sari, but that was not before he tied himself up in a knot with his off-the-cuff comment.
But there are as many nuances to this conversation as there are pleats in a sari, because describing something "authentically" Indian — be it food, custom, lifestyle or attire — is a sure fire way of sidelining at least some regions, social classes or ethnicities. Sari — a rectangular piece of unstitched cloth — has been draped in hundreds of styles over hundreds of years in the parts of Indian subcontinent, differently by different communities and social echelons, due to its immense adaptiveness and suitability to the land's climate and aesthetics. A glance into the sari's uneven origins, colonial-era influences and confluent meanings encourages wearers to go beyond its broadstroke projection as a 'timeless' marker of pan-Indian-womanhood and identify the historical forces that shaped the meanings associated with sari as we know it.
Ancestors of the single-piece drape
Both the dhoti and the sari owe their existence to common ancestors. "For a long time, the ancient Indian men and women just wore the antariya (lower garment) and uttariya (upper garment) — both rectangular pieces of cloth which were draped in various styles," says fashion historian Toolika Gupta, adding, "So some parts in the country just kept that but as early as in the BCs while others — those which came in frequent contact with foreigners — started changing".
An oft noted mention of sari comes from a sixteenth century Portuguese traveler to India. "The women wear white garments of very thin cotton or silk bright color, five yards long, one part of which is girt round their below and the other part on their shoulder across their breasts in such a way that one arm and shoulder remains uncovered," the traveler noted.
Historically, the Indian subcontinent was never a wholesome whole, but a multitude of kingdoms and cultures with dressing customs that bore only loose correlations to one another. "There are parts of the country where people were not largely wearing the sari, for example in Rajasthan where there was the lehenga, choli and odhani — not the sari. Sari was largely worn in Bengal and all over south. But even here, in many cases, the upper part and the lower part are different," explains Gupta. This is true of Kerala's Mundu Veshti and Assam's Mekhela chador, for instance.
"It's difficult to ascertain historically the sari's evolution as a single-piece drape, though in many parts of India (Kerala, 6 northeast states, Rajasthan and Gujarat) its possible preceding versions of two or three piece drapes continue to be worn," writes Rta Kapur Chishti, author, "Saris – Tradition & Beyond".
Even the morality associated with sari-blouse is a relatively modern idea, with no fixed association established during ancient and medieval India. For instance, the rules of wearing a breast cloth in Kerala, until the 19th century, were considered a mark of respect to the upper caste. A Sanskrit manual, titled 'The Guide to Religious Status and Duties of Women,' written in present-day Kerala between 400 BC and 600 BC directs married women of a high social status to wear a bodice, women from the middle strata to not wear a bodice, but cover their breasts with the loose end of their sari, and women of lower status to leave their breasts uncovered. The practice was, in fact, being observed and enforced in Travancore until the arrival of the Christian missionaries in the 19th century, who brought with them what could be a combination of the concept of shame and the freedom to cover for all.
Sari in the colonial era
Indian tastes in clothing underwent a massive change with the arrival of an alien people — the British — in the eighteenth century, marking  the entry of cultural values and fashions of Victorian England. It is in the colonial period that the sari got fused with European articles like the blouse and the petticoat —  now naturalised in Indian vocabulary to the extent that they barely sound foreign. The cut of the modern blouse bore a strong resemblance to the torso of the gown and the petticoats gave the sari a graceful fall and a formal appearance.
Saris in colonial-era Bengal used to be made of a single cloth of fine, semi-transparent muslin that was draped around the body with no garments underneath — an outfit well-suited to Bengal's hot climate. While leaving the house, the women would ordinarily drape a shawl, which was sufficient in Bengal's then relatively gender-segregated society. From the perspective of the colonisers, who saw 'exposure' or physicality as a marker of savagery — the sari worn like that by Bengali women, left them "practically unclad". There are stories of Indian women not being permitted entry in clubs frequented by the British on account of their 'indecent' clothing. "For the British, Bengal was 'all of India' because that is where they came from," Gupta explains. 
Prior to the societal reforms in Bengal, where a serious need was felt for recasting women's living conditions,  Bengali women of the middle and upper classes were generally confined to the private sphere and did not appear in public. Then emerged the distinct Bhadramahila, or middle-class gentlewoman, who was to gain an education and even participate in the public sphere. Until this point, explains sociologist Vinay Bahl, only the prostitutes and women of labouring class were seen in public, and the Bhadramahila had to be physically distinguished from these. Her attire — her sari — also had to be "civilised' and made 'suitable' for coming in contact with unfamiliar men.
Sari and the nation: A pre-eminent hallmark of Indian women
"The problem of what to wear in 19th century [India] can best be defined as the problem of how much foreignness to allow into one's clothes," writes cultural anthropologist Emma Tarlo, author, 'Clothing Matters: Dress and Identity in India'. Dressing the Indian woman appropriately became a colonial and a nationalist project in this period. Sociologist Himani Bannerji points out that while a minuscule among the upper classes started wearing gowns and saris were experimented with — saris won in the end. The ideal Indian woman absorbed the Western (Victorian) morality, without embracing Western fashion.
The urban wearing style is a post-1870s phenomenon, said to be popularised by Gyananda Nandini Debi, the wife of Satyendranath Tagore — brother of Rabindranath Tagore — who introduced with it the use of Victorian-style blouses, jackets, chemises and petticoats among circles of middle-class Bengali women. She is said to have arrived from Bombay "dressed in a civil and elegant attire" in imitation of Parsi women which was hailed as an "integral combination of indigenousness, decorum and modesty". Her style was quickly adopted by the Brahmo Samaj women — which came to be known as Brahmika sari — and also gradually gained acceptance among Maharashtra and Uttar Pradesh Brahmos as well as non-Brahmos.
"A basic theory in fashion is that if you have more money, you can experiment more with clothing. Then there are the "wannabes" — who desire to be like the elite but don't have all the experimental fun," says Gupta, adding that whether the Tagores of Bengal or the Parsis of Bombay, these were wealthy, elite classes who frequently interacted with the British. From them, the trend of wearing a particular kind of sari — with blouse and petticoat — spread downward.
The symbol of sari became further charged around 1905 under the ideological stipulations of the Swadeshi movement, which spurned European cloth and the imitation of their fashion. In this period, it got elevated from the diffuseness and regional variety of its historical origins to a distinct and precise sartorial national emblem. The identity of the Bhadramahila began to get equated with the perception of 'Indian woman,' laced with the sanskriti-sabhyata flavours — the 'moral force' deemed missing in the West  — which continued into the post-colonial era.
Making meaning with the sari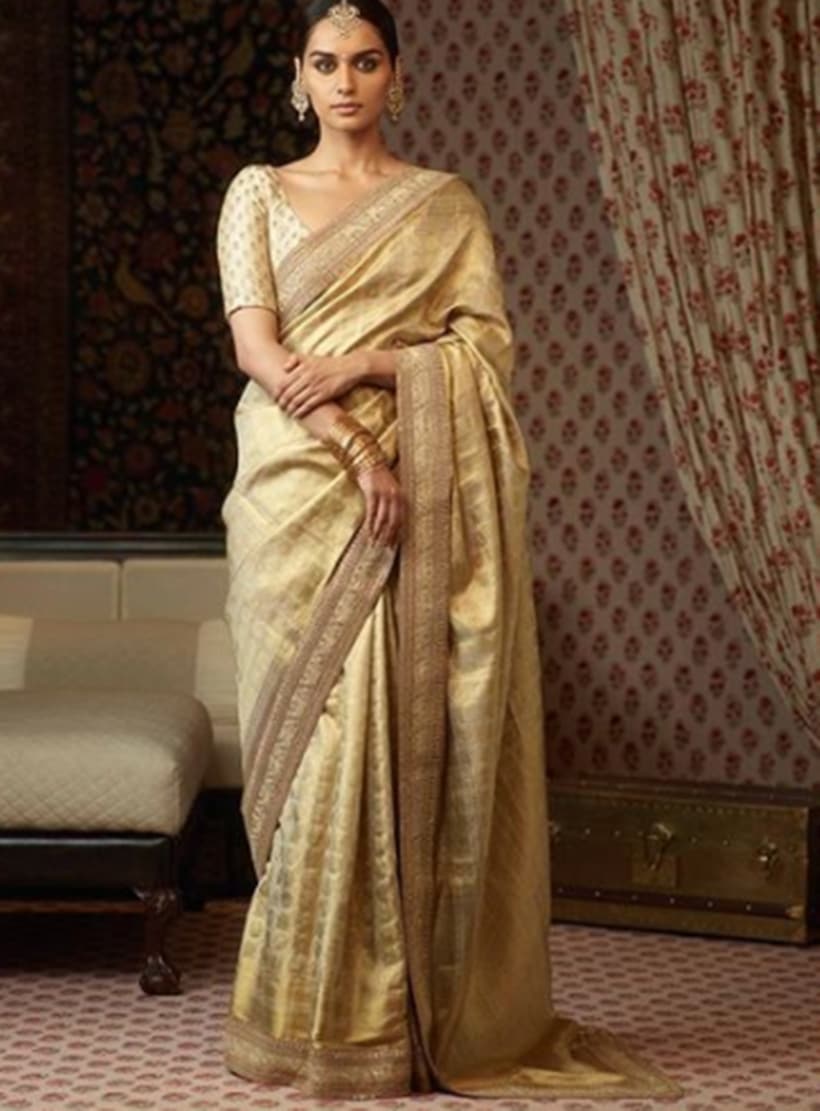 Like all forms of dress, Sari and the way it is worn has been replete with different meanings through the course of history. In swathes of the newly independent nation, women wore Indian saris but with 'foreign' blouses and petticoats. In this line of thought, the dress was projected as the bulwark of 'tradition' and 'Indianness' against the corrupting, alien and Western influences. In the last three decades, it gradually got redubbed as 'conservative' vis-a-vis the 'progressiveness' and 'modernity' associated with donning the salwar-kameez and denim jeans. Newer still, is the way it has been revived and redefined by modern designers as a garment that is 'cultured' yet 'highly fashionable,' 'chic,' 'sensual,' 'gone global' and, hence, in sync with modern aspirations.
The storied journey of the sari is a long and continuous one and few experts doubt that it's here to stay. "The sari is so deep rooted in our culture that it can never become obsolete but I think with changing times it is also changing," says designer Masaba Gupta, adding that, "We're going through an interesting phase in terms of fashion where tradition is getting contemporised, for example, saris can be worn with pants and different types of blouses such as a corset blouse. The beauty of this phase is that the sari is becoming more accessible to the younger generation".
Changes in clothing throughout history have always been an adaptation to new styles. Instead of simply discarding earlier styles under new circumstances, people try to make sense of their new social, cultural and economic needs and then adapt to those needs as and when they find it necessary or useful to their daily existence. This is apparent even as one looks at the way urban, middle-class Indian women's dressing preferences have evolved away from sari-only to include a number of other Indian and Western outfits in the last few decades. Simultaneously, the meanings of sari have also expanded to allow women to rationalise the competing spheres of tradition and modernity at once.
The Indian Express website has been rated GREEN for its credibility and trustworthiness by Newsguard, a global service that rates news sources for their journalistic standards.