Inner beauty is so passé, especially in the Indian organised matrimony market, as a full-page advertisement in a newspaper reminded us on the morning of July 25. "The Grand National Young Achievers Matrimony Meet" which had placed an advertisement in a mainline newspaper in Bengaluru listed a range of qualifications to make it as a candidate for what seems to be a swayamvar of sorts. The meet, which is to take place on August 12, mentions the qualifications of "young achievers" in detail. If you are a successful entrepreneur, eminent professional, or have graduated from esteemed universities — you make the cut. Importantly, if you are a beautiful girl, you qualify too.
There, of course, is no mention of whether you need to be a handsome man. But gender discrimination is the least of the problems of this advertisement and what its organisers consider normal parlance – including disqualifying people who are not "ultra-rich".
The advertisement has understandably led to an outpour of criticism against the meet and organisers, Mr and Mrs Sreeram. Which might explain Mr Sreeram's diffidence when we tried to understand the workings of his mind. Sounding exasperated, he admitted that including "beautiful girls" as a criteria was a mistake even before being asked about it. "Putting 'beautiful girls' in the list was a mistake. We did not mean that ugly girls cannot get married at the meet," Sreeram told indianexpress.com over the phone. "Girls call up and say they are beautiful and want to get married. What are we supposed to do?" he asked, revealing that the list of prerequisites drawn up by him and his wife are catering to the needs of his clientele.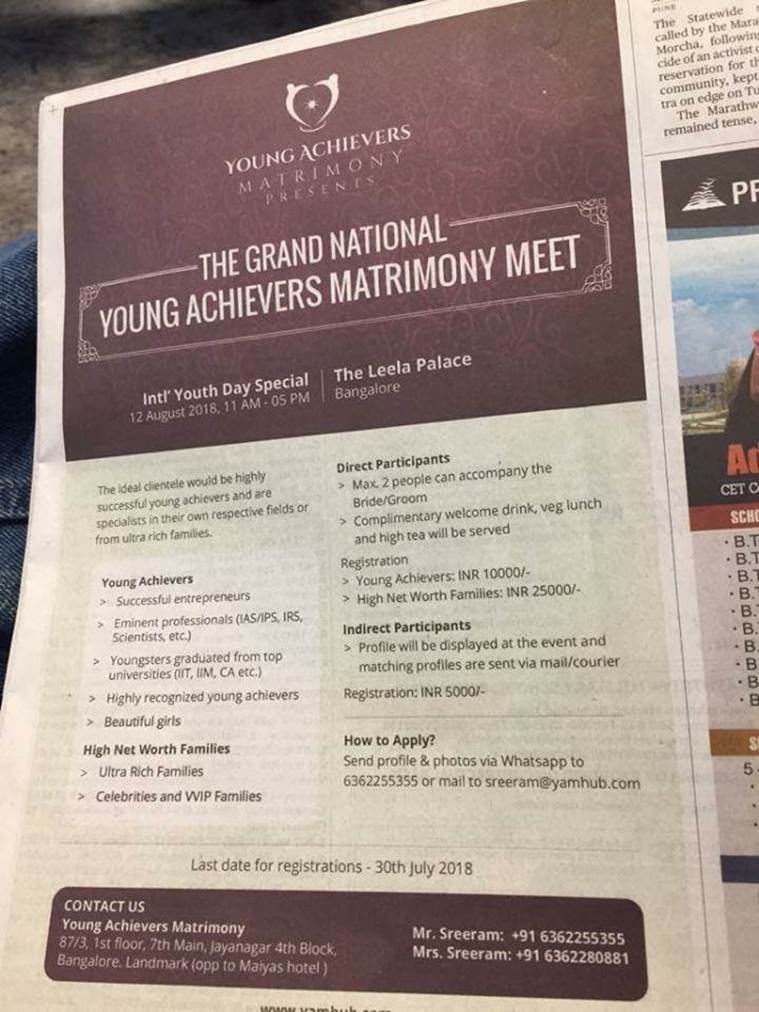 To be fair, a look at the matrimonial ad sections of newspapers will display a world of prejudice and discrimination cutting across caste, complexion and gender. The Sreerams are essentially providing a supply to the demand for beautiful brides and rich grooms for brides.
The Sreerams aren't novices in this game. "We had arranged for a doctor's matrimony meet 20 days back and it was a huge success," Mr Sreeram says. "We are trying to make marriages happen. We are not encouraging dating and yet we are being criticised." A worthy point, because why should one encourage dating and free choice, when one can encourage discrimination through traditional practices? Mr Sreeram added that in the meet, the "young (and beautiful) achievers" are supposed to come with their parents and meet and interact. "We assumed that the word 'beautiful' was an okay word… If they like anybody then they can take things forward after that". Full points for egalitarianism.
According to a report in The News Minute, Mr Sreeram is intending to publish an apology for his error in The Hindu. And as of now, the controversial advertisement has been cancelled. But the world of "beautiful girls" can still turn to traditional marriage brokers and matrimonial for their dosage of traditional discrimination in the marriage market. All this while, the Sreerams wonder why critics are discriminating against the right of "beautiful girls" to find "ultra-rich young achiever" grooms.