Updated: December 30, 2016 5:43:27 pm
Every weekend, the Sunday EYE special from the Indian Express brings you the best weekend reads. 2016 has been a witness to many controversies and revelations, and we had a glimpse of all such stories. Beyond the usual take, what one sees on the surface, we  tried to look for things stuck within, showing the side that is often missed. Be it a closer look in the world of Shah Rukh Khan's cinematic journey affecting the middle class or the life of Kishori Amonkar, restricted to the outside world, or voicing the suppressed or tabooed notions–like what it means for a woman to move out of her parents home in modern India. From contemporary issues of dissent and islamophobia to what we don't talk when talking about exile, the year has been an exhaustive one, when it came to matters of serious concern. The EYE tried to portray every essence–be it about past glory or celebrating the new ideas.
Dear readers, EYE is not just sheets of printed stories, it's a journey that each of you takes with us, our authors and their muses week after week. Although we know you have been following us closely, we bring to you some of our best stories from 2016, just in case you missed them, or would just like to revisit them.
Till the trees grow in Dehradun
In the room, this morning, the January sun is a generous presence. It streams in through the windows, and holds the few possessions in a warm embrace: a bed in the corner, a large table stacked with books, a chair, a few cupboards and a sturdy potted vine that has trailed all across the wall. It is a small space, more a narrow long corridor, but for its 81-year-old inhabitant, this little room is an everywhere. For 30-odd years now, Ruskin Bond has gazed upon the world — the unchanging hills, the shape-shifting sky, the bird on the windowsill and the eagle soaring high — from this windswept room in Ivy Cottage, Landour, and invited them into his books.
In the beginning, too, was a room on the roof — a barsaati in the Old Station canteen in the Dehradun of 1950s, where he lived with his mother and stepfather. It had a window looking on to a bottlebrush tree and a litchi orchard, and he could see as far as the foothills of the Himalayas. He had just finished school at Bishop Cotton, Shimla, and he wanted to be a writer. "'Don't be silly, go join the army,' my mother said…I didn't know anyone in school or anyone of my age who wanted to be a writer. They all probably thought I was a nutcase," he says. A few months later, the 17-year-old young man was in Jersey, Channel Islands, England in pursuit of his ambition. Click here to read more
An Atlas of Impossible Longing
Not everyone is in love and nor does everyone have the courage for love. In our country, most people simply fantasise about being in love. I don't know about other countries but in India, to love is to battle with innumerable social and religious barriers. Love is a forbidden subject within the four walls of our homes. How many parents ask their children: is there someone special in your life ? Do you like or love someone? Very few. With such limited social support, to love someone is not just to say, "I love you".
We learn to imagine love through cinema. Movies sculpt and shape our passion and madness. Several generations of filmmakers, songwriters and musicians have expended their creativity in teaching us how to love. How to gaze at someone for the first time, or how to "accidentally" brush into them; these are arts taught by films. In this process, films have turned us sometimes into lafangas, sometimes into good lovers. Click here to read more
'My name is Umar Khalid and I am a Delhi University student…'
Six years ago, Umar Khalid was a student of history at Kirori Mal College in Delhi University. I was a final-year mass communication student at Indraprastha College for Women, also in DU. For my thesis, which was in documentary format, I was scouting for "case studies".
We were a team of three trying to build a visual story around Islamophobia, a term, as we frantically explained to our professors, had just made its way to the Oxford English Dictionary's revised edition. This was soon after Azamgarh in UP had been labelled "Atankgarh" and the Batla House encounter in 2008. We spoke to Muslim students who had a tough time getting a house on rent, a family on the streets living near Bangla Sahib gurudwara who said they were forced to keep their Muslim identity a secret, a student from a madrasa who had made it to JNU. We travelled to Azamgarh and interviewed families of students facing terror charges. In all sincerity, we sought to cover as wide a socio-economic and educational bandwidth as possible. As we watched the film recently, in the noisy canteen of our college, it was evident to us that we had fallen prey to all imaginable "reverse stereotypes". It was the reason Umar, who is today one among six JNU students accused of sedition, was in the film: he fit the bill of the English-speaking "normal" DU student we were looking for. Click here to read more
Babes in the Woods: Was Mowgli real?
Mowgli, the "man-cub" of the Seonee wolf pack in Rudyard Kipling's fabled works — The Jungle Book (1894) and The Second Jungle Book (1895) — is, perhaps, among the most iconic fictional characters ever created. Mowgli evokes a sense of wonder and curiosity among readers, as well as those who have only known him through the 1967 Disney film or the recent stunning Jon Favreau version, or, closer home, through Doordarshan's The Jungle Book (the Hindi dubbed version of the internationally acclaimed Japanese anime series). Was he real? Did a boy like him really exist in some remote Indian forest, living with the wolves, gambolling with a bear, watched over by a black panther, frolicking with sundry denizens of the forest and hounded by the king of the jungle, the tiger? Could Kipling's story have been a fictionalised account of some real-life incident?
Kipling, who never visited Seoni (or Sivni as the locals call it), or any other central Indian forest that he would go on to immortalise, wrote the book while living in USA. He is said to have derived inspiration for the book's setting and animal characters primarily from the works of Robert Armitage Sterndale, a pioneer naturalist, sportsman, artist, writer and among the earliest editors of the Journal of Bombay Natural History Society (JBNHS), especially from his little-known book, Seonee, or Camp Life on the Satpura Range (1887). Click here to read more
A Time to Love and a Time to Die
Many people came to meet Kausalya, a 19-year-old grieving the murder of her husband, at the Coimbatore General Hospital. Not all came in sympathy, even if this was a frail young woman who had watched her husband being hacked to death by sickle-slashing killers outside a shopping complex in Udumalpet in March. While in the ICU being treated for head injuries — the assailants had not spared her — a doctor attending her blamed her for everything. Why did she, a daughter from a Thevar family, have to go and marry a Dalit?
But there was one visitor who came in solidarity. M Abhirami had travelled to Coimbatore from Soorakottai in Thanjavur district. Six years ago, this 26-year-old woman belonging to the Kollar caste, had fallen in love with P Marimuthu, a bus cleaner and a Dalit, whom she met daily on her way to the Teachers' Training College in the nearby town. They eloped and made a life in Chennai, away from social constraints. Two years later, in 2012, Marimuthu was dead, his body afloat in the Vadasseri river. Abhirami, the mother of a two-year-old girl, battled on for justice — the courts convicted her elder brother and father for the murder of her husband in October last year. Click here to read more
The Monsoon Murders: The real man behind Raman Raghav 2.0
Till the afternoon of August 27, 1968, when he was found walking with a wet umbrella in an otherwise dry stretch in Bhendi Bazaar, the Bombay police were still hunting for a motive. In the run-up to the arrest, men, women, children were being killed across the northern suburbs, their heads battered, their jaws broken, all the leads pointing to one assailant on the move.
The man with the umbrella, later identified as the serial killer, Raman Raghav, is back this monsoon — fortunately only on a movie screen, with the release of Anurag Kashyap's film Raman Raghav 2.0.
Unknown to sub-inspector Alex Fialho, the police officer who arrested him, the city had just found its first big-ticket serial killer, one who ticked all the boxes: a dual personality, a mind that craved crime and sex, who was driven by his "inner voice". That voice gave only one command: go kill. Click here to read more
Tracking SRK's film journey is to map the growth of the Indian middle class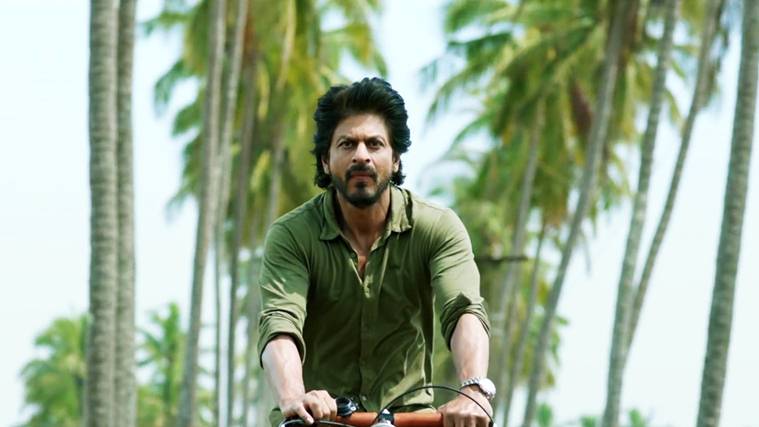 I once had a dream about Shah Rukh Khan, when I — and I guess he — was in my 20s. I dreamt I had gone to meet a friend, an assistant director on a film starring Shah Rukh. She was busy, so he kept me company. It was like talking to your college crush — excited inside, effortlessly chatting outside. As I was leaving, he said, "Wait, what's your number? I'll give you a missed call so you'll have mine." Our eyes met and I woke up. In those days, I could not afford a cell phone. Whenever it came, though, it would have Shah Rukh's number in it. What better reason to buy one?
This is a quintessential SRK dream. SRK is the bright star who has illuminated the skies over 25 years of liberalisation. Mixing the everyday and the romantic, he has created an appetite for opportunity and a readiness for consumer goods — in this dream, for instance, a cell phone, as symbolic of Indian liberalisation as SRK. Through his on-screen and off-screen persona, SRK has helped middle-class India navigate liberalisation — its possibilities, its cultural and emotional puzzles, its anxieties and desires. Click here to read more
Workin' Man Blues: The rare side of artistic life in NCR's industrial areas 
When the whir of engines and the clang of metal against obstinate metal die down, when the neon lights go down in hundreds of sooty factory buildings in Haiderpur, Ashish Kumar opens his notebook. A lanky, dark-skinned, 16-year-old factory worker, Ashish sits down to write at night, "mood banake, aaste aaste".
In the cramped tenements housing thousands of workers in northwest Delhi's factories, there is little time or energy or the "heart" to think about life beyond.
But Ashish, who lives in one such tenement cluster in the urban village of Haiderpur with his parents, has not reconciled himself to the mind-numbing tedium of work on the assembly line. He pursues his education through a distance-learning programme offered by the CBSE for students of Class IX and X, plays cricket for a team in the HPL (Haiderpur Premier League), a hyper-local version of 20-20 cricket, and writes at night. Click here to read more
Sri Lanka: Still Counting the Wounds
In his half-built three-room house at Uruthirapuram, 10 km to the west of Kilinochchi, in northern Sri Lanka, one of the headquarters of the Tamil Tigers, Vijitharan Maryathevathas, 29, is busy telling stories of the country's civil war. A graduate in fine arts from Jaffna University, he was among the thousands of people who sought refuge in Mullaitivu, during the Sri Lankan army's surge. He saw death and destruction at close quarters, when the war climaxed and thousands of civilians died. Those are the stories he narrates through his drawings, sculptures and installations. There is no rancour in his tellings, only the urge to testify about the experiences of his people. It is, perhaps, his battle against forgetting, his politics to keep alive the memory of a people who were betrayed by multiple actors.
So he begins. There was a huge water tank that stood tall near Kilinochchi along A-9, the highway that connects Anuradhapura in central Sri Lanka with Jaffna. When the LTTE retreated, it blasted the tank. The fallen tank was then turned into a war memorial by the state after the war ended. On 15 A4 sheets, Vijitharan has drawn stories of war with the watertank as a metaphor for the fallen Tamil people. There are tiny images of humans stacked inside the tanks, there is the ubiquitous palmyrah, the kalpa vriksha of the dry Vanni region, growing inside. Click here to read more
Fourteen years forever: The world's earliest known Ramleela
When he is not studying the Vedas, Ram can beat bigger boys at kabaddi. But he can do nothing about his own brother. Other children complain that Lakshman chases them with the bow and arrow and gets into fights. Ram feels helpless. "The other day, Lakshman's crown almost fell off when he bowed his head for aarti," says Sita. "You do know that if our crowns touch the ground, the gods will be angry," says Ram, thoughtfully.
They are sitting in an old hall lined with pillars and arches. Lakshman is peering at a pond through a tangle of bushes and creepers. Five crumbling temples surround them and the ground is overgrown with the remaining trees of a bygone forest. It is cool and humid in the shade. Despite the dish antennae peeping out of neighbourhood houses, this space could be what it is impersonating — the forest of Chitrakoot, where, the Ramayana tells us, Ram lived in exile with Lakshman and Sita. The Chitrakoot ground in Varanasi, far from the Ganga and the ghats where the believers seek salvation, is also where the earliest known Ramleela is believed to have started 475 years ago. Click here to read more
Dear Peromboke Man: Letters from Mahasweta Devi to 'Anand' P Sachidanandan
They met the first time in 1996 as members of an Indian writers' delegation to Dhaka. She was already the iconic activist-writer, whose fame had crossed the boundaries of the language she wrote in. He, though considered the most important writer of his generation and feted as such in his state, was little known outside his language. But Mahasweta Devi took an instant liking to Anand, the nom de plume of P Sachidanandan, arguably the most important novelist and essayist in Malayalam since OV Vijayan.
There could not have been two different personalities — if Mahasweta Devi was the exuberant one, always making herself heard and leading the way, Anand, 10 years younger, is the quiet, reticent writer, unwilling to be in the spotlight and preferring the written word to embody his presence. However, the question of justice was at the core of everything they both wrote. Click here to click more
Students vs teachers: the rage in the classroom
Andar, andar (inside, inside)," says Sompal Singh Shastri, his eyes darting as he hurries inside the gates of the Government Senior Secondary School in B2 block of Yamuna Vihar, northeast Delhi. Ever since he survived a near-fatal attack outside the school in February, Shastri, 57, who teaches Sanskrit to the senior classes, says he doesn't step out of the gates unless he absolutely has to. "If I can be attacked once, I can be attacked again. Nangloi ke baare me suna hi hoga (I am sure you know of what happened in Nangloi)," he says, easing a bit as the school gates close behind him.
The case of September 26 — when the teacher of a government school in Nangloi, west Delhi, was allegedly killed by his students — offers a glimpse into the complex, and increasingly fraught, relationship that teachers and students share in Delhi's government schools, the laboratory of the Aam Aadmi Party government's experiments aimed at transforming the face of public education. Click here to read more
The loneliness of Kishori Amonkar
Kishori Amonkar doesn't like interviews. Apart from considering them a waste of time "because they take away important minutes from her daily riyaz and teaching", she doesn't like to talk about her music with strangers. So, when one of the greatest classical vocalists of our times left us stranded outside her hotel suite in Delhi almost two months ago, refusing an interview that was already fixed, it wasn't a surprise. "I am tired now. Tell her to come home if she wants to talk," she said from behind the door, as her student Nandini Bedekar looked at us apologetically.
Home for Amonkar is a small apartment in Mumbai's Prabhadevi. To her surprise, we are at her door a few months later. She wasn't expecting us to make the journey. "I appreciate that you are here. But I need to know how much you know about music before I answer your questions," says Amonkar. She sits on an intricately carved wooden swing. She sways in rhythm, slowly. The only overpowering image in the living room is hers. A black-and-white photograph from almost a decade ago, it covers an entire wall. It is an image of her bent over her swarmandal and in a trance; the lines on her forehead prominent as she concentrates on her notes. Now at the age of 85, there is a filigree of lines around her eyes and some on the face, marks of age and wisdom. Click here to read more
A prisoner's letter to a lover begins: "These words may never reach you"
In the country without a post office, "the houses were swept about like leaves for burning" where "soldiers light it, hone the flames, burn our world to sudden papier-mâché". In that country, a prisoner's letter to a lover begins: "These words may never reach you".
The country without a post office is Kashmir.
Agha Shahid Ali's collection of poems, The Country Without a Post Office, published in 1997, entered the Indian Parliament a week ago, when BJP ministers mistook the country in Shahid's poem for India, and saw "the absence of a post office" as a slight to India's development and a hurtful indictment against Prime Minister Narendra Modi. Click here to read more
Ours But to Tweet and Die
I have a big window in my house, and, in the last two weeks, I've stared out of it a lot. I am waiting to see a mushroom cloud, some deadly rays, a bright streak of toxic fire and a chance to serve my country. I had happily, willingly, in full hosh-o-hawaas voted in a Twitter poll run by a very senior, intelligent, warm-faced Indian IAS officer that I am more than happy to die in a nuclear counter-attack by Pakistan. The poll was depressingly tilting towards the option that said Indians are not willing to die in return for a complete nuclear annihilation of Pakistan. But, thankfully, post midnight, once the youth of this overwhelmingly young country got done with watching their nightly quota of adult videos on Redtub, and came back to Twitter, the "happy-to-die" option started getting traction. India had spoken.
But it's a tough fortnight for lovers of the nation like me. I have dutifully forwarded every angry WhatsApp message back to every relative from whom I got it in the first place. I even called an uncle, my first phone call to him in the last eight years, to say aloud the lovely chant — "Doodh maangoge toh kheer denge, Kashmir maango ge toh cheer denge" — as soon as he picked up the phone. He told me about his honeymoon in Kashmir in 1974, and, I told him, had Patel been alive today, even my honeymoon would have been in Kashmir. He told me Nehru was an alcoholic, a womaniser werewolf and I told him how Lord Macaulay planned to enslave all Indians by teaching us English. Click here to read more
Grief is a thing with feathers
Diggi Palace in Jaipur is no place for birds. A view from the sky will only yield disappointment — colourful shamianas and a sea of humanity — there is not a perch in sight. The only birds who continue to brave the Zee Jaipur Literature Festival are shameless pigeons who relieve themselves on unsuspecting audiences with impunity from a dizzy height. In the midst of the madness, Helen Macdonald, 46, sits in the quieter corner of the press terrace, pulling on her cigarette and eager to talk about hawks.
In the early 1990s, soon after finishing her English degree at Cambridge University, Macdonald found herself in the UAE, flying falcons for sheikhs. "I had heard about a job with an environmental organisation which was trying to promote sustainable falconry. We were captive breeding falcons to lessen the taking of wild birds, which was illegal, but was happening a lot," says Macdonald. It was a little after the First Gulf War, and Macdonald's presence in the region amused Bedouin falconers, practitioners of an ancient sporting tradition in the Gulf states. "One of them told me that god chooses who will be a falconer when they are born, that he points out 'that one, that one, and that one'. This falconer thought it was quite funny that god had pointed at a Surrey schoolgirl and said 'that one' too," she says. Click here to read more
For all the latest Lifestyle News, download Indian Express App