Written by
Shiny Varghese
| New Delhi |
Updated: June 28, 2015 1:00:47 am
Be it 300sq ft or 10, space isn't a constraint to make your home green. All you need is love. Yes, beetles too. And good soil, light and controlled water works. In Bangalore, Delhi and Pune, home-owners, architects and green evangelists share ideas on turning rooftops and balcony gardens into islands of green.
Black Gold in Your Dustbin
Where there's a home, there's bound to be waste. In every urban home, it can be divided into four categories: organic, such as kitchen and garden waste; recyclable or dry, such as plastic, paper, metal and glass; electronic and sanitary waste and unrecyclable ones such as old commodes or crockery. Organic waste can be used to make compost, which is excellent manure for your plants since it's a combination of multiple nutrients.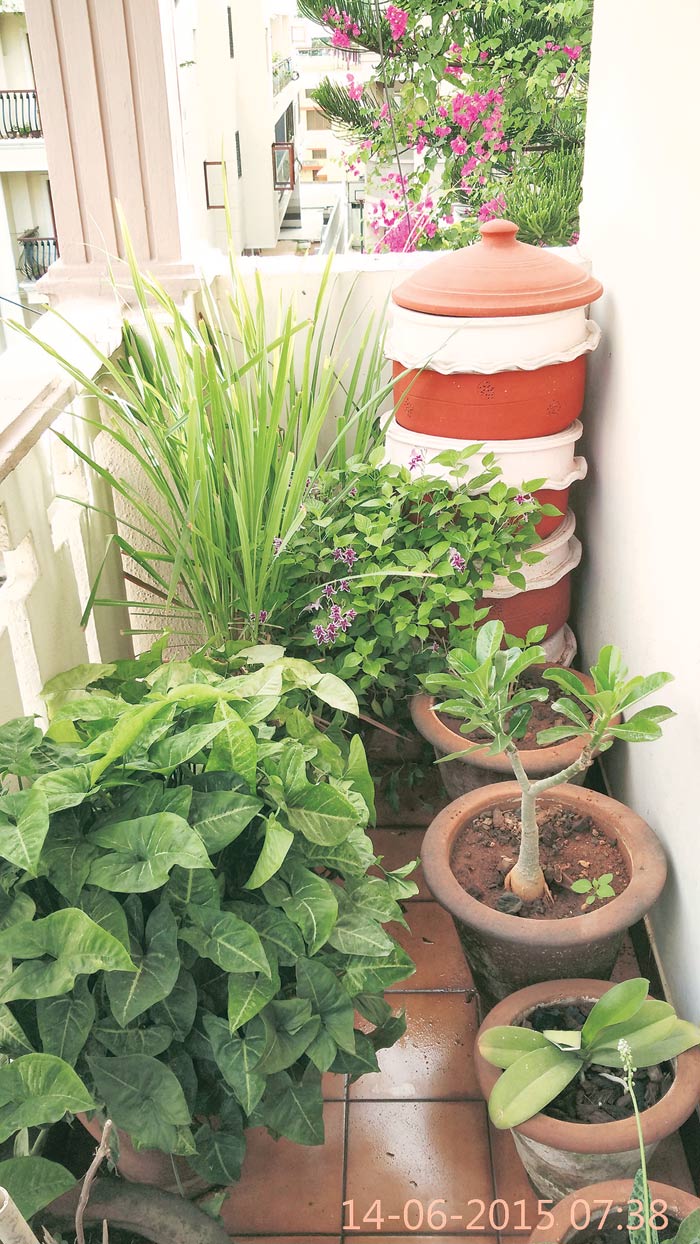 Daily Dump, a Bangalore-based organisation that promotes composting, makes terracotta-perforated containers called khambas which come with a remix powder to reduce bad odour. Poonam Kasturi, founder, says composting can be done in a pit in your garden if you have space and earthworms. "Waste such as fruit and vegetable peels, cooked food, flowers, coffee decoction, tea leaves, tea bags, tamarind pulp and egg shells make for a good compost pile. But it begins with finding a right spot, segregating well, using the product daily and involving family. You can add some microbes and other natural substances to speed it up. The ready compost is black and smells like fresh earth. But make sure that excess water does not get in, which can lead to a smelly rancid mess. So cover properly. In about 45-60 days, you should have your compost ready," she says.
– Pooja Khati
Hanging Gardens
Owners Manjiri Mahajan and Sameer Duraphe of SAMA Landscape Architects have their office on the fifth floor in Baner, Pune, a growing development hub of residential and corporate buildings, with little green cover. Their 300 sq ft balcony space was almost doubled by installing an 8-ft green pergola (an arched structure covered with climbing or trailing plants.) "We wanted to create a room with vines hanging down and with grass under our feet," says Mahajan. The 14-ft high balcony is visually divided by the pergola. A pinewood deck below the pergola becomes a dining area or a work station when required.


Modular trays on the balcony floor can be removed or rearranged according to need. These hold grass, gravel and stepping stones, which layer the landscaped patch. The architects ensured that the drain points were channelised and waterproofing done. Planting in these trays is done on hydrophilic foam, a soil substitute, which is water insoluble and lighter than soil. Drip line irrigation is used in this garden island, which softens the edges in this arid neighbourhood.
Primary Colours
My Sunny Balcony (MSB) is a team of young enthusiasts in Bangalore, who customise home gardens in the city. In a rather uninspired backyard, MSB arrived to transform the garden. They began with painting the wall blue. When they left, this house was transformed into a Zen space with bamboo trellises and a water body. With limited space on the ground, they hung terracotta pots on the wall, allowing perennials to blossom. They planted ferns, monsteras and caladiums, all hardy plants, creating an easy-maintenance garden with minimal landscaping interventions.
Balcony View
"Don't go for the exotic," warns Komal Malhotra. This Gulmohar Park resident has been winning the best balcony award for numerous years in Delhi and she surely knows her onions. Start with easy plants such as ladies finger, brinjal, tomato and palm. Her P-shaped balcony hosts flowers, fruits, herbs and vegetables, grouped and gathered for effective cross-pollination. A maker of terrariums (mini-indoor gardens in glass containers) and tray gardens, she has created micro-ecosystems which bring in birds, bees and butterflies. While she grows her salad greens in hanging baskets in the winters, in the summers, she shields her herbs behind chiks. A tray garden doubles up as a bird bath for thirsty avians. Her favourite is the paan creeper, "which I eat daily" she says. Can't fault her. Not only has it survived winter and summer, but its sharp taste hits the right notes.
On Top of Things
Kapil Mandawewala started Sajeev Fresh in 2010 to grow healthy nutritious food in cities. Currently managing his business in Delhi, he's been busy creating rooftop gardens. He has some pointers for the amateur gardener:


Soil: Invest in good potting soil. Over time, in confined pots and containers, soil loses its softness. To make it fluffy, you will need to add vermiculite (mountain mineral), coco peat, or vermicompost.
Watering: Twice daily during summers and once during winters.
Mulching: Littered leaves are the best resource for the soil. It not only retains moisture but also provides nutrients for the plants. Ensure that leaves cover the soil fully. This can be done all through the year.
Seeds and planting: It's best to opt for open pollinated seeds rather than a hybrid variety. Rotate your crop and don't repeat them to break the pest cycle, if any. If you have grown legumes this season in a planter, next season grow brinjal or tomato. Opt for companion plants. They help replenish the soil and help each other grow. Some examples are tomato and basil; corn, bean and squash; okra and black-eyed beans (lobia) and okra and chaulia.
Pest control and fertilisers: Since vegetables are usually grown in pots, plants would need both liquid and solid fertilisers. Kitchen compost is not only the best option, but also helps close the circle. Neem and cow dung are excellent crop protectors. And as you do in life, pull out the weeds while they are still tiny and manageable to avoid complications later.
Sunken Pleasures
Architects Cyrus Patell and Eliza Higgins of Collective Project transformed a 750 sq ft unused extension of a house into a densely planted garden.


On Sadashivnagar Road, Bangalore, the space is a secluded retreat with a tiny library that doubles as a performance area for family get-togethers. The architects excavated the ground to make a sunken path using local black granite. A semi-enclosed pod made from strips of locally reclaimed wood is the nucleus of this landscaped garden. Depending on the occasion, it becomes a reading area, a lounge and a covered stage.
The story appeared in print with the headline It's Easy Being Green
The Indian Express website has been rated GREEN for its credibility and trustworthiness by Newsguard, a global service that rates news sources for their journalistic standards.