In 2013, Pooja Roy Yadav started Nimai as a unique concept store — a one-stop shop for contemporary jewellery. There were five designers on board and the shop was a small space on rent in Delhi's Shahpur Jat. Launched last week, Roy's labour of love displays works by more than 90 designers, and the studio has morphed into a mammoth two floors. There is a digital presence as well. Now, NIMAI has also launched their own signature line of jewellery, and their first product has hit the stands — a bracelet called Promise. "When I quit my job as a communications expert, the idea was to always have my own line one day. After setting up Nimai, and then slowly, steadily we reached this point where I felt we can unveil our own designs," says Roy Yadav. Nimai has collaborated with Laxmi, an acid attack victim, who has endorsed the jewellery.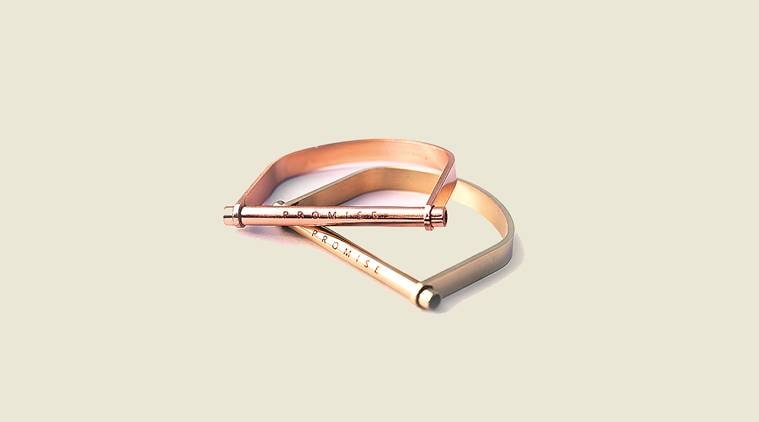 The signature line, with more products to follow, will focus on using sustainable and strong materials like steel and brass. The design philosophy employed will be very minimalistic and contemporary. "Unfortunately, till very recently Indian jewellery wearing habits were divided in very straitlaced methods. One side was only gold, and everything else was categorised as junk. When we started Nimai, we wanted to change that. Here, we have an Amrapali silver jhumka and also a whole new line of jewellery made of cement among other pieces. With our own label we wish to manifest the same design language," shares Roy Yadav.
The bracelet come in rose, gold and silver colours, and has a hollowed out cuff, where one can scribble a note to oneself — the eponymous promise — and literally wear it on ones's sleeve. "We are using materials like steel and brass — which are strong and durable. I think we haven't really explored metals like steel, which is imminently wearable.These metals may well be the future of Indian designs in jewellery," shares Roy Yadav. The bracelet is priced at Rs 2,990 and can be purchased online and at the store.