Histories of women are seldom narrated, much less of those in the design realm, be it Ray Eames who needed a Pat Kirkham to bring her out of her husband Charles's shadow, or closer home, Urmila Eulie Chowdhury, who worked closely with Le Corbusier in the planning of Chandigarh, but rarely finds a mention in conversations around its making. The male-dominated space of architecture has little room for women to practice the profession without male partners. We speak to three women architects in the country who set up offices on their own steam, stayed conscious of their values and questioned the very definition of architecture.
Brinda Somaya
Somaya and Kalappa Consultants, Mumbai
Can you tell us about a project that gave you insights into the act of architecture?
In 1995, we were working on the revitalisation of the Nityanand Ashram outside Bombay. The clients wanted a plaza near the temple for the flower-sellers. We built them nice shops but they refused to move in. We later realised that we had never asked them what they wanted. They needed shops that could be raised so that they could store unsold flowers in the dark, a space for water, etc. So, no matter how big or small a project is, if you don't understand why and what you are building, then there's no point to it.
In your four decades of practice, you have done hotels and slum housing, commercial and conservation projects. As an architect what satisfies you the most?
We have built across the country, from the Himalayas to south India, from Kolkata to Jharkhand. We believe in doing pro bono projects; it accounts for about 20 per cent of our work. There was a project in Badli, Kutch, soon after the 2001 earthquake. When I got there, people were out in the cold, their houses had been turned to rubble. They wanted to build on their original parcels of land, close to their own neighbours. So, we did an accurate survey and built it in a grid pattern just as they had desired. During my first visit, I saw a little girl sleeping in the open. When we went there the last time, she had gone to another village because she's now in high school. It gave me an immense sense of satisfaction. We, as architects, are privileged. We have the creativity and ability to innovate new forms, restore and rebuild.
As the chairperson of the School of Planning and Architecture, Vijaywada, what do you have to say about the process of selection for the Amaravati Capital Complex project?
Our biggest tragedy as a profession is that there are not enough architects and urban planners who can effect change. Cities should not be planned in government offices; urban designers have a role to play. When a committee is formed, it should have 90 per cent professionals, but often, it's mere tokenism. I'm not against foreign architects. We have collaborated with many international firms. But we have to understand whom we are building for.
What was it like when you began Somaya and Kalappa Consultants in 1978?
I never dreamt that I would build as I did. I began work in my own garden shed with no business plan. My husband was in the army and we moved around quite a bit. There were times when I said I was an architect, but would be introduced as an interior designer. I built a body of work slowly and steadily.
You've spoken, in the past, of women labourers on construction sites and the wage discrepancies they suffer, which male architects often overlook. Do you think women architects respond differently to issues?
It is not necessarily gender-based. Over the years, many architects who worked in our firm have been men, but they have been equally sensitive on a construction site. Though Zaha Hadid is quoted to have said that the well-being of construction labourers isn't her responsibility. It really depends on an individual.
What's on your drawing board that excites you currently?
We are the exhibition designers for a travelling show 'India and the World: A History in Nine Stories'. It has been planned as a celebration of 70 years of India's independence, and will show objects and artwork from specific periods of India's history, besides iconic objects from the British Museum collection. We will also open a campus in Indore soon that will house 1,500 engineers. These projects epitomise the breadth of our work as a firm.
Chitra Vishwanath
Biome Solutions, Bangalore
Chitra Vishwanath doesn't believe in walls. Be it the four walls of a house, or the separation of water, energy and food from the act of building itself. Her own home-cum-studio in Vidyaranyapura, north Bangalore, has minimal doors, maximum windows and spaces with ample air and light that obey the diurnal movement of the sun. While many professionals speak of green architecture like a coat of paint on a wall, Vishwanath puts it to practice.
"How does one manage water and sanitation in an urban context? We don't just do a one-off home outside the city. We build in the city for salaried, common people. Even if it is a 600 sq ft plot, it will have daylight and rainwater harvested," says Vishwanath. Her firm, Biome Environmental Solutions, was created from the merger of Chitra Vishwanath Architects and Rainwater Club, founded by her husband — engineer and water warrior S Vishwanath — in 2008.
Vishwanath evangelises the use of stabilised mud blocks as an alternative to bricks — their own home became the testing lab: from recycling wastewater to solar cooking and a waterless toilet. "We scooped out soil to make a basement, though we didn't know if it would work. But today, we insist that every house should have a basement because it's cooler. We built a mezzanine and went about placing thermometers in every room to check the temperature. On cold nights, the mezzanine is the warmest place. We also learnt that placing bedrooms lower than the kitchen can be a problem for an ageing parent," says the 54-year-old.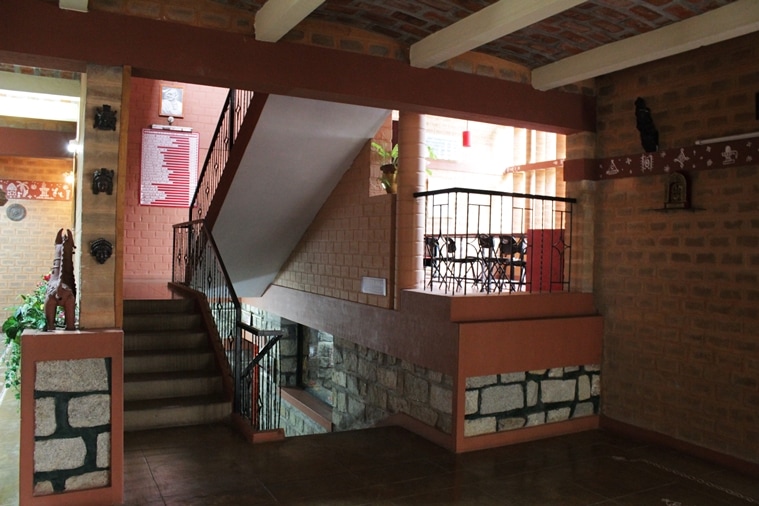 Vishwanath's penchant for making came from her sculptor father, who often has visitors like KG Subramanyan visiting their home. "We made our own cabinets, and if it didn't work, we reworked them. My father was always talking about new materials and experimenting. We would talk about construction as a profession, as a craft, as an act," she says.
Is skilled manpower a challenge to her engineered buildings? "As architects, you imagine someone else to be born with the skills, and all that architects need to do is spout jargon and wear black. The question is: what are you expecting? Are you expecting a wall to be beautiful or the space to be beautiful? lf you make good spaces and there's a little flaw on the wall, it's okay, it's wabi-sabi, the Japanese acceptance of imperfection. What good is a perfect wall but a poor space? Should we make regurgitated designs for a glossy foreign magazine or are we looking at how to empower an agricultural labourer, in the city during the dry months to feed his family?"
For Vishwanath, engaging with the city and people has little to do with brick and mortar. "I work in my area, mostly with women garbage collectors. What I'm personally interested in are the inclusive play spaces we are creating for children with disabilities. We have been partnering with Kilikili, a registered trust formed by parents of children with special needs," she says.
Ultimately, being a woman in a man's world has never been a problem for Vishwanath, who studied civil engineering before architecture at the Centre for Environment Planning and Technology (CEPT) University, Ahmedabad. Not only does she know how to cost a building, but she also has a nuanced understanding of structural details. "Often, it's your own peers whom you have to confront. Would Zaha Hadid be lampooned as much if she were a man?" she says.
Sheila Sri Prakash
Shilpa Architects, Chennai
Is there a difference between "ready-made space" and "space in the making"? Architect Sheila Sri Prakash finds her rhythm in the latter. As a Bharatanatyam artiste, much of her sense of movement and space comes from dance. "Both my dance and architecture are connected. Both involve line and movement. One learns how rhythm can be created and broken, and how boundaries are set. As a dancer, one is always creating a storyline, an ambience for the audience. It's that space in your head before it's enacted, where a river flows and the mountain lies," says 61-year-old Prakash.
Her practice, Shilpa Architects, that was launched in 1979, has seen the construction of civic, commercial, residential and industrial buildings across Tamil Nadu, but it didn't come easy for the award-winning architect. A professor at the School of Architecture and Planning in Chennai asked her at the entry interview if she would be depriving another student; clients told her to design for free because she's a woman — Prakash battled indifference and scepticism early in her career. But she learnt to balance cynicism with craft. If the Cholamandal Centre for Contemporary Art in Chennai honours artists of the Madras Movement, the Mahindra World City Club draws from the cultural heritage of Kanchipuram.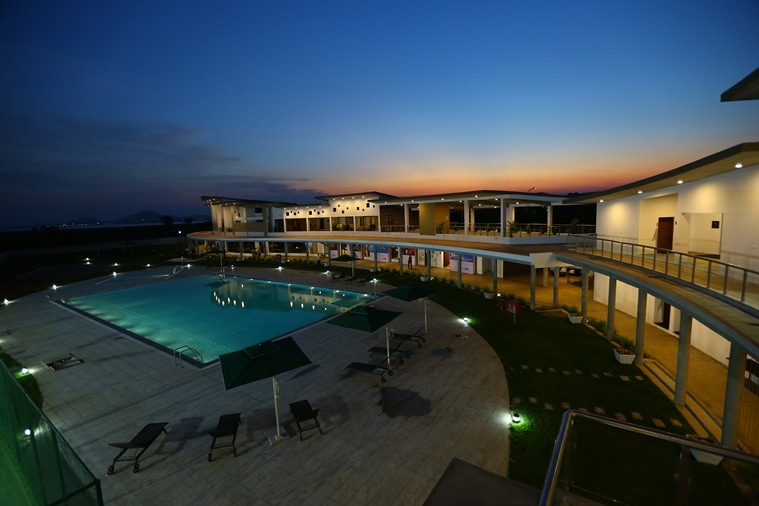 Her response to the materiality of materials is based on its usage. "I love the earthy quality of brick and its porosity, and the transparency of glass. Today, people put a film over glass, place it in the wrong direction, which generates too much heat. We need to ask: why are we placing these windows? Is it only for a view? Or is it for air? Can its proportions change?" At a conference on steel last year, Prakash spoke of its sculptural possibilities. Though she seldom uses it in her own buildings, she asked if the profession could move beyond the industrial use of steel and allow it the movement it affords like in Spanish architect Santiago Calatrava's Milwaukee Art Museum, where the moveable roof spans out like wings, based on the position of the sun.
Prakash's idea of sustainable design in cities values the role of multiple participants. "It's like an orchestra, where you include the movement and silences of every member. The reciprocity of design is a value system for urban design indicators which bring holistic sustainability. You can't design without considering climate, availability of water, human potential and social values," says Prakash, who has presented this idea of urban design in forums in India and abroad.
Yet, Chennai stays close to her heart, even if her army upbringing had her travelling across the country. "I'm from Chennai, and the artistic values I received from the city and my gurus are strong within me. These values are our strength; it's what differentiates us from the others."
📣 The Indian Express is now on Telegram. Click here to join our channel (@indianexpress) and stay updated with the latest headlines
For all the latest Lifestyle News, download Indian Express App.
The Indian Express website has been rated GREEN for its credibility and trustworthiness by Newsguard, a global service that rates news sources for their journalistic standards.