One of the most anticipated festivals, Diwali is here and undoubtedly the excitement in the air is hard to miss. Diwali marks the triumph of good over evil and preparations for the festival begin from days in advance. People exchange greetings and gifts, clean their houses and offices, light up their homes and decorate their surroundings.
ALSO READ | Diwali 2018: Vrat Vidhi, Katha, Story, Procedure
Like almost every other festival, people put their best foot forward when it comes to dressing up for the festival of lights and indulge in sumptuous delicacies. Celebrities too have dressed up for the occasion and are attending Diwali parties in town, giving us fashion goals one picture at a time. Restaurants across the country have prepared a lavish spread for Diwali this year and chefs have come up with interesting recipes, leaving us with major food cravings.
Live Blog
Diwali 2018 highlights.
Tips to make sure your pets are safe and comfortable
Most animals are not comfortable with this sudden surge in noise and light during Diwali and may suffer from anxiety or mood swings during this period. That apart, pets can also be injured by fireworks. Read more
Head to these places in Delhi, Mumbai and Bengaluru for a lavish Diwali spread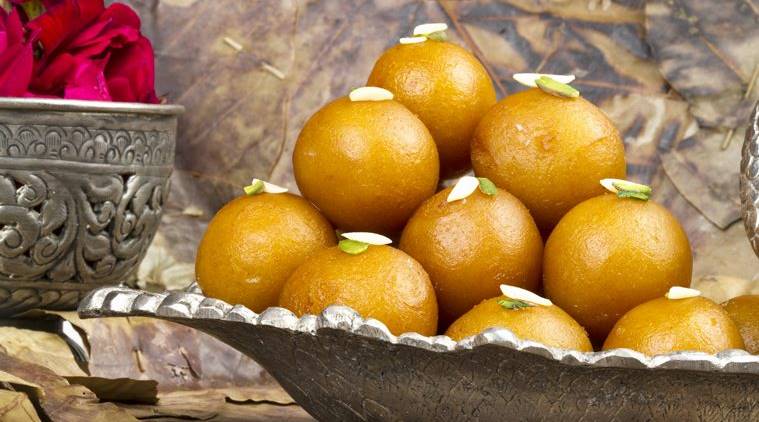 Diwali 2018: We have curated a list of restaurants from Delhi, Mumbai and Bengaluru, where you can indulge in some Diwali special menu and satiate your taste buds. Read more
Diwali snacks recipe: Seb Aur Badaam Ka Shorba
Seb Aur Badaam Ka Shorba
By Chef Ajay Chopra, The Westin
Ingredients
150g – Almond (peeled)
20g – Ginger
5g – White pepper powder
10ml – Honey
2g – Jeera
Cream for topping
10 ml – Refined oil
5g – Shahijeera
5g – Saunf
2g – Cinnamon
Salt to Taste
200 ml – Veg stock
Method
* Blanch the almonds, make a puree and keep it aside.
* In a pan, heat a little oil, add ginger and green apple dices with a little water to boil. Cool it down to make a puree.
* In a separate sauce pan, add a little refined oil, shahijeera, saunf and cinnamon and sauté well.
* Add almond puree to cook for some time then add apple puree.
* After that, add a good vegetable stock and cook for 20 minutes. Add honey, pepper and jeera powder to it.
* Check the seasoning. Finish with cream and almond flakes which are toasted.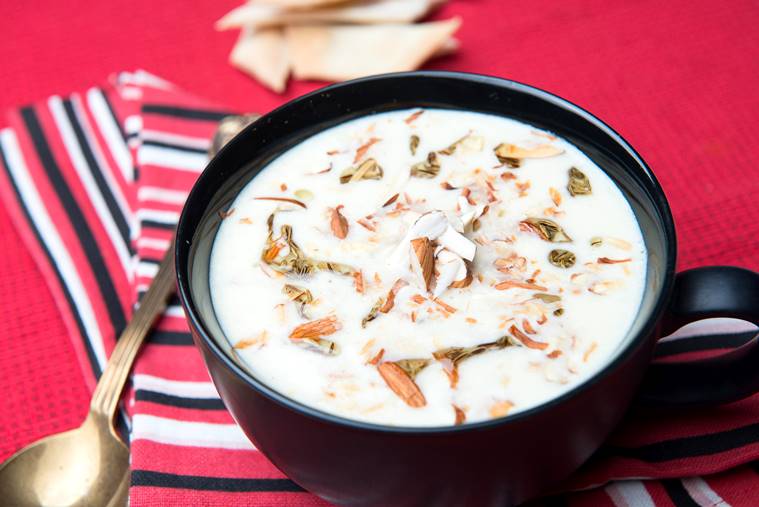 Diwali 2018: Easy snacks recipes
This festive season, treat your guests to some finger licking goodness with this easy snack recipes.
Caramelised Sesame Smoked Almonds
By Chef Ajay Chopra, The Westin
Ingredients
400g – Almonds whole
100g – White and black Sesame
150g – Sugar
10g – Rosemary
10g – Chilli powder
10g – Sea salt or rocks salt (optional)
Method
* In a pan, dry roast almonds and let it cool so that it becomes crunchy.
* In a separate pan, take sugar and let it caramelize. Add roasted almonds to it.
* When almonds are coated with syrup, add the chili powder.
* Remove on a clean tray and coat it with white sesame seeds and rock salt (crushed).
* Take a charcoal, burn it on fire and keep it on bowl, add some rosemary and smoke the almonds which are coated with sesame.
* Store it in an airtight container.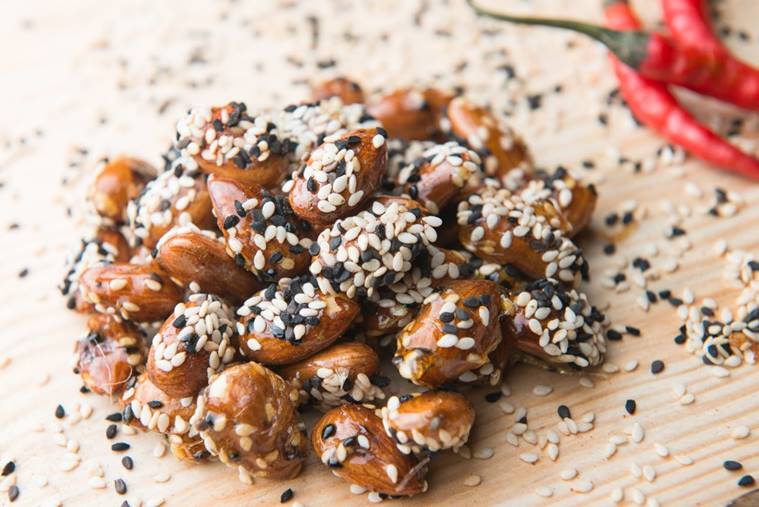 Alia Bhatt, Ananya Pandey, Tara Sutaria celebrate Diwali in style
Bhatt, Pandey and Sutaria were seen posing the camera while attending a Diwali Puja ceremony. For the event, Bhatt was seen wearing a bright yellow patiala with floral embroidery on it while Pandey picked bright orange kurti teamed with white pants. Sutaria looked nice in a blue embellished ethnic outfit.
View this post on Instagram
Light up your house this Diwali and stand out with these interesting diyas, lights and candles
Hot air balloon
Take your lighting game a notch higher and decorate your living space beautifully with these hot air balloon lightings.
Scented candles
Candles are the best way to light up your surroundings if you want to go for a cleaner and greener Diwali this year, And what is even better is lighting candles that will not only light up your surroundings but will fill it up with a waft of your favourite scent.
Colourful diyas
You can score beautiful hand painted and colourful diyas this Diwali instead of opting for the regular ones. They add a dash of colour and beauty to your decorations with no added effort.
Starry light curtains
If you want a warm, cozy decor to light up your home, look no further, These starry light curtains are dreamy, gorgeous and picture perfect.
LED lamps
LED lamps are low cost, low maintenance and reusable. Moreover, you can choose your own colour of light and tweak the length and brightness of the lamps.
Happy Diwali 2018: Wishes, Images, Messages, Quotes and Greetings
* May The Beauty Of Deepavali Season
Fill Your Home With Happiness,
And May The Coming Year
Provide You With All
That Bring You Joy!
* It's The Season To Pay A Visit,
To All Our Friends And Relations,
To Hand Them Over Sweets And Presents,
Diwali Is Our Splendid Chance.
* May The Joy, Cheer,
Mirth And Merriment
Of This Divine Festival
Surround You Forever.
May The Happiness,
That This Season Brings
Brighten Your Life
And, Hope The Year
Brings You Luck And
Fulfills All Your Dearest Dreams!
Happy Deepavali!
Diwali 2018: Creative ideas to jazz up your walls and living spaces
3D Wall Art
3D wall art is a layered way of making your living space a brighter, livelier one. If you are looking for a makeover, you can go for 3D walls and add some funk to your space.
Wall Plates
Wall plates are in nowadays and they are available in a range of designs and colours. Add a wall plate or two to enliven your walls and enrich your space for Diwali this year.
Fairy Lights
Light up your space with LED fairy lights. They are easily available, inexpensive and can add charm to your house in no time.
Wall Vases
Wall vases not only beautify your space and enhance its decor, but it will also add a dash of green to your surroundings. You can grow your favourite herbs in these vases mounted on the walls.
Neon Hangings
If you want to take your decor a notch higher and really stand out, look no further – neon hangings will make for the perfect decor. Hang a piece of neon art on your wall and give it a total makeover.
Torans
Go for colourful torans if you want to add a dash of vibrant to your space. They come in beautiful thread work or mirror work and can add just the right amount of cheer on your walls this festive season.
Diwali 2018: Tips to make sure your pets are safe and comfortable
Consult a vet
It is important to keep your dog calm and stress-free. Consult a vet to find out if your dog needs to take an anti-anxiety medication on Diwali.
Keep a first-aid kit handy
Make a first-aid kit and keep it ready and accessible in case of an injury. Find out which vets would be available on that day, in case of a mishap.
Dispose of used crackers safely
Keep the used crackers in a bucket and make sure you keep them in a place where your pet can't reach them. It is always a good idea to brief your guests about proper disposal of used crackers.
Don't leave your dog alone at home on Diwali
This can be a very stressful time for your pets and leaving them alone might make their situation worse.
Keep your doors and windows closed
Keep your doors and windows closed and draw your curtains to minimise the noise and light pollution and make your home as comfortable for them as possible.
People are celebrating the festival of lights by exchanging greetings on Twitter
Shilpa Shetty looked gorgeous in an Anamika Khanna ensemble
This Diwali, Shilpa Shetty shone in this attire.
View this post on Instagram
Alia Bhatt stressed on protecting animals this Diwali
Alia Bhatt stressed on how damaging the effects of firecrakers can be on animals and urged others to feed a stray in the nrighbourhood.

The sound of firecrackers can be stressful and an animal on the street might starve itself so that it doesn't have to leave it's hiding spot. So this year, celebrate Diwali the Coexist way by choosing to feed a stray in your neighbourhood in the day time! Choose #PoochOverPataka pic.twitter.com/IAZWiupYb7

— Alia Bhatt (@aliaa08) November 5, 2018
Shah Rukh Khan wished his fans
Kareena Kapoor stuns in a Masaba Gupta sari
Trust Kareena Kapoor Khan to dazzle. The diva was recently spotted donning a Chanderi polka dotted sari from the label House Of Masaba and looked lovely.
View this post on Instagram