Written by Smita Thackeray | New Delhi |
Updated: December 1, 2017 10:33:12 am
Getting tested at the right time can make all the difference so don't hesitate. (Source: Thinkstock images)
Let me ask you a question, how safe do you think you are from contracting HIV? How aware are you of the threat or even the treatment for HIV available today? How long can you comfortably distract yourself from facing this? India still stands as the third most infected country in the world with 2.1 million HIV positive people recorded in 2016. But there is hope, we have doctors, NGOs and the government working hand in hand to show significant progress over the past twenty years. We have achieved this by firstly raising awareness towards how it spreads. Also, we saw 62,000 AIDS-related deaths occurred in 2016, compared to 150,000 in 2005— with a 58.6% fall.
HIV commonly gets identified as an STI, which is understandable since 87% of the infection spreads through heterosexual sex and 2% spread though homosexual sex between men. The remainder are not sexually transmitted. We should be aware that 5% of the cases are from the parent to the child, 1% is through blood transfusion. A minimum of 2% of the infections actually are due to sharing injections during drug abuse, this is a problem least addressed and I feel, can even grow if left unchecked.
Second step is to test yourself regularly, especially if you do engage in any of the risky behaviour mentioned above. Getting tested at the right time can make all the difference so don't hesitate. You can even remain anonymous at clinics and the Government has a 'Test and Treat Policy' where you can actually test and get treated for free. So if you suspect or find out that your partner is HIV+, get yourself and hopefully your partner tested immediately.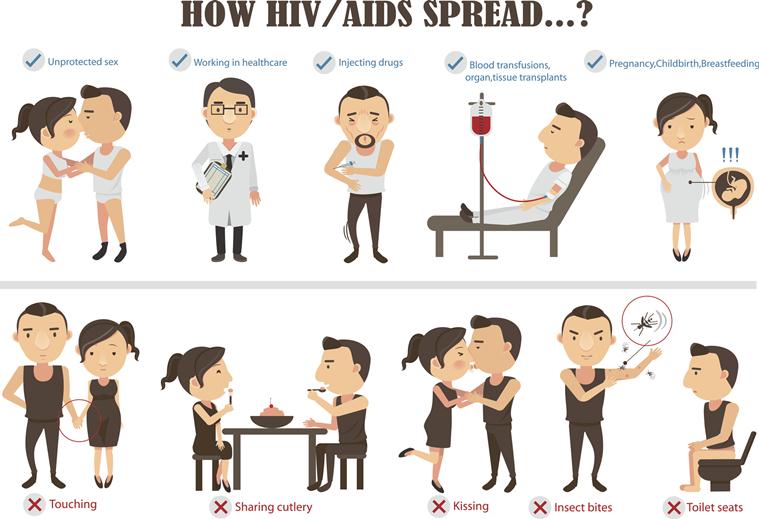 Breaking some myths on how AIDS can spread. (Source: Thinkstock images)
There is new treatment available, for that its best you approach a doctor, who is an Infectious Diseases Specialist. You should start Post-Exposure Prophylaxis within 72 hours of your encounter. The treatment lasts for a month, reducing the risk of contracting HIV down to almost nil. Also if you do test positive, don't panic. You will be started on Anti-Retroviral Therapy which subdues the Virus, reducing its risk of infecting others to almost 1%. This thankfully also reduces the risk of HIV+ pregnant mothers infecting their children as well.
We need to finally be aware that even though we have seen a lot of progress over the last 20 years and the race to find a cure is still on, we still need to do our part. I urge the government to join us NGOs to fulfil the UN Mission of getting 90% of the infections diagnosed to at-least that 90% can be treated. That's 90% of the disease subdued through our collective efforts. As for the public, awareness, timely testing and treatment are the best ways to handle infections like HIV. The experts have worked hard to stop HIV from being a hopeless terminal curse to chronic manageable disease, allowing the infected to lead a healthy and full life. So I urge everyone to do our part to make sure we live our one beautiful life in a healthy and responsible way. Lets spread the word, not the disease and work towards gaining freedom from HIV.
Smita Thackeray is the Founder and Chairperson Mukkti Foundation.
For all the latest Lifestyle News, download Indian Express App