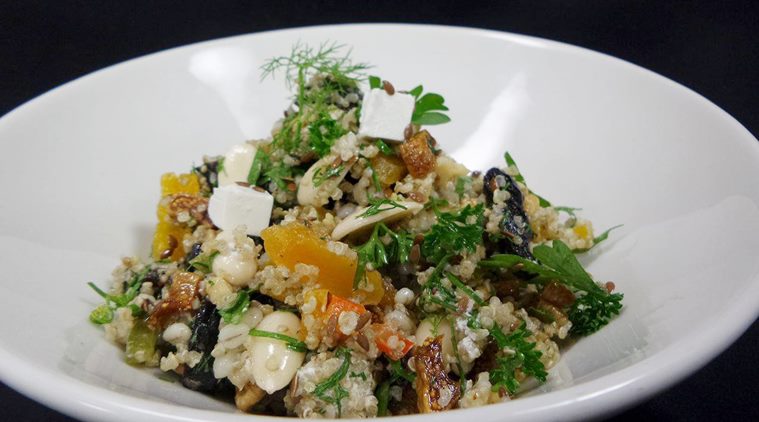 Tired of chomping on dry fruits? Turn it into a mouth-watering salad.
Executive Sous Chef Gagandeep Singh Sawhney, Shangri-La's – Eros Hotel, New Delhi tells you how.
Serves: 4
Ingredients
For the salad:
40 g dried prunes
40 g dried apricot
50 g almonds (soaked & peeled)
30 g walnut
40 g dried figs
50 g organic quinoa
50 g barley
40 g mix fresh mint, parsley and dill
80 g goat cheese
5 g flax seeds
6 g maldon salt
2 g salt
5 g black pepper crushed
For the dressing:
10 ml red wine vinegar
10 ml walnut oil
20 ml olive oil
3 g black pepper crushed
Salt to taste
Method:
For the dressing:
*Whisk together red wine vinegar, walnut oil and olive oil.
*Add salt and crushed black pepper, check seasoning.
For the salad:
*Bring 400 ml of water to boil, add quinoa and salt. Simmer the mixture until the quinoa is cooked. Drain excess water and refrigerate it.
*Take another pan with boiling water. Add salt and cook barley, until it turns soft. Drain excess water and refrigerate it.
*Slice prunes, apricots, walnut, figs and fresh herbs.
*Toss together quinoa, barley, dried fruits, goat cheese, flax seeds, fresh herbs, maldon salt, black pepper and dressing.
*Transfer to a salad bowl and serve.
The Indian Express website has been rated GREEN for its credibility and trustworthiness by Newsguard, a global service that rates news sources for their journalistic standards.