Every day is a festival in some part of the world or some day to celebrate our love for something. And when it comes to food, our love increases in so many levels that its often hard to define. And if there can be International Coffee day, Pizza day then, we Indians should definitely have our share of amazing days reserved for our cuisines and dishes. Wouldn't it be wonderful to have National Biryani Day (which by the way exists and is celebrated on April 7) or Pani Puri Day? Well, others can follow, but today it's World Idli Day! Yes, our favourite staple breakfast has its own day and why not.
As far as the origin of the food goes, like every favourite dish, our fairy white wonder too is not away from controversies. Though it is a popular south-Indian food, many historians have argued it probably originated in Gujarat. Interestingly, culinary historian K.T. Achayya claims the healthy steamed savoury originated in Indonesia! No, we can fight it amongst ourselves but can't let our desi idli become firang, right?
ALSO READ | Have you heard of the Uthly, the South Indian alternative to the burger?
It is believed that the Chennai man Iniyavan, regarded as "Idli King" and the president of Tamil Nadu Catering Employees Union, Rajamani Iyer, came up with the concept of a special day dedicated to these steamy delectables. And officially, March 30 was chosen as World Idli Day.
So, to celebrate the nutritious and easy to make breakfast item, here are some unique recipes that give a new twist to out all-time favourite dish.
Ragi Rava Idli by Executive Chef Subrata Debnath, Vivanta by Taj – Gurgaon
Ingredients:
100g – Finger millet flour (ragi)
100g – Semolina (sooji)
100g – Yoghurt
1tsp – Fresh green chillies (finely chopped)
1tsp – Ginger (finely chopped)
1/2 tsp – Baking powder
1tbsp – Refined vegetable oil
Salt to taste
Water as required
Method:
* Combine the ragi flour, semolina, yoghurt and baking powder in a large mixing bowl.
* Add water and prepare a thick batter. Allow the batter to rest for 10 to 15 minutes.
* After the batter has rested for 15 minutes, check its consistency and stir in some additional water if required.
* Add salt, green chillies, ginger, oil and mix well.
* Preheat an idli steamer with water.
* Pour the batter into the mould cavities. Steam the idlis for 10 minutes until a fork inserted comes out clean.
* Serve the idlis with tomato chutney, coconut chutney and mint chutney.
Tri-colour Idli by by Aman Puri, Executive Chef at Imly, Delhi
Ingredients:
For Idlis
100g – Semolina (sooji)
6tbsp – Yoghurt
2tsp – Spinach paste (fresh spinach completely blended to a paste)
2tsp – Tomato Puree (completely blended to a paste)
1 and 1/2 tsp – Baking powder
1tsp – Butter (For frying)
Salt to taste
Water as required
For Stuffing:
1 – Onion (finely chopped)
2 to 3 – Fresh green chillies (finely chopped)
1/4 tsp – Red chilli powder
Method:
* Beat yogurt with little water for 2-3 minutes. Ensure that there are no lumps left in the batter.
* Mix this yoghurt solution with Semolina and make a batter by adding more water if required. The batter of yogurt and soozi should be to the consistency of neither too thin nor too thick.
* Add salt and Baking powder.
* Divide this batter into three equal portions in three separate containers.
* In the first container, add tomato puree and mix well.
* In the second container, add a little more yogurt and mix well.
* In the third container, add spinach paste and mix well.
(Note: All the three batters should be of the same consistency. Do not keep the consistency of all the three batters too thick; else the idlis will turn out very hard and not spongy.)
* Meanwhile, mix finely chopped onions, green chilis, red chilli powder and salt.
* Lightly oil Idli trays with cooking oil or extra virgin olive oil.
* Prepare idli steamer by preheating water to a boil
* Pour half teaspoon from each batter side by side carefully into the idlimold. Now put half teaspoon of onion mixture for the stuffing in the center of the mold. Again repeat the process of pouring each batter to cover the stuffing in the respective manner.
* As soon as you finish filling all the molds, put the idli stand into the steamer.
* Place a tight lid on the steamer and steam idlis for 15 minutes on medium heat.
* Remove idlis from the trays by scooping them out with a spoon.
* Heat a flat skillet on medium heat and apply butter. One by one place idlis on the skillet so that only the center portion of the idli touches the skillet. Heat for 2-3 minutes.
* The beautiful stuffed idlis are ready. Serve hot with chutney or ketchup.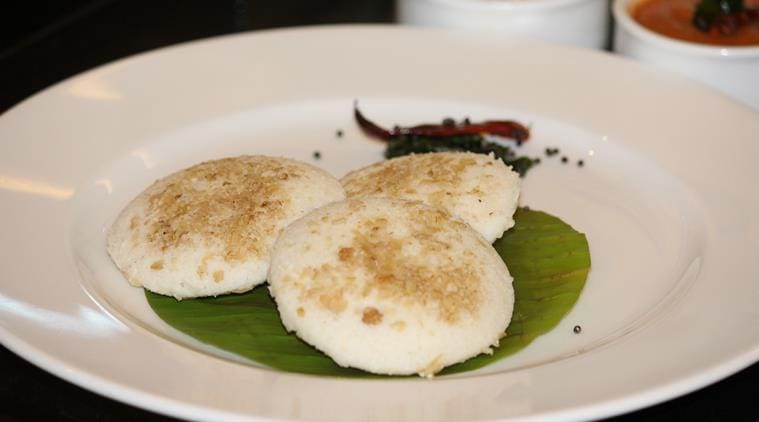 Oats Idli by Amit Dash, Executive Chef at Courtyard by Marriott, Gurgaon
Ingredients:
100g – Urad dal whole (white)
200g – Idli rawa
50g – Oats (Quaker)
Salt to taste
Water as required
Method:
* Soak urad dal in water for 6 – 8 hours.
* Soak rawa for 10 mins.
* Grind urad dal with the help of a grinder to a coarse consistency.
* Wash rawa properly for 2-3 times and mix it with the urad dal batter.
* Add salt to the batter.
* Allow the same to ferment for 6 – 8 hours at room temperature.
* After the batter is fermented, mix gently by hand and check the seasoning.
* Put the batter in the idli mould, sprinkle some dry oats over it and steam it for 10 – 12 mins.
* Serve hot with tomato or coconut chutney.
Idli Bonda Fusion by Leonardo Olive Oil
Ingredients
1/2 cup – Sooji
1 cup – Yoghurt
1 packet – Eno fruit salt
5 – Medium-sized potatoes, boiled, peeled and unevenly mashed
1/2 cup – Gram flour
Salt, red chilli powder, chilli flakes, oregano, chaat masala – To taste
1 – Medium-sized green chilli, finely chopped
1/4 cup – Coriander leaves, finely chopped
Olive oil – To fry
Water – For the batter
Method
For the Idli
* Mix suji and curd in a bowl and set aside for 4-5 hours.
* Pour two glasses of water in a steamer and heat over medium flame.
* Grease idli moulds with oil.
* Add Eno fruit salt in the batter and stir for a minute.
* Pour batter in greased moulds and steam it on medium flame for 10-15 minutes.
* After 15 minutes, turn off flame and remove moulds from steamer. When it cools down a bit, remove prepared idli from it.
For the potato filling
* Take the boiled and mashed potatoes in a bowl.
* Add finely chopped green chillies and coriander leaves, and mix well.
* Add salt, chilli flakes, oregano and chaat masala, as per taste.
* You can make variations in spices, as per taste.
For the batter
* Take gram flour in a bowl.
* Add water slowly to make a thick and smooth batter. Make sure there are no lumps. Set aside.
For the bonda
* Make a horizontal cut in idlis, so as to allow potato filling in them.
* Fill the idlis with potato and press the idlis slightly.
* Heat oil in frying pan on medium high heat. To check if the oil is ready, put one drop of batter in oil. The batter should come up but not change colour right away.
* Dip the idlis into the batter one at a time, making sure they are completely covered with batter. Then, slowly drop them into the frying pan.
* Turn them occasionally. Fry the idlis until golden-brown. Cut them into half, and serve hot with coriander-mint chutney and tomato ketchup.
Tirangi Idli by Chef Vivek Kumar from Oxford Golf Resort, Pune
Ingredients
200g – Colam Rice
75g – Urad Dal White
50g – Poha
10 – Spinach leaves
100g – Carrot
Salt to taste
Method
* Wash the rice, urad dal and poha. Soak it together for a minimum of three hours.
* Grind everything in a stone grinder to form a fine paste.
* Keep this mixture overnight for fermentation.
* Next day, add salt as per taste and divide the mixture into 3 parts.
* Make spinach puree with the blanched spinach leaves. Also, make a fine puree with carrots.
* Divide the batter into three parts. Now, add the spinach mixture to the first, the carrot puree to the second and leave the third as it is.
* Put these three batters in an idli mould and steam it in a pre-heated idli steamer for 8-10 mins.
* Arrange these idlis in tricolour sequence, and serve hot with chutneys and sambhar.
📣 The Indian Express is now on Telegram. Click here to join our channel (@indianexpress) and stay updated with the latest headlines
For all the latest Lifestyle News, download Indian Express App.