Maggi has been one of the favourite breakfast options for kids and adults alike, since the time it was launched (in 80's) in India. With its simple preparation and lingering taste, the instant noodles also often came to the rescue for hostel students, and for those who were least interested in cooking.
Nestlé India Ltd, the manufacturer of the brand, is leading the market with the total of 63% market value share, according to Euromonitor.com. Not only its widespread distribution network but also people's loyalty towards their favourite Maggi cuts most of its competition.
The Lucknow Food Safety and Drug Administration recently found that Maggi contains monosodium glutamate (MSG) and lead in excess amounts and have also written to the Food Safety and Standards Authority of India (FSSAI) asking to cancel the licence for Maggi.
In case you are wondering what MSG (Monosodium glutamate) is, it is the sodium salt of glutamic acid, one of the most abundant naturally-occurring non-essential amino acids. MSG is found in tomatoes, Parmesan, potatoes, mushrooms, and other vegetables and fruits.
MSG also enhances flavour and is generally added in Chinese food, canned vegetables, soups and processed meats. FDA has generally classified it as safe, but it has to be listed as an ingredient on the pack, according to Mayo Clinic.
Over the years, FDA has received reports of adverse effects of MSG such as headache, flushing, sweating, facial pressure or tightness, numbness, tingling or burning in the face, neck and other areas, rapid, fluttering heartbeats (heart palpitations), chest pain, nausea and weakness.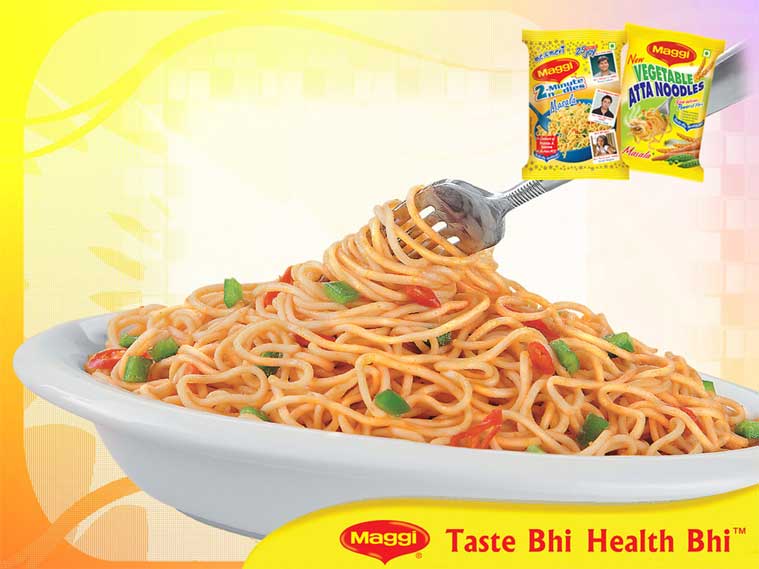 Researchers however could not establish link between MSG and the above-mentioned symptoms.
Meanwhile, Nestle denied adding MSG to Maggi Noodles. "We do not add Monosodium Glutamate (MSG) to Maggi Noodles. We use raw materials that may contain naturally occurring Glutamate and which could be confused with commercially produced MSG. Glutamate is safe and is found in everyday and high protein foods including tomatoes, peas, paneer, onions, milk," said Nestle in a statement.
If Maggi gets banned in India, we would definitely miss it for sheer nostalgia and some of these interesting renditions:
1. Maggi with eggs and caremelized onions
Boil water, add Maggi noodles and the tastemaker. Allow the Maggi to cook; in the meanwhile take out onion flakes. Put some olive oil in a pan and saute the onion flakes. You can also add garlic pieces. To caramelize onions, add a bit of sugar. Take out the yolk of two eggs and add it on the pan above onions and garlic.
Serve Maggi in a plate, layer fried eggs on the top and then top it with the caramelized garlic and onions.
2. Maggi Noodles Spring Rolls
Ingredients
1/4 cup shredded cabbage
1/2 capsicum cut lengthwise
1 spring onion cut lengthwise
4-5 french beans cross cut
Maggi noodles and taste maker
1 cup of tomato sauce
1 tablespoon oil
1/2 teaspoon ginger chilli paste
1 teaspoon chaat masala
salt to taste
tabasco or capsico sauce
plain flour paste
Method
To make the filling:
– Heat 1 tbsp. oil. Saute capsicum and french beans for 2 minutes.
– Add Maggi noodles.
– Add water and let the mixture boil. Add the taste maker.
– Add ginger chilli paste, chaat masala, 1 and 1/2 tbsp. tomato ketchup, shredded cabbage and spring onions. Add salt as per taste and mix well.
To make the rolls:
– Take one spring roll sheet. Spread the noodles mixture over the sheets.
– Make tight rolls covering up the noodle mixture completely. Fix the edges of the rolls with plain flour paste and deep fry the rolls.
– Cut the rolls in pieces once they cool down a bit.
– Serve with capsico and tabsaco sauce mixture.
3. Street Masala Maggi
Ingredients
2 packs Maggi
1/2 tbsp Vegetable Oil
Chopped ginger, green chillies
1/2 Onion (chopped)
1/2 tbsp salt
1/2 yello bell pepper (diced)
1/2 diced tomato
1/4 cup peas
2 tastemaker
Method
* Take and pan and add oil
* Add chopped ginger and green chillies
* Saute this on medium to high flame for a minute
* After a minute, add onion and saute for another minute or two
* Add salt, bell pepper (you can also add green capsicum), tomato
* Add 1 cup of water and peas and tastemaker
* Add noodles
* Cook for few minutes
4. Noodle Cutlet
Ingredients
1/2 cup green peas
1/2 cup corn, boiled and mashed
2 tbsp gram flour (besan)
1 1/2 cup noodles, boiled, drained
1/2 tsp cumin powder roasted
Salt to taste
1 tsp garlic powder
1/4 tsp garam masala
1/4 tsp turmeric powder
1 tsp chilli flakes
1/2 cup cheese grated
2 tbsp milk
Bread crumbs to coat
Oil (to shallow fry)
Method
* Add boiled peas in a bowl and mash it with your hands
* Now add yellow corns. Mash it a bit
* Add besan and mix well
* Add noodles, salt, cumin powder, garlic powder, garam masala, turmeric powder, chilli flakes
* Mix everything well and add cheese.
* Add a bit of milk and mash everything really well
* Make cutlets and coat them with bread crumbs
* Add oil to a pan and place your cutlets; shallow fry
5. Spicy Chicken Maggi Noodles
Ingredients
1 pack Maggi Hungrooo
Chopped garlic
Chopped Onion (1 1/2)
Juice of 1/2 lemon
1/4 tsp Turmeric
1/2 tsp chilly powder
1/2 kg boneless chicken (cut in small cubes)
1 tsp sugar
2 tbsp oil
Method
* Take chicken in the bowl, add chilly powder, turmeric powder and lemon juice
* Add tastemaker and a bit of sugar
* Pour oil in a pan, add garlic, saute for few seconds and add chopped onions and saute for 1-2 minutes
* Add chicken and let it cook for 10 minutes
* Add more salt if you want
* Add boiled Maggi noodles to the pan
* Mix, cook and serve
📣 The Indian Express is now on Telegram. Click here to join our channel (@indianexpress) and stay updated with the latest headlines
For all the latest Lifestyle News, download Indian Express App.
The Indian Express website has been rated GREEN for its credibility and trustworthiness by Newsguard, a global service that rates news sources for their journalistic standards.