This year, eco-friendly Ganesha idols are doing the rounds among devotees. Just a few days back, Dattadri Kothur, a 30-year-old art director by profession and artist from Lower Parel launched a Ganesha idol that would grow into a plant once the festival is over. Kothur started his initiative of making these go-green idols last year with red soil, organic fertilisers and shadu clay filled seeds of plants. So popular is his invention that even environmental activist Dia Mirza took up the task of learning to make the idol herself.
Joining this noble eco-friendly initiative are three chefs from Belfrance Bakers & Chocolatiers, a bakery in Ludhiana, but their story is slightly different. The bakery has prepared a 40kg chocolate Ganesha which will be immersed in milk and turned into chocolate milkshake for the underprivileged children. According to a YouTube video, the edible idol was prepared with different kinds of Belgian chocolate (sounds so appealing, no?). Also, the three-feet-long Ganesha was reportedly made only within a week.
Harjinder Singh Kukreja, founder Belfrance Bakers & Chocolatiers, shared a photo on Twitter with the caption: "Chocolate #Ganpati by our bakery! Plan to do Visarjan in milk & serve choco milk to poor kids! #GaneshChaturthi"
An impressive feat we must say. Even Chef Sanjeev Kapoor congratulated the bakery for their noble effort. He posted on Twitter saying: "It feels good to see people like Mr. Satinder and Mr. Harjinder Singh who celebrate festival with a noble cause – Our franchise partners of The Yellow Chilli have crafted a 40 kg Belgian chocolate Ganesha which they will immerse in milk and serve chocolate milkshakes to the poor children #Respect #festivecelebration"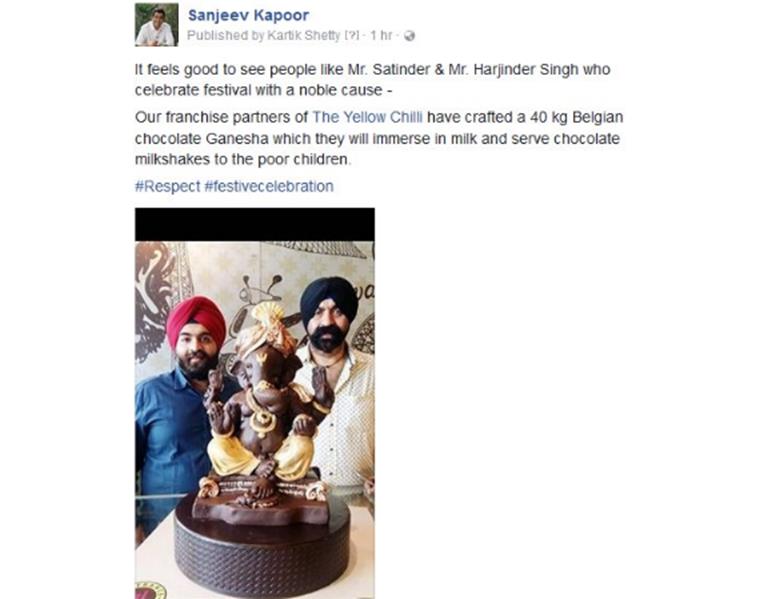 Such a welcome addition, don't you agree?
The Indian Express website has been rated GREEN for its credibility and trustworthiness by Newsguard, a global service that rates news sources for their journalistic standards.