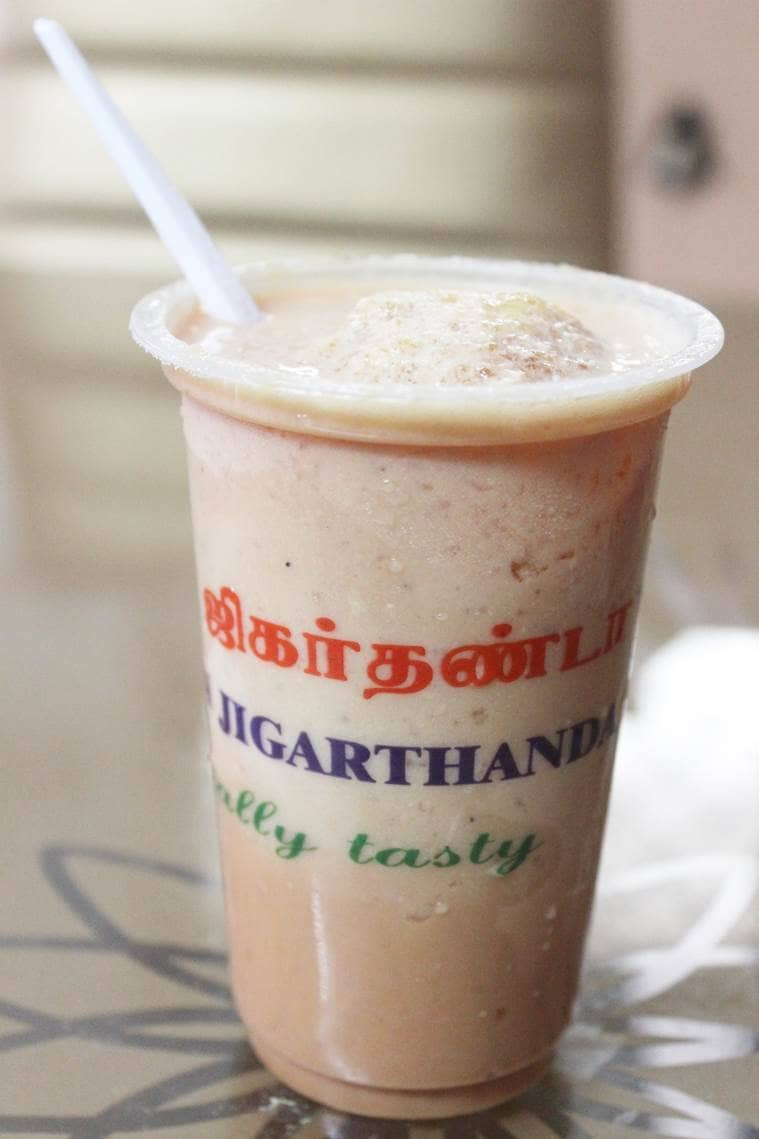 Famous Jigarthanda, located on East Marret Street, is to jigarthanda what Moti Mahal is to butter chicken, or Maggi to noodles. (Photo: Karty Jazz/Creative Commons)
Madurai is a blessed town, and that's not only because it has an agglomeration of temples. For a temple town, it also has some of the most delectable and viscerally satisfying food you'll find in Tamil Nadu. Off the top of our heads, there is Rabbit Biryani; and a range of piquant meat- and fish-based dishes, from the Mutton Dosa, the Viraal Meen Kuzhambu (Butterfish curry) and Rabbit Biryani. And, what do you crown a massive, decadent meal in Madurai with? A glass of jigarthanda, of course. As far as names go, very few can match up to the curiosity jigarthanda evokes.
So, what is it? Essentially, it involves almond resin, China grass, Sarsaparilla syrup, chilled milk, lots of sugar, some cream and basundi. You simply mix everything, scoop some ice-cream on top and drink it. And, it does what its name implies. Cools the heart in Madurai's dry, oppressive summers. But, what is a drink named jigarthanda doing in a place like Madurai? Did it arrive with the Mughals in the late 1600s? Was it brought to Madurai by Muslim settlers from Hyderabad in the 1800s, and did it then radiate its cloying wholesomeness across most of Tamil Nadu? Nobody knows for sure.
What most people are certain about is the best place in Madurai to have it. Famous Jigarthanda, located on East Marret Street, is to jigarthanda what Moti Mahal is to butter chicken, or Maggi to noodles. The 38-year-old establishment was set up by PS Sheik Meeran from Aaraampannai, near Tirunelveli, and is now run by his son Peer Mohammed. Sheik Meeran sold ice-cream in the mornings and jigarthanda in the evenings. The reason why their jigarthanda has gone the distance? Probably, basundi, which Sheik Meeran added at the end. Today, Famous also sells a jigarthanda ice-cream. Here's what a typical afternoon at their store in Madurai looks like:
For all the latest Lifestyle News, download Indian Express App