In India we take so many things for granted. No matter where you live, some shop just 10 minutes away would be selling hot samosas and jalebis and all kinds of local street food. But in Angola, we are far from that luxury. In India I would rarely eat a samosa – "It is deep fried.. so many calories! Don't know how old the oil is in which the guy fried it!" But that was choice.
Here I no longer have that choice and maybe just because of that – I want to have a samosa when I feel like it and I feel like it a lot.
So today I decided "I need to learn how to make a samosa at home". The plus point of living in a remote location is that you tend to experiment a lot more and in the process learn a lot. Well today I learnt how to make the perfect samosa dough and samosa pastry.
At the end I had made these beautiful little paneer and potato samosas and I was almost literally patting my own back. I know a lot of people make samosas at home, but for me it was a feat.
Note: I made the filling before I thought of doing a step-by-step photos for this one. So I only have step by step photos for the samosa dough. The important thing is that the filling can be anything you like.. from potatoes to mince meat to even chocolate. Just try what you feel like.
Samosas at home
Preparation Time: 30 mins| Cooking Time: 10 mins| Makes 16 small ones
Ingredients
For the dough
1 cup all purpose flour (maida) [+ 2 tbsps for dusting]
3 tbsp vegetable oil
1/2 tsp carom seeds (ajwain)
1/2 tsp salt
For the stuffing
1 cup grated paneer
2 medium potatoes, boiled, peeled and grated
1 green chilli, finely chopped
1 inch ginger, grated
1 tsp fennel seeds
1 tsp whole coriander seeds, lightly pounded
Salt to taste
2 tsp coriander powder
1 tsp cumin powder
1/2 tsp red chilli powder
Oil for deep frying
Method
Samosa Dough
* In a bowl, mix together flour, carom seeds, salt and oil.
* Mix them with the tips of your fingers so that the oil is well incorporated in the flour and there are no large lumps.
* Now slowly add lukewarm water, little by little and knead into a firm dough.
* Cover it with a damp muslin cloth (or a tea towel) and leave it to stand for 15-20 mins.
For the filling
* Combine together all the ingredients for the filling in a bowl and mix well.
* Once the dough has been standing for 15 minutes, knead it a little more and divide into 8 equal portions.
* Dust a little flour on your rolling surface. Take one ball and roll it out into a circle of about 6 inch in diameter.
* Cut into half. With your finger apply a little water along half the straight edge (diameter side). Fold into half to make a cone. Press together the edges firmly with your fingers.
* Hold in cone in your palms and fill it with the paneer and potato stuffing. While filling remember less is more. You need to just fill it up to 3/4th.
* Now apply water to one of the inside round edges and press the two together to close the samosa.
* Last step- with a fork (or back of a spoon) press at the round edge to seal it firmly.
* Repeat with all the dough to make 16 samosas. (If you have some leftover filling – it is great for stuffed paneer and potato paranthas!)
* Heat oil in a kadhai. Deep fry samosas till they are crisp and golden brown. The oil should be medium hot and not smoking hot else the outside will burn quickly without the inside of the samosa heating up.
* Drain onto an absorbent paper and serve hot with some lime wedges and green chutney.
Food is never just food. I believe it's story telling, it's conversation. It brings people together and it speaks a universal language! I love to play around in my kitchen. The thrill of being able to create something new and sharing it with others is what fuels my passion for cooking. The fact that dear husband is a foodie and an honest critique helps! I blog about my adventures in the kitchen at http://www.myweekendkitchen.in/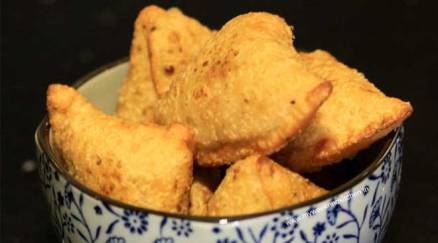 We don't need an excuse to grab a plate of Samosas. Afterall, it's the king of all Indian snacks. If you want to make it at home, here's a step-by-step guide to make a perfect samosa, by Ashima Goyal Siraj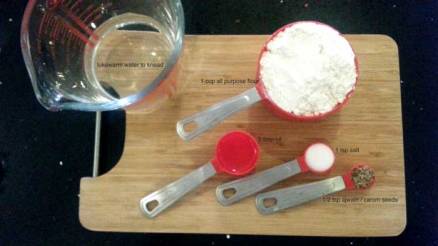 Step 1: Ingredients for samosa dough (Source: Ashima Goyal Siraj)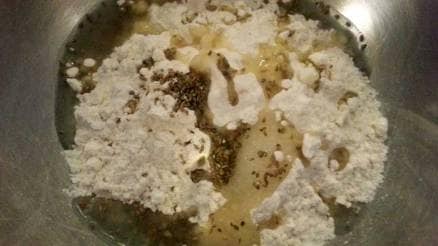 Step 2: Mix together flour – oil -salt – ajwain seeds (Source: Ashima Goyal Siraj)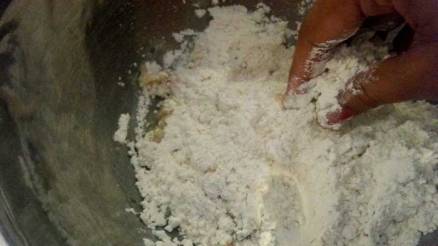 Step 3: Mix them with the tips of your finger (Source: Ashima Goyal Siraj)
Step 4: Mix until oil is well incorporated and there are no big lumps (Source: Ashima Goyal Siraj)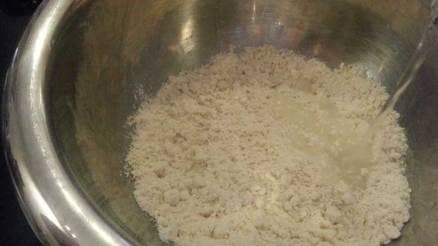 Step 5: Slowly add lukewarm water. (Source: Ashima Goyal Siraj)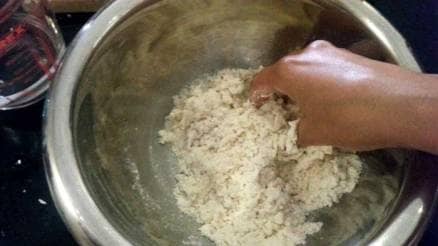 Step 6: knead with your hands to a firm dough (Source: Ashima Goyal Siraj)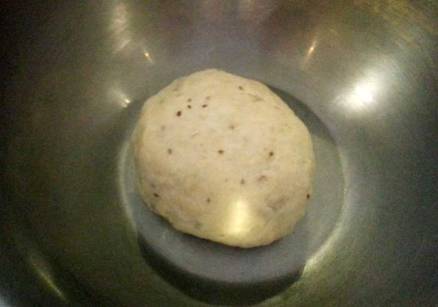 Step 7: The dough should be very firm. (Source: Ashima Goyal Siraj)
Step 8: Cover with a damp muslin cloth and keep aside for 15-20 mins. (Source: Ashima Goyal Siraj)
Step 9: Prepare your desired filling (Source: Ashima Goyal Siraj)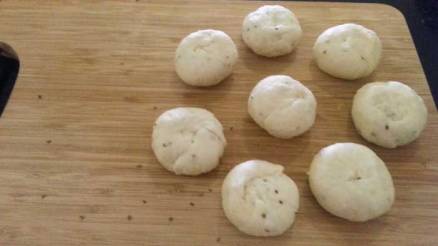 Step 10: After 15 minutes, knead the dough a little more and shape into small balls (Source: Ashima Goyal Siraj)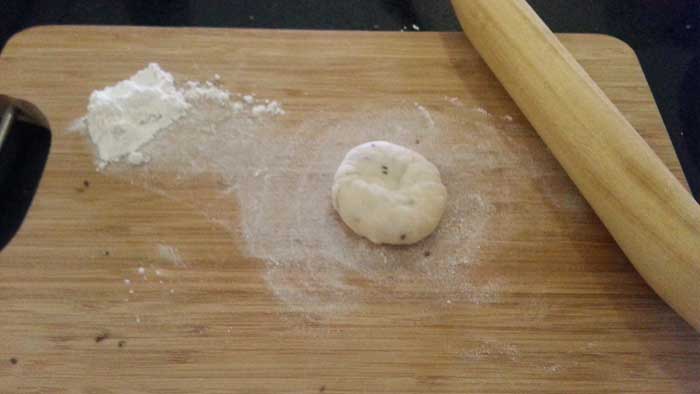 Step 11: Dust the rolling surface with a little flour. (Source: Ashima Goyal Siraj)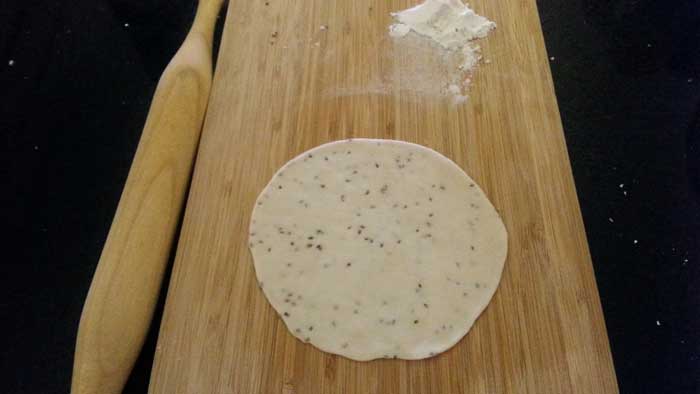 Step 12: Roll out each dough ball into a circle of about 6 inch diameter. (Source: Ashima Goyal Siraj)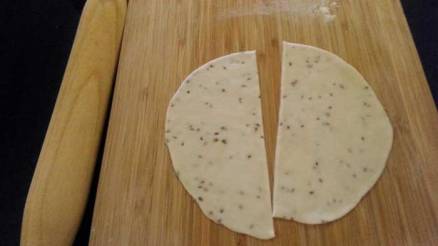 Step 13: Cut into half. (Source: Ashima Goyal Siraj)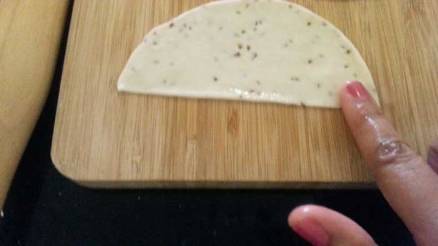 Step 14: Apply water along half the straight edge. (Source: Ashima Goyal Siraj)
Step 15: Fold and press together the edges well to form a triangle (Source: Ashima Goyal Siraj)
Step 16: It should form a cone like this. (Source: Ashima Goyal Siraj)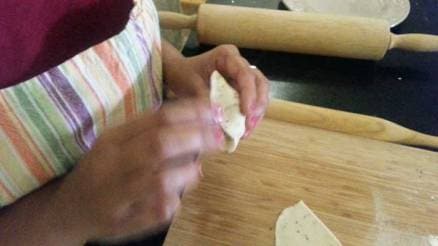 Step 18: Now apply water to one of the inside round edges and press the two together to close the samosa. (Source: Ashima Goyal Siraj)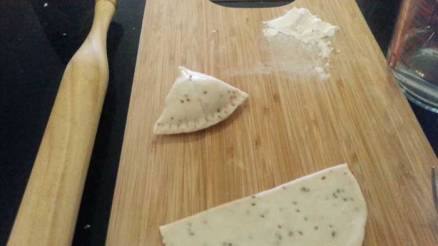 Step 20: The samosa is ready. (Source: Ashima Goyal Siraj)
Step 19: With a fork (or back of a spoon) press at the round edge to seal it firmly. (Source: Ashima Goyal Siraj)
Step 21: Repeat for all remaining dough balls. (Source: Ashima Goyal Siraj)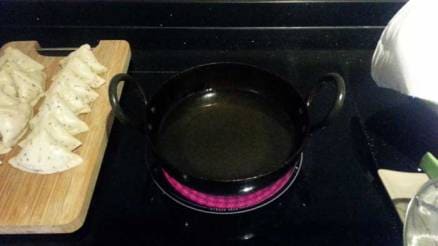 Step 22: Heat oil in a kadhai. (Source: Ashima Goyal Siraj)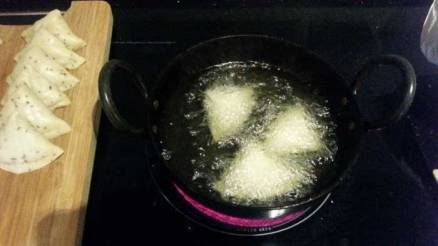 Step 23: Fry samosas on medium heat until golden brown. (Source: Ashima Goyal Siraj)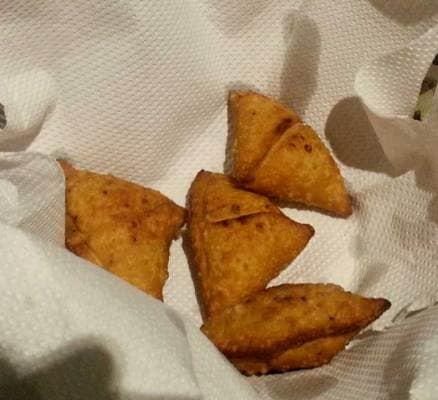 Step 24: Drain on an absorbent paper. (Source: Ashima Goyal Siraj)
For all the latest Lifestyle News, download Indian Express App