Bored of eating sandwiches, pizzas and burgers? Delhities now have an option to savour pitas. Not just it is claimed to be healthier, pitas sandwiches at Pita Pit are filling and might be the perfect budget-friendly fast food alternative. So, if you had enough of regular sandwiches and burgers, you might want to give Pita Pit a try.
This Canadian quick service chain entered India in January. It was brought by Mentor Hospitality Private Limited. The Pit Pita outlet at M Block market in Greater Kailash 1 is the brand's first footstep in the country and it is their flasghip store as well. Pita Pit is running two other outlets in Delhi-NCR: DLF Cyber Hub and Select City Walk. The brand has plans to open five more outlets this year.
Pita Pit offers customised pita sandwiches, fork style salads, fresh juices, beverages and desserts. Visitors can choose which vegetables, spreads, cheeses and sauces they want on their pita sandwich along with grilled meats.
Outlet reviewed: M-18, first floor, M block market, GK-1, New Delhi
Price: Rs 500 for two.
Ambience: The flagship outlet at GK 1 offers a peaceful environment to enjoy a good meal. Though the place may appear to be a bit cramped, there is ample room inside with formal and informal seating. Overall, the restaurant with its colour scheme and style offers a warm welcome.
There is also a big projector screen, to keep you tuned to the latest happenings. The place also offers a selection of books to read and free WiFi connectivity, which adds to the comfort.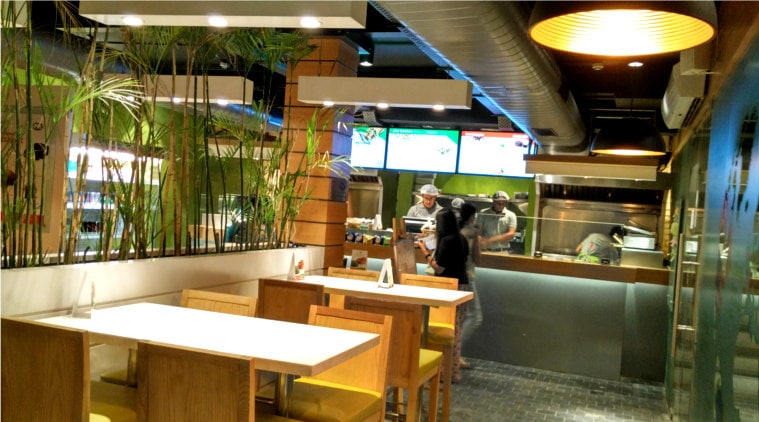 Food: The 'roti-like' pita bread is stuffed with all the goodies and is served in the form of a roll or a folded toastie. It comes in two diameters – 6-inches and 9-inches with an option to choose between white and multigrain pita bread. While the servings- pitas and toasties- may appear small, don't be tempted to order more initially. These innocent rolls or toasties are pretty filling.
Meat lovers should go for popular offerings like Chicken Crave, Turkey Ham and Chicken Caesar. The grilled meat, which includes Turkey ham and bacon along with sauces, cheese and vegetables, all wrapped in a simple pita bread is an absolute delight.
On the other hand, vegetarians can drool over pita wraps with khasta kebab, freshy paneer, Hummus and Falafel. Pita Pit is among the very few fast food joints which serve freshly squeezed juices. The slow-pressed juices offers a perfect combo of pulp and is worth having with pitas.
Service: The staff is pretty responsive, fast and serves with a smile.
Verdict: If you are looking for a healthy and filling meal within a tight budget, then Pita pit is a great option.
Visited any Pita Pit outlet? Feel free to share your experience in the comment section below. 
📣 The Indian Express is now on Telegram. Click here to join our channel (@indianexpress) and stay updated with the latest headlines
For all the latest Lifestyle News, download Indian Express App.