"My mother's menu consisted of two choices: take it or leave it," Buddy Hackett, an American comedian and actor, once said.
What is that one thing that brings back happy memories from your childhood? It may vary from people to people, but mom's favourite recipes will always top the list. After all, nobody can resist "Maa ke haath ka khana"! This Mother's Day, how about turning the tables?
ALSO READ | Happy Mother's Day 2017: When is it celebrated in India; history, celebrations and facts you should know
Want to make something special for her, but not sure of your culinary skills? Don't fret, we have some amazing recipes to put an end to your cooking woes. Create these quirky delicacies that your mom would adore, and add zing by sprinkling some magic this May 14.
BLACKBERRY AND APPLE PORRIDGE
Healthy and tasty, the blackberry and apple porridge will bring a sunny twist to your mom's breakfast. Chef Neelam Nautiyal from Storm Bar and Grill doles out this recipe.
Ingredients
160g — Oats
600ml — Milk
1 (Grated) — Apple
2-3 tbsp — Honey
100gm — Blackberries
3-4 — Basil leaves to garnish
Method
* Place oats and milk in a large pan over medium heat.
* Add a tiny pinch of salt and stir with a wooden spoon.
* Bring to a steady simmer for 5 to 6 mins, stirring as often as you can – if you like your porridge runnier, simply add an extra splash of milk.
* Add grated apple and most of the honey into the porridge during the last few minutes of cooking.
* Squash in the blackberries, and sprinkle the remaining berries on top along with some honey drizzled over.
PYAAZ KI KACHORI
This famous snack from Jaipur will fill your mom with joy! Make it at home with the help of Chef Vaibhav Bhargava, the executive sous chef at Sheraton, New Delhi.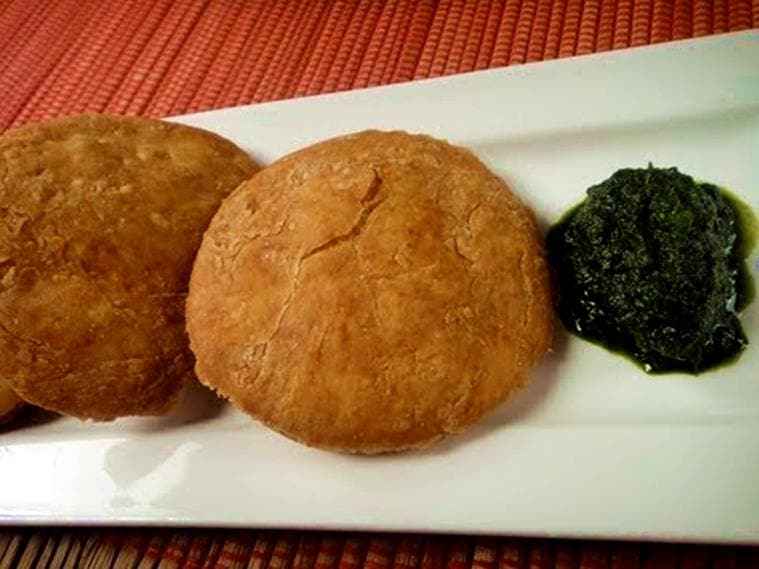 Ingredients
(For dough)
2 cups — Refined flour
2-3tbps — Oil
To taste — Salt
(For stuffing)
3 large — Onions (chopped)
1tbps — Oil
1tsp — Cumin seeds
A pinch — Asafoetida
2tsp — Coriander seeds (crushed)
Salt to taste
5-6 cloves — Garlic (chopped)
1 — Ginger (finely chopped)
3-4 — Green chillies (finely chopped)
1tsp — Red chilli powder
2tbsp — Fresh coriander (finely chopped)
Oil to deep fry
Method
(For dough)
* Take flour in a bowl.
* Add oil and salt.
* Add a little water at a time and knead to make a dough.
* Cover with a moist cloth and rest for 15 mins.
(For stuffing)
* In a kadhai/pan, heat one tablespoon of oil. Add cumin seeds and asafoetida.
* When the cumin seeds begin to change colour, add crushed coriander seeds and sauté for half a min.
* Add chopped onions, salt and sauté.
* When onions are translucent, add garlic, ginger, green chillies and red chilli powder. Mix and sauté for a min.
* Add chopped coriander to the onion mixture and mix.
* Turn off the flame. Let it come to room temperature.
(To make kachori)
* Divide the dough into equal portions.
* Apply a little oil and shape it like a poori, into small circles.
* Place onion mixture in the middle of the poori, collect the edges and seal.
* Press gently and pat with hands to flatten the kachori a bit, keeping the sides thin.
* Make all the kachoris in the same way.
* To fry, heat oil in a kadhai on medium-low flame.
* Deep-fry the kachoris on medium heat till golden.
* Serve hot with green and tamarind chutney.
CORN SALSA
Try this lip-smacking recipe from the house of Del Monte.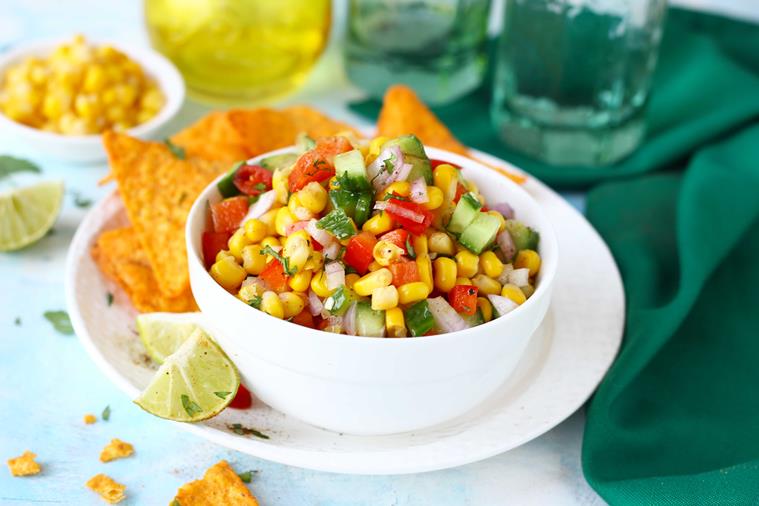 Ingredients
2 cups — Whole corn kernels
1/4 cup — Diced onion
1/4 cup — Diced cucumber
1/4 cup — Red bell pepper (cut into small cubes)
1 — Green chilli or jalapeño pepper (seeded and minced)
1 — Lime
1/2 tsp — Red paprika
1/3 cup — Fresh cilantro (chopped)
1 tbsp — Extra virgin olive oil
Salt and black pepper to taste
Method
* Mix together all the ingredients in a bowl.
* Taste and adjust the seasonings as needed, serve immediately.
ALMOND WAFFLE
Prepare this lovely dessert for your mom with inputs from Chef Sidhartha Roy, junior sous chef, at The Taj Mahal Hotel, New Delhi.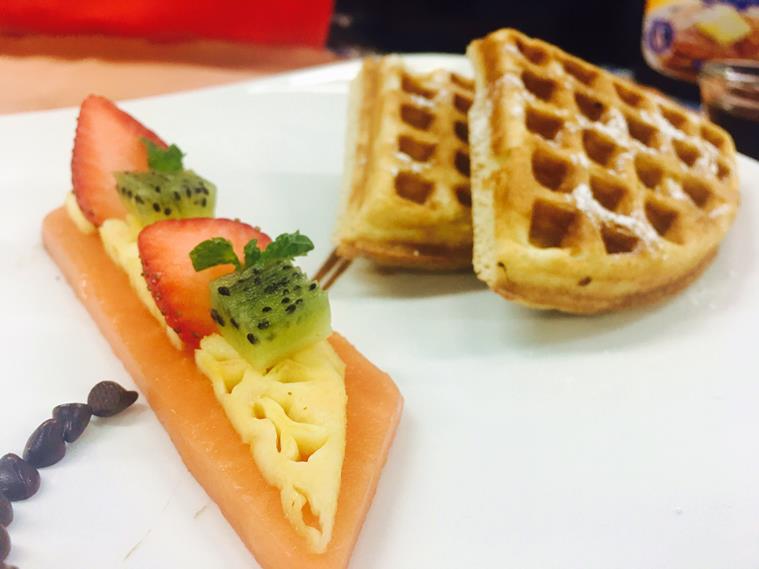 Ingredients
3/4 — Unsalted roasted almonds
2 cup — Flour
3tbsp — Sugar
2tbsp — Baking powder
1tsp — Baking soda
1tsp — Kosher salt
4 — Large eggs (separated)
2 cups — Butter milk
2 sticks — Unsalted butter (melted and cooled)
5 drops — Vegetable oil
To garnish — Unsalted butter and pure maple syrup
Method
* In a food processor, pulse the almonds, until finely ground.
* Transfer to a large bowl — whisk in the flour, sugar, baking soda, baking powder and salt.
* In a medium bowl, using an electric mixer, beat the egg whites at high speed for about 1 min until medium soft peaks form.
* In another bowl, whisk the egg yolks with butter milk, and melted butter and then fold in the beaten egg whites until no streaks remain.
* Spray the waffle iron with oil, pour 1/2 cup of batter into the iron, spreading evenly.
* Cook until the waffle is golden brown about 3 mins, and serve hot

RAINBOW PASTA SALAD
Tantalise your taste buds with this recipe from the house of Del Monte.
Ingredients
300g — Spirali pasta
10-12 — Sliced black olives
10-12 — Cherry tomatoes (cut into half)
1/4 cup — Mozzarella cheese cubes
1/4 cup — Red bell pepper (cubed)
1/4 cup — Yellow bell pepper (cubed)
1/4 cup — Onion (sliced)
1 cup — Lettuce (shredded to thin strips)
(For the dressing)
3 tbsp — Extra virgin olive oil
2 tbsp — Red wine vinegar
1 tsp — Dried basil
1 tsp — Dried thyme
Salt to taste
1/2 tsp — Freshly cracked black pepper
Method
* Boil the pasta as per instructions on back of the pack.
* Drain the water and add pasta in a bowl.
* Add the remaining salad ingredients in the bowl and mix well.
* Add the ingredients for the dressing in another bowl.
* Pour the dressing over the pasta and mix well.
* Serve immediately.
NIMBU PUDINA CHEESE CAKE
Make it grand for your mom with simple steps from Chef Sumalya Sarkar, executive chef of The Gateway Resort Damdama Lake, Gurgaon.
Ingredients
250 ml — Milk
50g — Sugar
40g — Beaten egg yolk
20g — Gelatin powder
15ml — Lemon juice
1 tsp — Grated lemon rind
5g — Roasted cumin powder
10g — Chopped fresh mints
100g — Mascarpone cheese
50g — Rich cream
Method
* Soak gelatin in little warm water and dilute.
* Boil milk and slowly add sugar, egg yolk, and gelatin powder.
* Remove from heat, cool down the temperature and keep aside.
* Whip rich cream with Mascarpone chesse and add lemon juice, lemon rind, cumin powder and fresh mint.
* Then, pour it into a small bowl.
* Refrigerate it for 45-50 mins until set.
* Save cold.
📣 The Indian Express is now on Telegram. Click here to join our channel (@indianexpress) and stay updated with the latest headlines
For all the latest Lifestyle News, download Indian Express App.