This Marie-biscuit pudding recipe comes from my sister's star cafe. So what is star cafe? As a weekend mother-daughter activity, didi has started a 'star cafe'; a cafe where she and her 6-year-old daughter are the chefs. It serves many purposes but the main being that Nandini will eat what she has made herself. And so most items on star cafe menu require no 'real cooking' if you know what I mean!
Didi keeps looking for kid friendly recipes both in terms of making and eating. She came across this one during a potluck party at a friend's house and ever since then it's one of the most regular items in star café and has become even in my home for last minute parties.
No cooking, no baking, just about 10 minutes of assembling and then leave it to set in the refrigerator. This weekend why not have a kids cooking session in your home?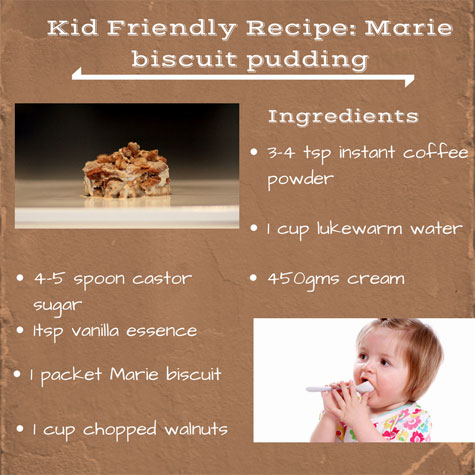 Marie biscuit pudding
Preparation: 10 mins| Refrigeration Time: 4-5 hrs | Serves 8
Ingredients
3-4 tsp instant coffee powder
1 cup lukewarm water
450gms cream
4-5 spoon castor sugar
1tsp vanilla essence
1 packet Marie biscuit
1 cup chopped walnuts
Method
Mix instant coffee powder in 1 cup lukewarm water
Beat together the cream, sugar and vanilla essence, until it forms peaks. As an alternative you can also use cream cheese instead of cream. I make both versions, cream cheese gives it a thicker texture.
Dip Marie biscuit in coffee and put a layer of them in a glass dish. (just dip and put, don't leave the marie biscuit inside coffee as it will get soggy and break quickly.)
Pour the coffee on this layer with a spoon.
Now add a layer of cream
Sprinkle a layer of chopped walnuts. Here again you can do a layer of butterscotch or even broken down pieces of gems… just whatever you feel your kid will love!
Now repeat the layers, one layer of biscuit dipped in coffee, one of coffee, one of cream and then sprinkle chopped walnuts
Cover the dish with cling film and refrigerate for 4-5 hrs.
Scoop out and serve individual portions. As an afterthought, I think it would be better to set the pudding in the first place in individual ramekins! The only negative with that would be that one won't get to see the lovely layers!
Food is never just food. I believe it's story telling, it's conversation. It brings people together and it speaks a universal language! I love to play around in my kitchen. The thrill of being able to create something new and sharing it with others is what fuels my passion for cooking. The fact that dear husband is a foodie and an honest critique helps! I blog about my adventures in the kitchen at http://www.myweekendkitchen.in/
📣 The Indian Express is now on Telegram. Click here to join our channel (@indianexpress) and stay updated with the latest headlines
For all the latest Lifestyle News, download Indian Express App.