By:
Lifestyle Desk
| New Delhi |
Updated: February 14, 2017 1:56:56 pm
On Valentine's Day, the world is largely divided into two kinds of people – the ones who love to indulge and throw themselves in the spirit of celebrations, and the other who would rather prefer to stay away from all the mush. But no matter which group you are a part of, there's always time for some delicious cookie treats for you and your loved ones.
ALSO READ | Valentine's Day 2017: Here's how to dress up for your special night out
This Valentine's Day, instead of buying packs of cookies from the market, try your hands at these recipes in your kitchen. Believe us, there's nothing greater than freshly baked cookies.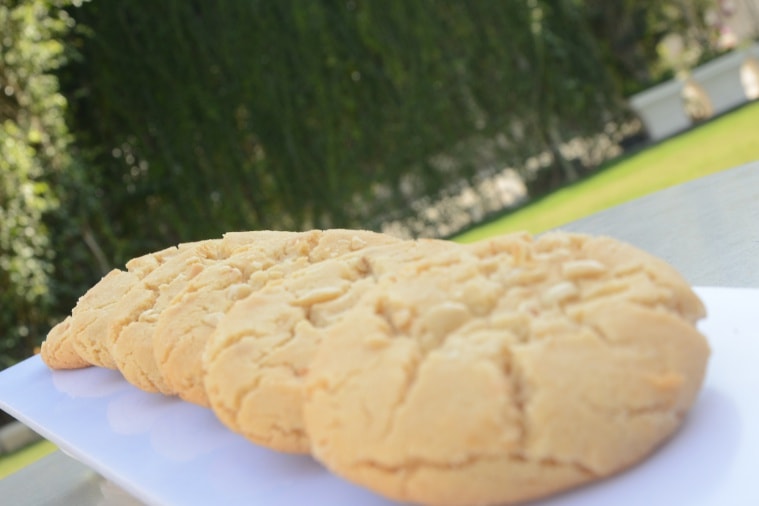 Chewy White Chocolate and Almond Cookie
by Executive Chef, Subrata Debnath, Vivanta by Taj – Gurgaon
Ingredients
3 cups – White chocolate chips
2 cups – Refined flour
½ cup – Almond meal
1 cup – Unsalted butter
1 cup – Caster sugar
2 – Eggs
2 tsp – Baking soda
1 tsp – Vanilla extract
½ cup – Slivered almonds (skinless)
ALSO READ | Happy Valentine's Day 2017: 7 lunch and dinner recipes to make your V-Day special
Method
* Preheat the oven to 175 degree celsius.
* In a large bowl, combine the butter and sugar well until it's creamy, light and fluffy.
* Add the eggs and beat well.
* In a separate bowl, mix together the flour, baking soda and almond meal.
* Combine the dry ingredients with the wet mixture.
* Fold in the chocolate chips and slivered almonds.
* Line a baking tray with a parchment sheet and grease it with butter.
* Place spoonfuls of the cookie mixture on the lined baking sheets.
* Bake for 10 mins.
* Once done, allow the cookies to cool before serving.
* Serve warm with vanilla bean ice-cream.
ALSO READ | Valentine's Day 2017: Here are 15 pick-up lines you should never use, EVER!
Valentine's Butter Cookies
by Chocazure, New Delhi
Ingredients
210g – Maida
230g – Butter
80g – Sugar
50g – Cornflour
1 tbsp – Vanilla essence
1 tsp – Organic red food colour
ALSO READ |  Valentine's Day 2017: 5 romantic party themes and how to decorate your home for V-Day
Method
* Sift all the dry ingredients and keep it aside.
* In another bowl, whip butter and sugar until it's light and fluffy. Now, add the dry ingredients to the mixture.
* Add vanilla essence to the mixture and then put in the organic food colour.
* Take a piping bag attached with a nozzle, and pipe out the cookies onto a greased baking tray – move in circular fashion to create roses.
French Heart (Palmiers)
by Chef Ashish Rai, Head – Culinary, Barbeque Nation
Ingredients
1 – Puff pastry sheet
1 tbsp – Brown sugar
1 tbsp – Grain sugar
Strawberry crush (optional)
Method
* Roll out the puff pastry sheet evenly on a marble slab.
* Sprinkle brown sugar and grain sugar on to the sheet. You can also add strawberry crush if you want red heart shape palmiers.
* Fold the two opposite sides of the pastry sheet square, so that the sides meet in the centre. Fold in the same sides of the pastry again.
* Now, fold one half of the pastry over the other. Cut pastry crosswise into 1/2-inch-thick slices.
* Dip cut sides of each piece in sugar and arrange, cut side down, on an ungreased baking sheet.
* Bake it at 210 degree celsius for 5- 7 mins or until golden in colour.
* Serve hot.
* Bake in a preheated oven at 180 degree celsius for 18 mins.
Savoury Valentine's Cheese Biscuits
by Chef Tara Deshpande Tennebaum
Ingredients
250g – Mild cheddar (coarsely grated)
1.5 cups – Maida (plus 2 extra cups for rolling)
113g – Cold unsalted butter (cut into small pieces)
1/4 tsp – Red chilli powder or cayenne pepper
1.5 tbsp – Whole milk
Method
* Preheat the oven to 175 degree celsius.
* Prepare two trays in the middle and bottom by lining it with wax or parchment paper.
* Pulse cheese, flour, butter, salt, and cayenne pepper/red chilli powder in a food processor until the mixture resembles breadcrumbs. You can also do this by hand, using a fork or pastry tool.
* Add milk and mix until the dough forms a loose ball. The dough should be soft and easy to roll.
* Divide the dough into two portions and cover it in plastic wrap. Refrigerate for 20 mins.
* Remove one portion of the cheese dough, unwrap and divide it into two equal parts. Keep it covered with a clean damp cloth.
* Sprinkle a clean, flat surface generously with flour.
* Roll out half the dough with a lightly floured rolling pin into a 5 by 6-inch rectangle (about 1/6 inch deep).
* Dip a 1-inch wide, heart-shaped pastry cutter in maida and cut the rolled out dough into perfect shapes. You can make round or square biscuits as well.
* Carefully transfer it to the lined baking trays. There should be a small space between every biscuit to prevent it from sticking. Using a fork gently, prick each square. This will reduce puffing.
* Bake for 15-17 mins until it's light golden. Switch positions of the racks halfway through to ensure even baking.
* Repeat in batches with remaining biscuit dough.
* Cool completely and refrigerate in an airtight container.
* Serve as is it is or as a canape with a variety of toppings such as olive tapenade, goat cheese.
Vanilla Panacotta with Strawberry Jelly and Streusel Biscuit 
by Chef Vivek Chauhan, The Imperial, New Delhi
Ingredients
For Vanilla Panacotta
440ml – Double cream
100ml – Milk
125g – Sugar
6g – Gelatin
½ – Vanilla bean
For Strawberry jelly
150ml – Strawberry puree
60g – Sugar
50ml – Water
6g – Gelatin
For Raspberry Gelee'
68g – Raspberry puree
12ml – Water
2g – Gelatin
1.5g – Pectin
9g – Sugar
For Streusel Biscuit
148g – Flour
96g – Butter
96g – Brown sugar
48g – Ground almond
Method
For Vanilla Panacotta
* Boil milk and double cream with vanilla bean and sugar.
* Mix the soaked gelatin.
* Keep the mix over ice-bath and whisk it so that the vanilla is mixed evenly.
* Pour the mix in the moulds and keep it in the fridge overnight before use.
For Strawberry jelly
* Boil strawberry puree, sugar and water together.
* Mix the soaked gelatin.
* Keep the mix over ice-bath and pour it over the pannacotta.
For Raspberry Gelee'
* Boil raspberry puree and water in the pan.
* Mix pectin and sugar together.
* Now, add the pectin to the puree mix and boil.
* Pour the mix in the lined tray and leave it in the fridge overnight.
* Cut the gelee' into deices.
For Streusel Biscuit
1)     Mix flour, brown sugar, ground almond & chilled butter.
2)     Rub the mix together and get a sandy texture.
3)     Put the mix over silpad and press it with hands to form a rough dough
4)     Bake it, cool it and then make abstracts of biscuits.
For all the latest Lifestyle News, download Indian Express App