No Indian festival is complete without an elaborate spread and if it's Diwali, then it's blasphemous to not have a table full of delicacies. This festive season, treat your guests to some finger licking goodness with these easy snack recipes.
Roasted Almond Dip with Baked Namakpara
By Chef Kunal Kapur, Masterchef India Judge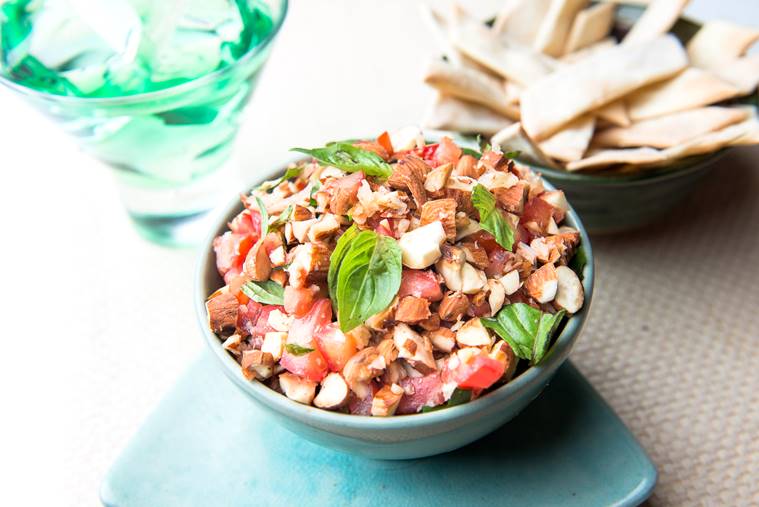 Ingredients
1/2 cup – Almonds roasted & crushed
1 cup – Tomatoes, chopped
2 – Garlic cloves
1 – Sprig basil
1/2 – Lemon
1/2 tsp – Salt
1/2 tsp – Pepper
250g – Refined flour
10g – Sugar
1 tsp – Salt
20 ml – Olive oil
150 ml – Water
Method 
* For the dip, place the tomatoes in a bowl.
* Crush and then chop the garlic, add to the tomatoes.
* Finely chop the basil sprig and add to tomatoes to the rest of the ingredients. Refrigerate for a while.
* Prepare dough with the above ingredients.
* Give it a rest for 10 minutes. Now roll out a very thin sheet and bake it in a pre-heated oven at 200c for 10-12 minutes.
* Remove and break into pieces. Serve with the almond dip.
Seb Aur Badaam Ka Shorba
By Chef Ajay Chopra, The Westin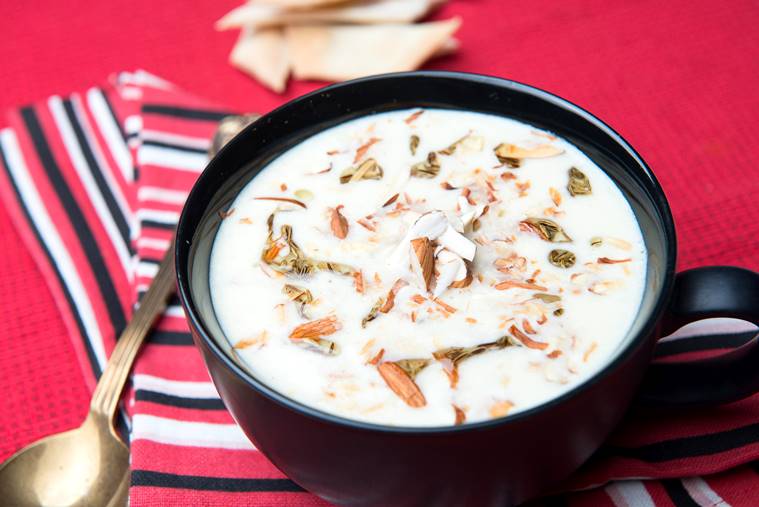 Ingredients
150g – Almond (peeled)
20g – Ginger
5g – White pepper powder
10ml – Honey
2g – Jeera
Cream for topping
10 ml – Refined oil
5g – Shahijeera
5g – Saunf
2g – Cinnamon
Salt to Taste
200 ml – Veg stock
Method
* Blanch the almonds, make a puree and keep it aside.
* In a pan, heat a little oil, add ginger and green apple dices with a little water to boil. Cool it down to make a puree.
* In a separate sauce pan, add a little refined oil, shahijeera, saunf and cinnamon and sauté well.
* Add almond puree to cook for some time then add apple puree.
* After that, add a good vegetable stock and cook for 20 minutes. Add honey, pepper and jeera powder to it.
* Check the seasoning. Finish with cream and almond flakes which are toasted.
Almond Sweet Potato and Pomegranate Chaat
By Chef Manish Mehrotra, Indian Accent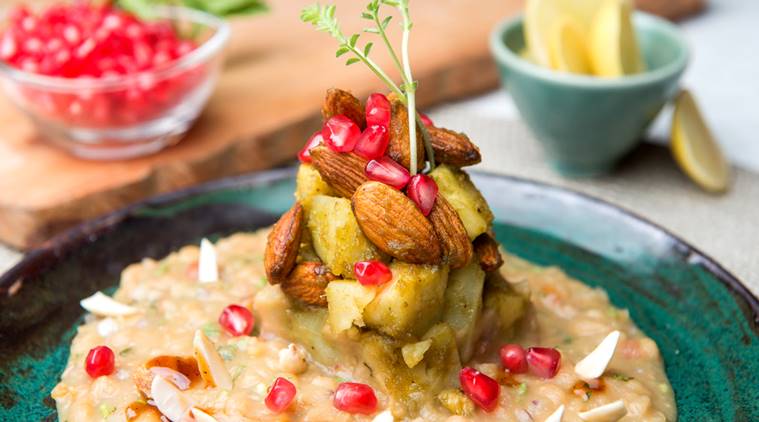 Ingredients
15g – Almonds (peeled)
30g – Boiled sweet potato dices
5g – Pomegranate pearls
20g – White pea
5g – Onions chopped
5g – Tomatoes chopped and deseeded
2g – Chaat masala
1g – Green chillies
3 ml – Lemon juice
1g – Coriander, fresh
10 ml – Mint chutney
15 ml – Saunth chutney
1g – Red chilli powder
Method
* Boil white pea till it's cooked well.
* Mix chopped onions, chopped tomatoes, green chillies, fresh coriander, lemon juice, red chilli powder and chaat masala. Adjust the seasoning.
* In a separate bowl, take almonds, pomegranate pearls and sweet potato.
* Drizzle with saunth chutney, lemon juice, chaat masala and chopped coriander. Toss it lightly.
* Then, on a serving plate, mould the white pea ragda and arrange the almond chaat on top of it. Serve garnished with a coriander sprig.
Nadru aur Almond ki Seekh
By Chef Ajay Chopra, The Westin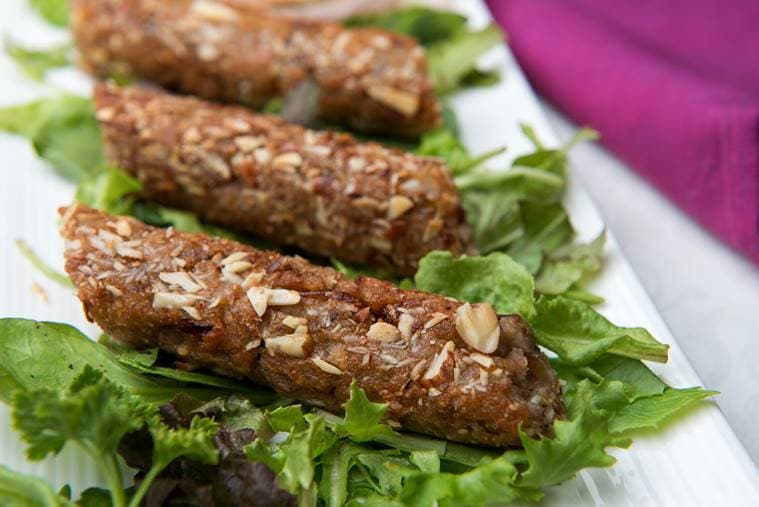 Ingredient
80g – Almond
300g – Lotus Stem
4 – Green chilies
5g – Ginger
10g – Garlic
30g – Roasted chana flour
Salt to taste
80g – Boiled potato (grated)
50g – Cottage cheese (grated)
3g – Green cardamom powder
2g – Mace powder
50g – Brown onion
50 ml – Oil (for shallow frying)
20g – Mawa (khoya)
Method
* Clean, wash lotus stem then cut into thin slices and blanch them for a few minutes. Drain off water and fry them.
* Make a paste out of the lotus stem and set it aside.
* In a bowl, put grated cottage cheese, boiled potato and all the spice powders mentioned above.
* Mix the mixture well to combine all the masala and saffron water.
* Make a tikki of the mixture, topped with sliced almond and cook it in a non-stick pan with very little oil. Serve with mint chutney.
Caramelised Sesame Smoked Almonds
By Chef Ajay Chopra, The Westin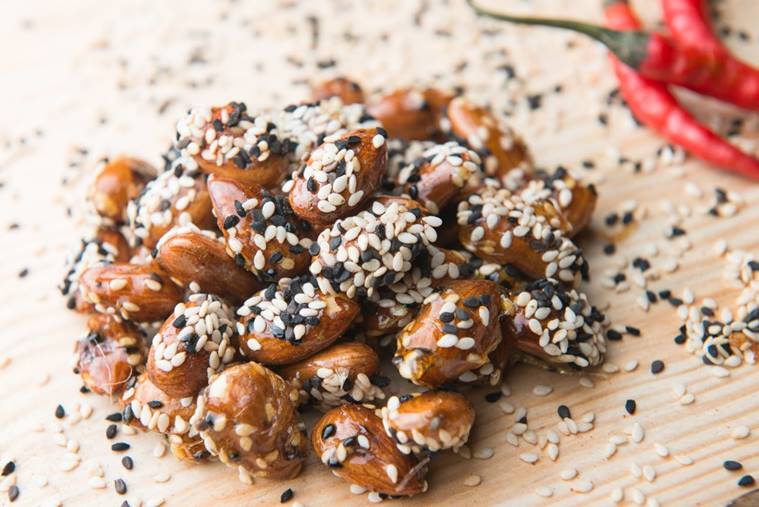 Ingredients
400g – Almonds whole
100g – White and black Sesame
150g – Sugar
10g – Rosemary
10g – Chilli powder
10g – Sea salt or rocks salt (optional)
Method
* In a pan, dry roast almonds and let it cool so that it becomes crunchy.
* In a separate pan, take sugar and let it caramelize. Add roasted almonds to it.
* When almonds are coated with syrup, add the chili powder.
* Remove on a clean tray and coat it with white sesame seeds and rock salt (crushed).
* Take a charcoal, burn it on fire and keep it on bowl, add some rosemary and smoke the almonds which are coated with sesame.
* Store it in an airtight container.
Chonkey Badam
By Chef Kunal Kapur, Masterchef India Judge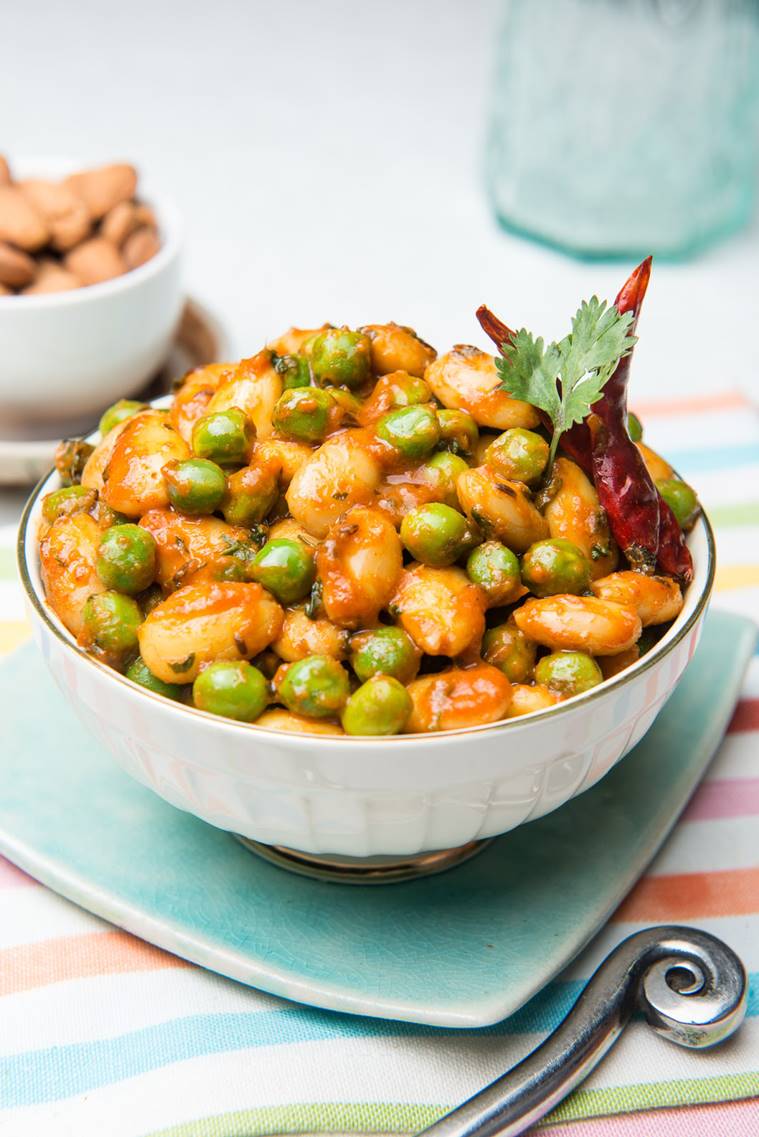 Ingredients
2 tbsp – Oil
1 tsp – Jeera
1/2 tsp – Hing
1 – Dry red chilli
3 tbsp – Kasoori methi
1 tbsp – Ginger garlic paste
1/2 tsp – Turmeric
2 tsp – Coriander powder
1 tsp – Red chilli powder
3 tbsp – Tomato puree
1/2 cup – Almonds blanched and peeled
1/2 cup – Green peas
1 tsp – Salt
Method
* Soak kasoori methi in half cup of water. Heat oil and add dry red chilli, sprinkle jeera and hing.
* Sauté till jeera crackles. Add ginger garlic paste and sauté for 2-3 minutes.
* Now add turmeric, red chilli powder and coriander powder. Sauté on low heat for a minute.
* Remove water from methi and squeeze it. Add the fenugreek and cook for 3 minutes.
* Add little water so that masala does not stick to the bottom.
* Now add the almonds, peas and salt. Sauté and add the tomato puree.
* Add little water and cook on low flame.
* Cook for 5 minutes and remove from fire and serve hot.
Happy Diwali folks!