We all love eating steaming hot samosas with tea, but some of don't like having too much oil. Baked samosas, prepared without deep frying solves this problem.
Ingredients
For Kneading Dough:
Refined flour – 1 cup
Salt – 1/4 tsp
Sugar – 1/2 tsp
Dry active yeast – 1/2 tsp
Oil- 1 tbsp
For Samosa Stuffing:
Potato – 2 (boiled) (medium size)
Peas – 1/2 cup
Oil – 1 to 2 tsp
Red chilly powder – less than 1/4 tsp
Salt – 1/4 tsp (as per taste)
Green chilly – 1 to 2 (finely chopped)
Ginger – 1/2 inch piece (grated)
Green coriander – 1 to 2 tbsp (finely chopped)
Mango powder – 1/4 tsp
Coriander powder – 1/2 tsp
Cumin powder – 1/2 tsp
Garam masala – less than 1/4 tsp
Method
* For baked samosas, take flour in any vessel. Add salt, sugar, dry active yeast and oil and mix well. With the help of lukewarm water, knead soft dough. Grease the dough with some oil. Cover the dough and keep it aside for 2 hours. Dough will puff up and get double the size.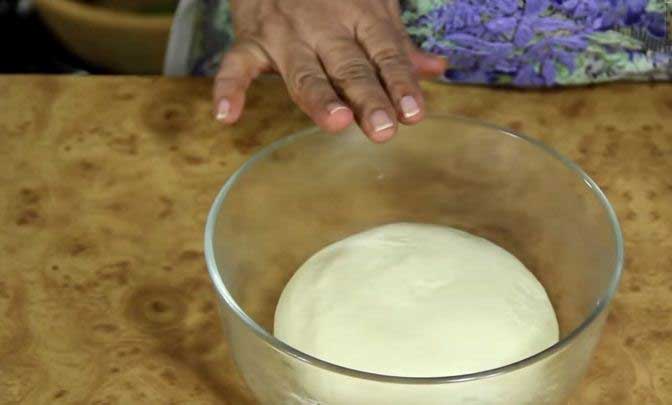 * Take some oil in a pan and heat it sufficiently. When oil is hot, add green chilly, ginger, cumin powder, coriander powder and peas. Saute the peas for 2 minutes. Peel the potatoes and mash them finely. Add salt, red chilly powder, garam masala, mango powder and green coriander. Mix all ingredients really well. Turn off the flame and take out stuffing in a bowl, so that it cools quickly.
* Knead the dough again. Make four lumps from the dough and roll giving them a round shape. Take one dough ball, dust with some dry flour and roll out like chapatti with 7 to 8 inch diameter. Divide the rolled poori in two equal halves.
* Take one part and place it over your hand. Spread some water on the side from where its cut and then lift from the other side and stick it nicely, giving it a cone shape. Place 1 to 1.5 tsp stuffing inside the cone. Spread some water on the corners, give a fold at the back side and stick both the sides to close the stuffing. Place this samosa in erect position (upper corner on the top) on the tray. Likewise fold all the samosas and place them at some distance on the tray.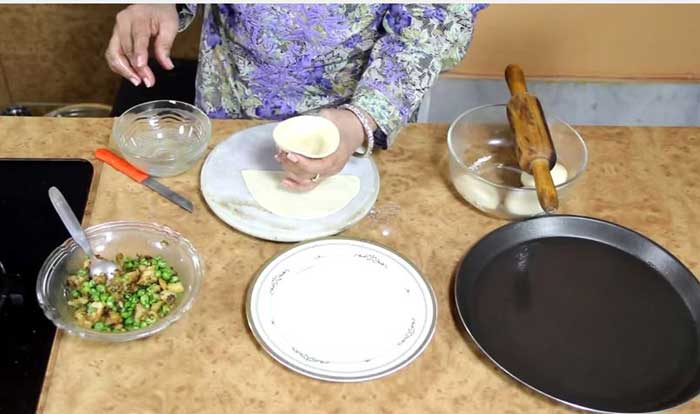 * Cover and keep aside the tray for half an hour in such a way that their shape remains intact. After half an hour, bake the samosas in oven. Preheat the oven at 180 degree centigrade. Place the tray in oven and bake samosas on 180 degrees for 10 minutes first. Check the samosas, they have turned slightly brown. Bake the samosas for 5 more minutes. Within 15 minutes, samosas turn golden brown in color. Samosas are now ready.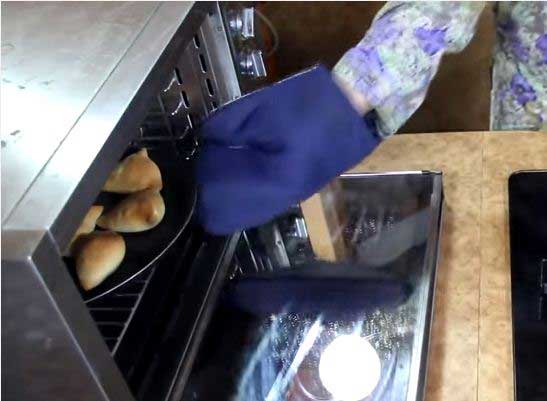 A homemaker in Noida, and passionate about cooking, Nisha Madhulika at 54 started http://www.nishamadhulika.com in 2007. She started her YouTube channel in mid 2011. She is known for making recipes with easily available ingredients. She has posted more than 1100 videos on her channel so far. She is one of the most popular chefs online and was recently featured in YouTube Top Chefs coffee table book.
📣 The Indian Express is now on Telegram. Click here to join our channel (@indianexpress) and stay updated with the latest headlines
For all the latest Lifestyle News, download Indian Express App.
The Indian Express website has been rated GREEN for its credibility and trustworthiness by Newsguard, a global service that rates news sources for their journalistic standards.