These steamed potato and cheese balls were the inaugural dish of my new bright red steamer . Until now the use of steaming in cooking was limited to steamed veggies to go with grilled meat. This I could do with keeping the veggies on a colander and then atop a pot of boiling water. But now I want to go a step further; try momos and dimsums at home. That's why the new addition in the kitchen.
These potato and cheese balls make for a quick delectable snack. I have given them an Indian chaat flavour but I'm sure they will taste amazing with a mix of Italian herbs as well. Since it was just a trial, I made a small batch of around 12 balls and they were gobbled up before I knew!
Also just like last week, this recipe is also very kid friendly and it will be great to have kids have their hands messy with mixing and making the balls!
Steamed Potato and Cheese Balls
Preparation Time: 5 mins| Cooking time: 15 mins| Makes ~12 balls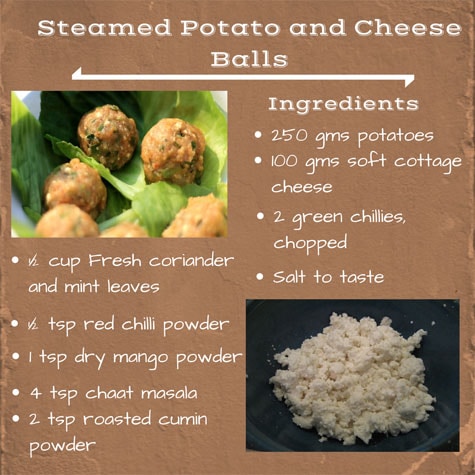 Ingredients
250 gms potatoes (I used 2 large)
100 gms soft cottage cheese
2 green chillies, chopped
½ cup Fresh coriander and mint leaves, chopped
½ tsp red chilli powder
1 tsp dry mango powder (amchoor)
4 tsp chaat masala
2 tsp roasted cumin powder (bhuna zeera)
Salt to taste
3-4 Lettuce leaves/ wraps for steaming and serving
Method
Step 1
Pressure cook potatoes with a little water for about 2 whistles in the pressure cooker. We want the potatoes only par-boiled as the potatoes will be further cooked while steaming. Once boiled; keep them aside to air dry. Peel and grate along with cottage cheese.
Step 2
Mix together all ingredients in a mixing bowl and make small balls (approx. ~2inch diameter)
Step 3
Line the steamer with lettuce leaves and place the balls on top of them.
Step 4
Steam for 5 minutes
Step 5
As soon as you take the balls out of steamer, they will look a little soggy. Let them sit for a minute before serving
Step 6
Serve on lettuce wraps.
Food is never just food. I believe it's story telling, it's conversation. It brings people together and it speaks a universal language! I love to play around in my kitchen. The thrill of being able to create something new and sharing it with others is what fuels my passion for cooking. The fact that dear husband is a foodie and an honest critique helps! I blog about my adventures in the kitchen at http://www.myweekendkitchen.in/
📣 The Indian Express is now on Telegram. Click here to join our channel (@indianexpress) and stay updated with the latest headlines
For all the latest Lifestyle News, download Indian Express App.