This patli daal is the newest addition to my list of comfort foods. My father-in-law taught me this one. As the name suggests the daal is very very runny. On first look, one may think of it as spiced water with floating coriander but all the daal actually is at the bottom.
The way to eat it is to break the roti into bite size pieces in a bowl and then pour the daal over it and eat it with hands.
One of the greatest pleasures of marrying in the Bohra community is the whole new cuisine I got introduced to. One would think that being a vegetarian in a muslim family will be difficult, but there are so many wonderful vegetarian Bohri dishes and slowly and steadily I am learning them all from my in-laws. Food is such a great way to bond.
Patli Daal
Preparation: 5 mins (+30 mins for soaking) | Cooking 20 mins| Serves 2-3
Ingredients
1 cup white urad daal (skinless)
1/8 cup chana daal (Bengal gram daal)
1 green chilli, finely chopped
2 medium sized tomatoes, chopped
½ tsp Kashmiri red chilli powder
1 tsp cumin seeds
Salt to taste
3 tsps Ghee(Clarified butter, you can also use oil instead)
5-6 cloves of garlic, chopped
Juice of ½ lime
½ cup fresh coriander, chopped
Method
* Soak urad and chana daal (in triple quantities of water) separately for 30 minutes. Since chana daal takes longer to cook, soak chana daal in hot water.
* Put a pressure cooker on medium flame. Add 1 tsp of ghee. Add cumin seeds.
* When the seeds start to crackle, add chopped green chillies and tomatoes. Cook for 3-4 minutes.
* Add salt and red chilli powder. Mix well. Add the soaked daals, along with the water they were soaked in. Close the pressure cooker lid and put on the whistle. Pressure cook for about 3-4 whistles. Reduce the flame to low thereafter and switch off heat after 10 minutes.
* Open the cooker only after all the steam has escaped on its own.
* Add half of the chopped coriander and 2 more cups of water and cook open on low flame. Stir occasionally in between. Once the water boils remove from heat and pour the daal in the serving dish. Add the remaining fresh coriander and lime juice.
* In a separate pan, heat the remaining ghee and add chopped garlic. When the garlic just begins to turn brown, remove from heat and pour directly onto the cooked daal! I love the simmering sound when tadka is added to daal.
* The patli daal is ready! It is typically eaten with roti. The roti is first broken into smaller bites in a bowl and the daal is then served on it soaking the whole roti.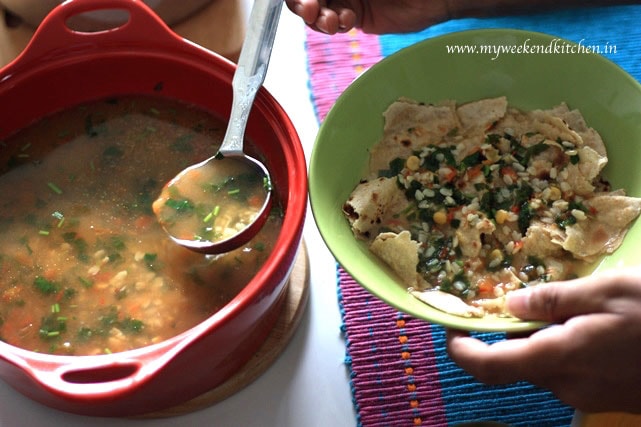 * Serve a little sweet and sour lemon pickle to add to the taste!
Food is never just food. I believe it's story telling, it's conversation. It brings people together and it speaks a universal language! I love to play around in my kitchen. The thrill of being able to create something new and sharing it with others is what fuels my passion for cooking. The fact that dear husband is a foodie and an honest critique helps! I blog about my adventures in the kitchen at http://www.myweekendkitchen.in/
📣 The Indian Express is now on Telegram. Click here to join our channel (@indianexpress) and stay updated with the latest headlines
For all the latest Lifestyle News, download Indian Express App.