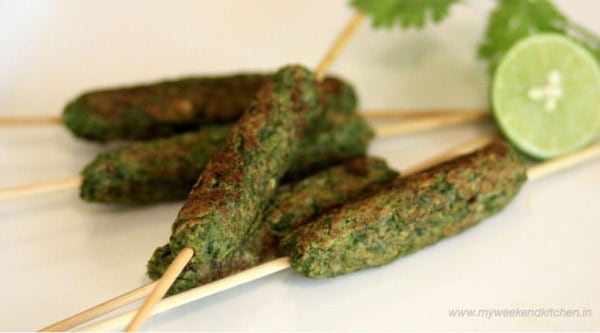 One of the Diwali parties has to be a chaat party and combine it with a grill on the side and you have a perfect early evening garden party set up! This is what we did as a run up to Diwali this year. And while we had a lot of vegetarian chaat items, the grill seemed predominantly non-vegetarian as I decided to convert my hara bhara kebabs into hara bhara kebabs on a stick!
Hara Bhara Kebab – on a stick
Preparation Time: 20 mins| Cooking Time: 15 mins| Makes ~12 kebabs on stick
Ingredients
1 bunch (250 gms) spinach leaves
1 cup peas, boiled
4 potatoes, boiled and grated
3 green chillies, finely chopped
1 inch ginger pice, peeled and grated
1/2 fresh coriander leaves, chopped
2 tsps chaat masala
Salt to taste
1 tbsp cornflour
Oil for frying
Method
• Roughly chop spinach leaves and blanch them in 1 cup water for 5 minutes. Remove from heat, drain and refresh by washing in cold water. Drain.
• Put the spinach leaves and peas in a chopper and chop them coarsely.
• In a large mixing bowl, mix together chopped spinach and peas, potatoes, green chillies, coriander, ginger, chaat masala, salt and cornflour. Adjust the seasoning according to your taste.
You may also add more of green chillies or some red chilli powder if you like very spicy kebabs.
• Divide the mixture into 12 parts and shape into long stick rectangles.
• Slightly shallow fry the kebabs and then put them onto skewers for grilling on fire. This would ensure that the kebabs stay on the skewer.
• I had prepared these about 2 hours in advance. Before serving, grill them on fire for about 2-3 minutes and serve hot with lemon.
• If you are using bamboo skewers, put them in water for about 10 minutes before putting the kebab on them. This would ensure that while the kebabs are on the grill, the stick does not go dry.
Food is never just food. I believe it's story telling, it's conversation. It brings people together and it speaks a universal language! I love to play around in my kitchen. The thrill of being able to create something new and sharing it with others is what fuels my passion for cooking. The fact that dear husband is a foodie and an honest critique helps! I blog about my adventures in the kitchen at http://www.myweekendkitchen.in/
The Indian Express website has been rated GREEN for its credibility and trustworthiness by Newsguard, a global service that rates news sources for their journalistic standards.