This festive season brought happy faces and hungry stomachs to the Capital's Jawaharlal Nehru Stadium complex, where the first day of the eight edition of the National Street Food Festival 2016 is currently under way. Visitors are being treated to a smorgasbord of rich Indian food from 25 states – ranging from Kashmir to Tamil Nadu, picking up nibbles from Rajasthan and even Assam en route.
Streetfood vendors from across the country have brought delicacies like chilla, dahi papdi, gol gappas, chaat, aloo tikki, sev puri, bhel puri, kulfi falooda, fruit chat, purani Dilli chaat and Amritsari kulchas to authentic Hyderabadi biryani and Kolkata fish fry to tickle taste buds. No wonder so many have braved the chilly Delhi winter breeze to stop by right from Day 1.
These carefully selected items in the menu reveal the diverse range of culinary delights available at roadside in every village and city across the country. The street vendors were passionate and enthusiastic about their food and gleefully explained their cooking modus operandi. With more than 140 stalls, the festival promises a fun-filled weekend. Add to that the Christmas cheer, lights decorating the stadium, and some awesome music from popular banks such as Indian Ocean and a Hindi rock Sufi band Shlokaa.
There was even a food-themed Tol Mol Ke Bol quiz competition for women and another storytelling session. Apart from culinary arts, the festival also comprised games and goodies for children, who seem to be having the time of their lives!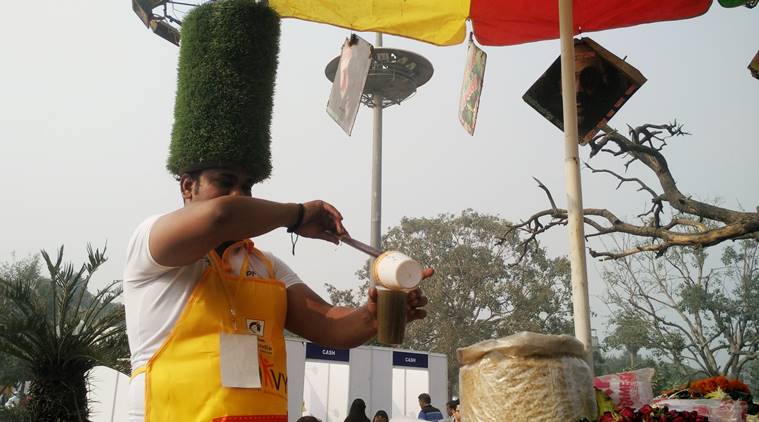 And if you thought demonetisation may have hindered sales, then you have another think coming. This year, the fest went #GoCashless, allowing all foodies to pay via credit and debit cards and also e-wallets. Arbind Singh, founder, NASVI (the event organisers), said he hoped to make the process of digital transaction easy for street vendors facing a cash crunch, and even organising special training modules for these vendors to teach them how to use digital cash.
So, if you're still wondering what to do this Christmas, then head over to the streetfood festival and sample the varied tastes of India.
Where: Jawaharlal Nehru Stadium, New Delhi
When: Till December 25, 12 noon – 10pm
Entry charge: Rs 80