By:
Lifestyle Desk
| New Delhi |
Updated: September 3, 2018 1:15:43 pm
Kajli Teej, also known as Kajari Teej, is celebrated 15 days after Hariyali Teej or Chhoti Teej. This festival is observed three days after Raksha Bandhan and five days before Krishna Janmashtami. Women observe a fast on this day and pray to Lord Shiva. It is customary to sing folk songs known as kajris, which are composed and sung in Rajasthan, parts of eastern Uttar Pradesh, Bihar and Madhya Pradesh.
Women break their fast by eating sattu and worship a neem tree. They also dress up in festive attire, apply mehndi and after the fast ends, the whole family indulges in an elaborate meal. As we know any Indian festival is incomplete without food here are some of the Rajasthani delicacies that you can try out today.
ALSO READ | What is Kajli Teej; when and how is it celebrated?
Gujiya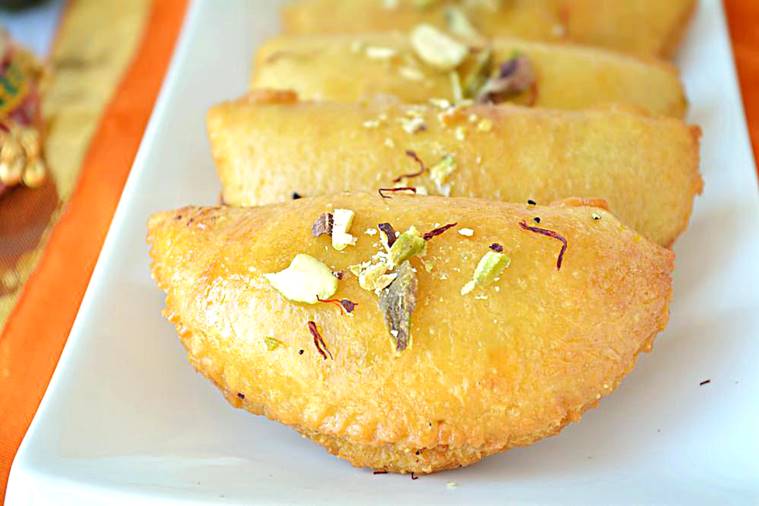 By Chef Rayomund Pardiwalla, Gokulam Grand Hotel and Spa
Ingredients for dough and filling
500g – Maida
2kg – Dala
300g – Coconut
500g – Kova
200g – Rava
50g – Pistachios
2g – Oil
1.5kg – Sugar
50g – Almond
Ingredients Sugar Syrup
500g – Sugar
250g – Water
2g – Cardamon powder
10 ml – Rose water
1g – Saffron
Method
* Rub 1/4 cup ghee into the flour and knead into a stiff dough with water.
* Leave to rest for at least half an hour.
* For the filling saute the khoya over medium heat till it looks slightly fried. Take off the heat and when it cools, mix in the sugar, cardamom and almonds.
* Shape the filling into ovals about 21 cm length and 1 cm thickness.
* Make balls of the dough and roll out into 1 cm / 1/8 in thick rounds.
* Take a round, wet the edges with water and place a piece of filling over one half.
* Fold the other half over and press the edges together to seal.
* Either cut off the edge with a fancy cutter or make a design by pinching and twisting all along the sealed edges.
* Make all the gujiyas in this way. Heat ghee in a kadahi. To check if the ghee is hot enough put a piece of dough in it. If it comes up at once, add as many gujiyas as fit in comfortably.
* Turn them over and lower the heat to medium. Fry till golden brown on all sides. Lift out and leave to drain on absorbent paper.
* Make sugar syrup by cooking water and sugar together, till one thread consistency
* Dip the gujiyas in it, lift and let dry on a plate.
* Fry the rest, increasing the heat for a few seconds before adding the next lot.
* Can be eaten hot or at room temperature and can be stored in air-tight containers
Jackfruit Jaggery Kheer
By Chef Thayanithy, Signature Club Resort
Ingredients 
20piece – Jackfruit
1 litre – Milk
6 tbsp – Jaggery
2 tbsp – Black Grapes
2 tbsp – Badam
2 tbsp – Pista
¼ tbsp – Cardamom Powder
2 tbsp – Ghee
Method 
* In a pan, heat 1 litre of milk in a medium high flame for 5-10 minutes.
* Keep stirring in between, let it come to a boil and then adjust heat to medium flame.
* Then add cut jackfruit, Cook for 15-20 minutes.
* Keep stirring for every 5 minutes and check the thickness.
* Now add jaggery to the taste, add black grapes and check the thickness at the mean time.
* Add rose water or cardamom powder for taste. Stir well.
* Finally add 2tbsp ghee. Let it cook for 3-4 minutes.
* Switch off the stove when it becomes thick.
* Serve it in a bowl by garnishing with badam and pista.
Ker Sangri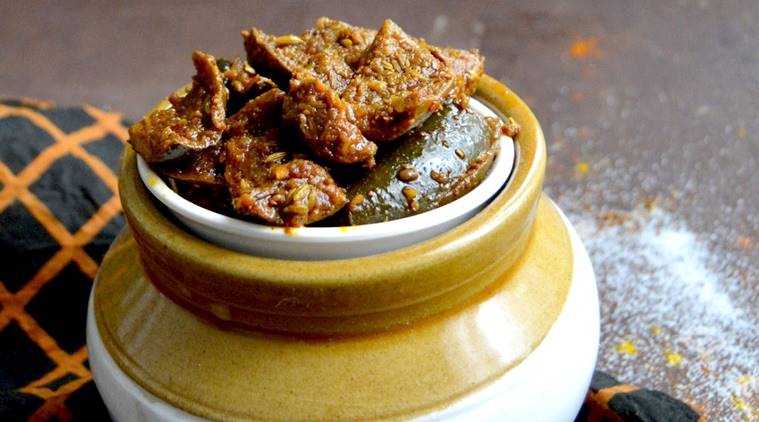 By Anshu Bhatnagar
Ingredients
1/2 kg – Ready mixed packet of ker sangri
7-8 – Dry red chillis
3-4 – Slit green chillis (optional)
2 tsp – Amchur or dry raw mango powder
1 tsp – Turmeric powder
2 tsp – Red chilli powder (add according to taste)
2 tsp – Coriander powder
2 tsp – Cumin seeds
A pinch of asafoetida
2 tbsp – Vegetable oil
Salt to taste
500 ml – Warm water
Method
*Soak ker sangri in water overnight. Next morning, drain water 2-3 times, wash thoroughly. Spread in a colander.
*Or you can prefer using pressure cooker or deep Dutch Oven to prepare this awesome Rajasthani delicacy. Heat oil in the pressure cooker or deep Dutch Oven.
*Add cumin seeds, asafoetida and dry red chillis, saute for a minute on medium flame.
*Add slit green chillis and ker sangri. Saute on medium-high flame for 4-5 minutes with continuous stirring. Lower the flame, add all the red chilli powder, coriander powder, and turmeric powder. Mix everything well over medium flame for about 2-3 minutes.
*Add salt and warm water. Cover and cook over medium flame for 2-3 whistles. Allow the steam to escape before opening the lid. If you are using a Dutch Oven, it will take more time, around half an hour.
*After opening the lid, add the amchur powder. Mix well. Cover and leave for 10 minutes (No heat required at this time).
*Traditionally, the dish is of dry consistency, but you can adjust according to your taste. Serve with puris or bajra (Millet) roti.
Motichur Laddu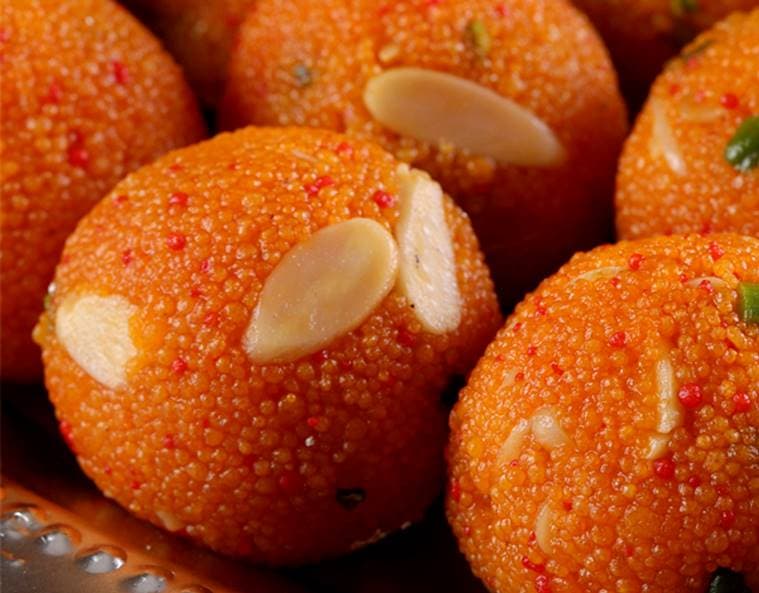 By Chef Anthony Huang, Sheraton Grand Bangalore Hotel 
Ingredients 
For Besan batter
1 cup – Besan flour
1 tbsp – Sooji
Pinch of baking soda optional
Water as required to prepare batter
Oil for deep frying
Fine vegetable gratter
For sugar syrup:
1 cup – Sugar
¼ cup – Water
1 tbsp – Lemon juice
¼ tsp – Orange food colour
½ tsp – Cardamom powder
1 tbsp – Cashews chopped
1 tbsp – Almonds chopped
¼ cup – Milk
Method
Besan batter recipe
In a large mixing bowl sieve besan, rava and add pinch of baking soda. Give a rough mix. Now add water slowly and prepare smooth flowing batter.
Boondi preparation recipe
Take fine vegetable grater. Pour prepared besan batter. Slowly tap and make sure the drops of besan fall into oil. Take off and drain over the kitchen paper towel.
Sugar syrup recipe
In a kadai, take 1 cup of sugar and add ¼ cup of water. Mix well till you attain 1 string consistency.
Laddu recipe
Now add lemon juice to sugar syrup. To that add cardamom powder and give a good mix.
Then add prepared boondi. Mix well and make sure to coat the all the boondi with sugar syrup.
Now take half the quantity of boondi coated with sugar syrup and blend 3-4 pulses in mixi to form coarse powder. Add some chopped dry fruits and mix well.
Now add milk and give a good mix. Prepare the laddu taking a small amount of boondi.
Pyaaz Tamatar ka Tikkad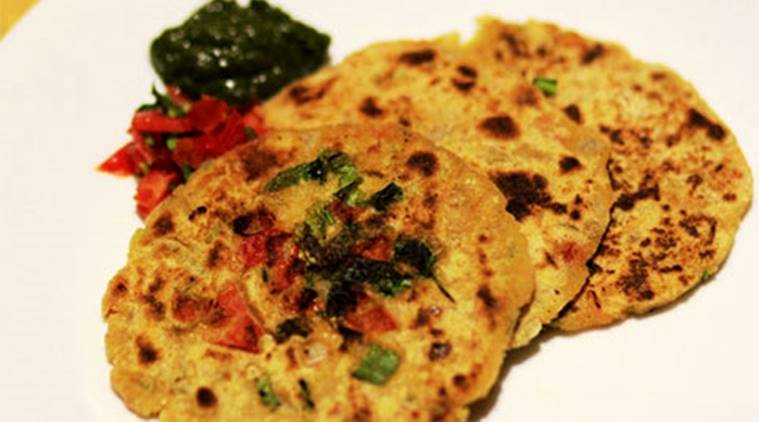 By Ashima Goyal Siraj
Ingredients
½ cup – Corn flour
1/3 cup – Whole wheat flour
1 – Onion (finely chopped)
1 – Tomato (finely chopped)
3 – Garlic (finely chopped)
1 inch – Ginger (finely chopped)
1 – Green chilli (finely chopped)
3-4 – Sprigs of coriander, finely chopped
A pinch of asafoetida
Salt to taste
Ghee for making the tikkad
Water for kneading the dough
Method
* In a bowl combine together corn flour, wheat flour, salt and asafoetida. Mix them with just your fingers.
* Add the chopped ingredients (reserve about a third of chopped tomatoes, chillies and coriander to use as toppings later on). Mix them together, again just using your fingers. It will be a soft crumbly mixture.
* Add water, little by little, and knead the flour into a soft dough.
* Divide the dough into 8 portions and shape into balls.
* Dust your kitchen surface or chakla with a little dry flour. Take one dough ball and roll it into a circle. I just used my hands to gently press the dough and roll it in a circle of about 5 inches.
* Sprinkle some chopped tomato, chilli and coriander on the tikkad. Press them in slightly with your hands.
* Heat a tava and add some ghee. Cook the tikkad on the tava from both sides until it gets crispy and golden. I love the golden brown spots that come on it!
* Repeat with the remaining dough balls and serve hot!
📣 The Indian Express is now on Telegram. Click here to join our channel (@indianexpress) and stay updated with the latest headlines
For all the latest Lifestyle News, download Indian Express App.