Diwali, one of the most anticipated festivals in India, involves five days of festivities. The fun and the revelry do begin from Dhanteras and continue till the last day – Bhai Dooj. The day, dedicated to the bond shared by brothers and sisters, though similar to Rakhi is does not involve tying of thread on the brother's hands. Instead, sisters put a mark on brother's forehead and pray for their well being and long life. The brothers, in turn, promise to protect their sisters. The day, like any other festival, has friends and relatives coming over and some sumptuous meals and sweets being prepared. And if your list is still not ready, then do not fret. We bring to you recipes of five delicious sweets that you whip up in no time for Bhai Dooj.
Kaju Katli and Rabri Cheesecake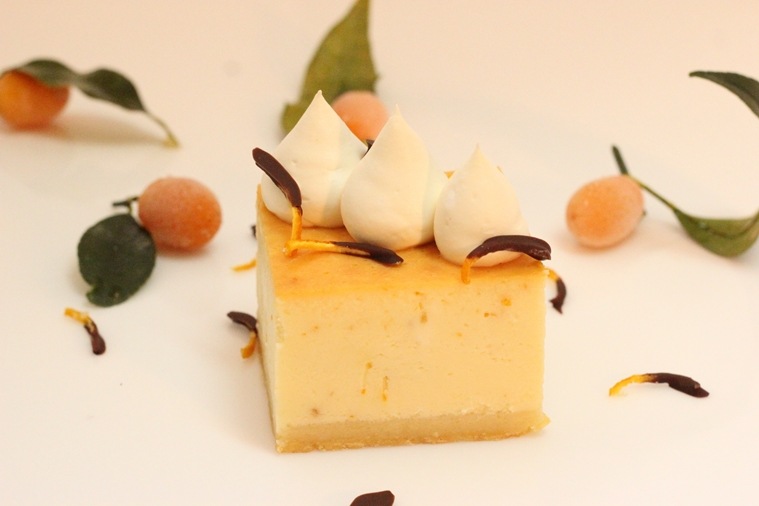 Ingredients:
300g – Kaju katli
300g – Cream cheese
150g – Rabri
100g – Sugar
4 – Eggs
2g – Cardamom, powdered
25g – Flour
To garnish – Whipped cream
Method:
*  Line a cheese cake frame with foil, and place it in a tray.
* Line the base of the ring with the kaju katli.
* Cream the cheese and add in the rabri, followed by the eggs, sugar, cardamom and the flour.
* Pour the mixture into the lined frame and bake it in a water bath in an oven at  150 degrees Celcius for an hour.
* Chill and slice the cheese cake, garnish it with whipped cream.
Recipe by Chef Vishal Atreya, Executive Chef at JW Marriott Mumbai Juhu.
Gulab Jamun With Baked Yogurt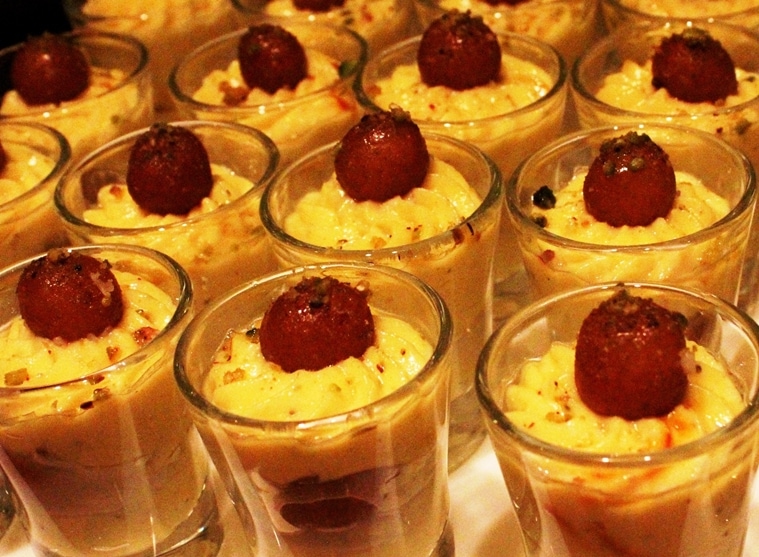 Ingredients:
100g – Curd
90g – Fresh cream
90 gm – Condensed milk
150g – Shrikhand
10 – Angoori Gulab jamun
10g – Chopped pistachio
Method: 
* Whisk together curd, cream and the condensed milk together.
* Pour this mix into shot glasses half the way and bake it in a water bath with a
jamun at 180 degrees Celsius for 15 minutes.
* Chill the curd and layer it with the shrikhand and top it with another jamun.
* Garnish it with chopped pistachio.
Recipe by Chef Vishal Atreya, Executive Chef at JW Marriott Mumbai Juhu.
Malai fruit shrikhand (sugar free)
Method:
10 strands – Saffron (kesar), soaked in water
2 tbsp – Low fat milk
1 cup – Low fat hung curd
4 tsp – Sugar substitute
1/4 tsp – Green cardamom (elaichi) powder
2 cups – Chopped dry fruits
Recipe by Chef Vishal Atreya, Executive Chef at JW Marriott Mumbai Juhu.
Vanilla Waffles
If you love your waffles then this is the perfect recipe for you. You can whip up this dessert in less than 15 minutes. Recipe by Subrata Debnath, Executive Chef at Vivanta by Taj, Gurgaon.
Chocolate and Apple crumble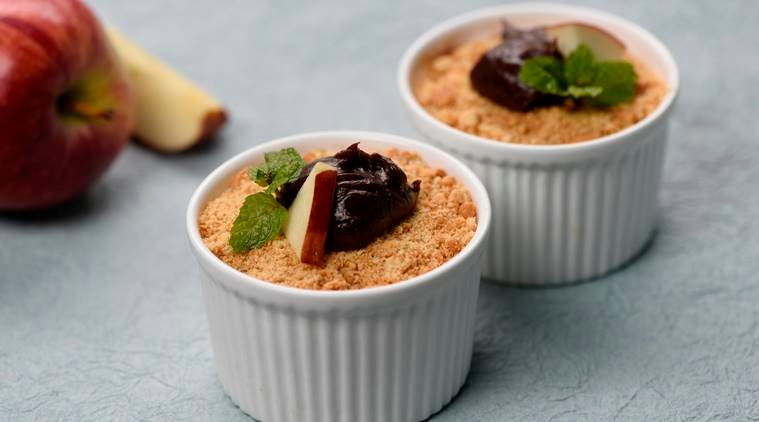 Ingredients:
½ tbsp – Butter
½ – Apple de-seeded and chopped
1 tsp – Honey
½ tsp – Cinnamon Powder
1 tbsp – Water
60g (4 tbsp) – Oats, soaked for 5 minutes
60g (4 tbsp) – Chocolate Fudge Spread
1 tbsp – Cream
1 tbsp – Cashewnuts, chopped
1 tbsp – Almonds, chopped
2 – Digestive biscuits (crushed)
Method:
* For Apple Mix: In a saucepan (medium flame), add butter, apple, honey, cinnamon and water. Sauté for 1-2 minutes or until apple gets soft.
* For Chocolate Mix: In a saucepan (slow flame), add oats, chocolate fudge, cream, cashew nuts and almonds. Mix well and cook for 2 minutes or until mixture thickens.
* For Assembling: In a small round baking dish (3-inch diameter) place half of chocolate mix, followed by apple mixture and finish it with remaining chocolate mixture.
* Sprinkle crushed biscuits on top and heat in microwave for 1 minute. Serve hot.
Recipe from Dr Oetkar