Updated: February 19, 2016 6:28:44 pm
Like it or not, one can't stay young forever and people who are already in their 30s know this just a little too well. It's the time when realisation finally dawns and people start noticing slight changes in their body and the way it functions. So, it's not really a surprise when most people face the big 3-0 with dread and anxiety. Fitness usually takes a backseat with a demanding career and other mid-life crises and, in the process, the body ends up bearing the brunt of it.
Though there is a notion that our body starts degenerating in the 30s, recent studies and research papers have disproved this idea. These new studies state that even in our 30s, we do not lose our bone mass or growth hormones all at once. Thus, by adopting a lifestyle comprising a balanced diet, nutrition, exercise, flexibility and motivation, one can look and feel much fitter, younger and happier. The good news is, it's not too late to make amends.
How to go about it
First, we need to realise that fitness is not just about the body. An all-around development of the mind and soul is also important. People in their 30s must look at fitness as a way of life rather than a new effort at getting fit. Just because you are in your mid-30s does not mean you cannot participate in fun activities. Join a sports clubs, hit the gym, take up dance classes, prepare for a marathon and if none of these works for you, just go on a run with your children.
(Also read: Diet and workout tips to stay fit in your 20s)
Swati Mehta, a therapeutic dietitian and a renowned corporate nutrition adviser with an experience of 14 years, gives us a few tips:
1) There is no shortcut to exercise. One can go around stating facts and figures about how a diet can take care of everything but the body won't make use of your dietary changes unless and until your body is stimulated alongside your dietary habits. Exercise in a gym or studio at any time during the day to maximise the effect.
2) Exercise at home whenever you can. If you don't feel like doing it alone, tag your family along. Working out around people who makes you happy can actually keep you motivated. Indulge in some quality time by doing some stretching, squatting, meditating and relaxing exercises with them.
3) Run a mile! Another good alternative is brisk walking as it boosts metabolism and is good for heart and lung patients.
4) Along with exercise, maintaining a holistic dietary system is essential for people in their 30s. What you actually need to understand is that with age, it is only natural for the body to lose some of its agility. Hence, you need to infuse your growth hormones with all the nutrition it needs.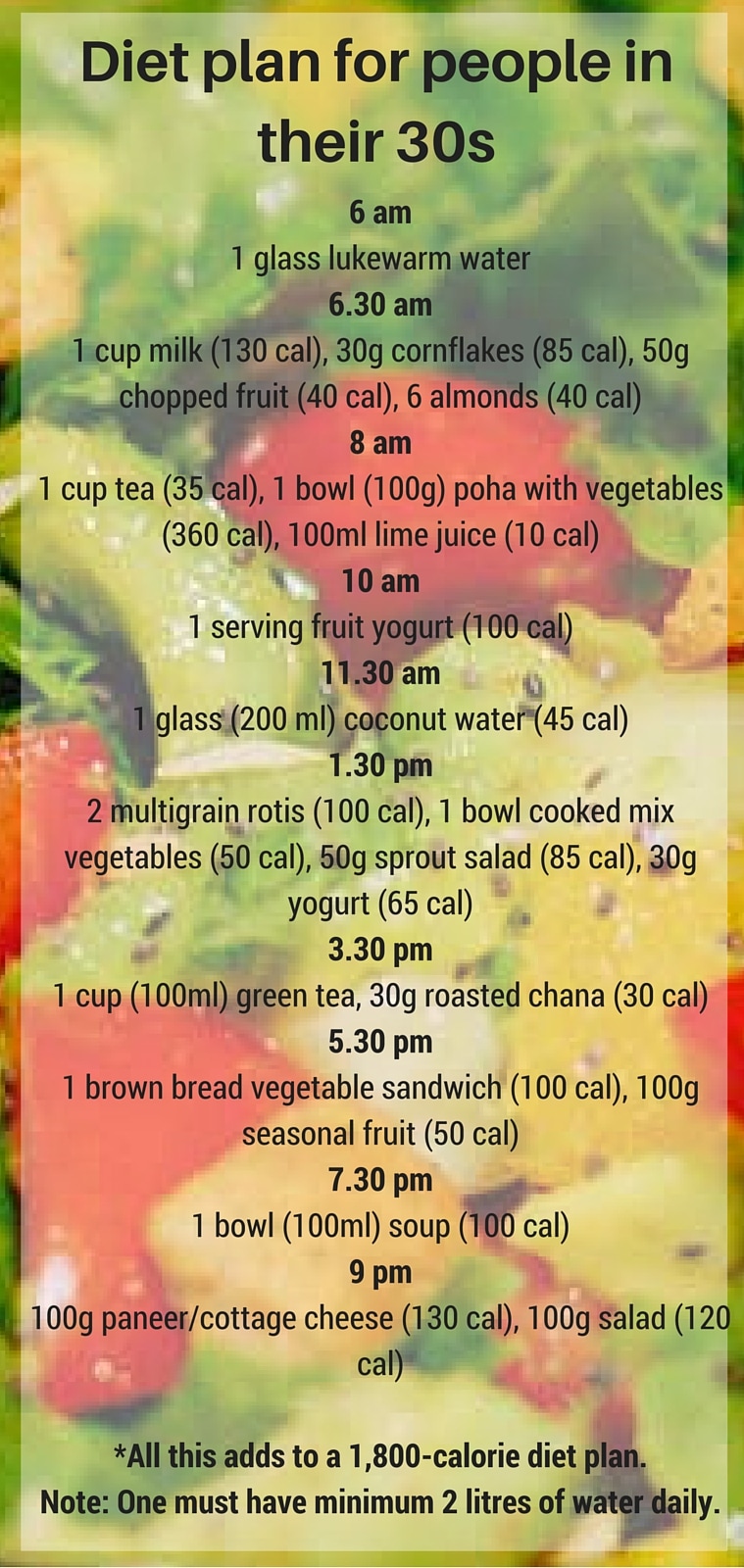 5) Include more of greens, eggs, fish, soy, and fruits in your regular diet.
6) While going on dates or family dinner, gift health to your family, friends and loved ones by taking them to healthy eating joints that provide healthy alternatives to preserved food and drinks.
7) Keep a check on your calorie intake. It's not that difficult, just download a health app on your phone.
8) Healthy food does not need to be boring. Join a cookery class and learn how to curate interesting, delicious dishes out of healthy ingredients.
Excersies for people in their 30s
Ab twist
Equipment required: 1 mat + 1 medium size ball
Method:
1) Use an exercise mat or towel to sit on the floor. Keep your feet a shoulder-width apart, with your toes up, so that you are resting on your heels. Hold a ball with both hands and extend your arms in front of you.
2) Slowly lie back, tucking in and tightening your abdominal muscles. Stop halfway towards the floor and twist to the left. Now, slowly reach towards the floor with the ball. Hold for a second, then slowly twist over to the right side. Breathe normally and concentrate on contracting your abdominal muscles.
3) Return to position.
4) Repeat 12 times and try to complete it in 2 mins.
Back pull
Equipment required: 1 towel
Method:
1) Roll your towel lengthwise and grasp each end of the towel with your hands. Now, raise the towel over your head while keeping your arms extended.
2) Now, inhale and then slowly exhale while bending your arms and lowering the towel behind your head. Stretch the towel as much as you can and keep the pressure on as you raise and lower it. Just don't tense your neck.
3) Repeat 12 times and try to complete it in 2 mins.
Heel walk
Equipment required: 1 chair with wheels (you can do it without a chair too)
Method:
1) Sit in the rolling chair with your abs tucked in and your shoulders upright. Now, move yourself forward by digging your heels into the floor, till you feel the pressure. If you are doing it without a chair, follow the same instructions on your feet.
2) Repeat for 2 mins.
Bridge
Equipment required: 1 towel
Method:
1) Lie on your back with your feet flat on the floor, knees bent and hands at your sides. (If you feel any tension in your neck, tuck your towel under your head for support.)
2) Inhale, then raise your bottom and your lower back off the floor as you exhale. Hold for one count. Slowly release, but don't let your bottom touch the floor until you have completed all 12 repetitions. Focus on squeezing your glutes at the top of each rep.
3) Repeat 12 times and try to complete it in 2 mins.
Arms extension
Equipment required: 1 towel/dumbbell
Method:
1) Roll up a towel lengthwise and place one end in your left hand. Now, hold your left arm directly over your head.
2) Reach behind your back with your right arm and grasp the towel three quarters of the way down. Gently pull the towel behind your head with your right arm.
3) Bend your left arm behind your head, so that your elbow points up. Inhale, holding the towel steady. Exhale and extend your left arm back to starting position, keeping the pressure on the towel intact with your right arm. Repeat.
3) Repeat 12 times and try to complete it in 2 mins.
If you can, take guidance from someone who has been working out for some time before practicing the above mentioned workouts. It will help you focus on your postures better.
Things to keep in mind
Irrespective of age, there are a few common tips to be kept in mind when working out at home.
1) Drink water in between your workout. Keeping yourself hydrated is very important.
2) Before starting a workout, prepare for exercise with a four-minute warm-up.
3) Try to mix in a dance number in between your workout once a week, to add some fun elements.
4) Try and include yoga/meditation in your fitness routine at least 2-3 times a week.
— Inputs by Swati Mehta, therapeutic dietitian and renowned corporate nutrition adviser and Talwalkars, Mumbai. Diet plan by Vanita Malhotra, nutritionist.