Navratri is synonymous with garba and dandiya nights and it would be wrong to say that we aren't a little excited. Colourful lehengas and cholis, gorgeous hairdos and the latest make-up trends take up all the time of fashion enthusiasts. Most like to experiment and some find innovative ways to wear a sari. If you are looking for inspiration then here's a step-by-step guide of how to ace a Gujarati-style sari. Although it may look complicated, it's not really that hard.
ALSO READ | Aishwarya Rai Bachchan did it in Devdas, and so should you. Here's how to wear a sari in the Bengali 'Atpourey' style
Here's how to go about it:
* Keep the non-pallu end on the right side and tuck it inside the underskirt. Make one complete round and bring it to the left side.
* Make 6-7 pleats of the same breadth, hold them together in one place and tuck them inside the underskirt at the centre of the waist.
ALSO READ |  Durga Puja Style File: A step-by-step guide on how to wear a Mekhela Chadar 
* Make pallu pleats like usual and place the pallu end over your right shoulder as shown in the picture. Cover the bust by spreading these pleats.
* Secure the pallu with a safety pin.
* Take the left edge of the pallu around your waist and tuck it in your underskirt.
* It's done.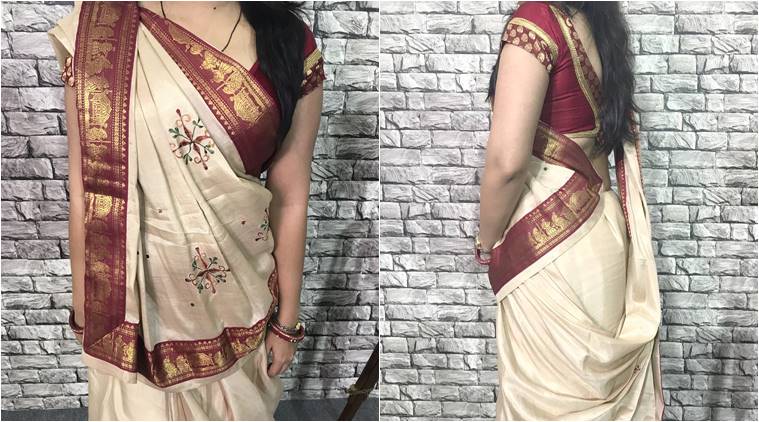 📣 The Indian Express is now on Telegram. Click here to join our channel (@indianexpress) and stay updated with the latest headlines
For all the latest Lifestyle News, download Indian Express App.
The Indian Express website has been rated GREEN for its credibility and trustworthiness by Newsguard, a global service that rates news sources for their journalistic standards.