As the weekend was approaching, my wandering feet started itching to go out of town. For the past two days I was googling my way to places I would love to go. I couldn't zero it down to a single place. Restless as I was, a voice inside me was asking me to go to the mountains but the head was more inclined to see the royal Rajasthan. I was planning to travel solo, but destiny had other plans.
One of my friends was heading to Sikkim on Thursday morning. She was late by five minutes and the strict Air India Staff didn't allow her to board the plane. So it happened on Thursday evening when we met at Starbucks at C.P., still ready to explore the golden sand of Rajasthan that we ended up picking Mukteshwar in the Nainital district of Uttarakhand for our weekend getaway. The place gets its name from a Shiva temple known as Mukteshwar Dham situated inside the Indian Veterinary Research Institute`s premises. It took us just fifteen minutes to get the bookings done and a smile spread over our faces. Just the thought of those picturesque mountains can make us weak in the knees. We both are mountain lovers and don't miss any chance to head straight to the mountains to clear our mind. It is here where we can slide in to a space that we so dearly crave in the chaos of Delhi.
Travel Details:
Day I:
We started on Friday after work, for Haldwani, as there was no direct bus from Delhi to Mukteshwar. So we boarded the state bus at 6.30 pm from ISBT Anand Vihar. It cost us Rs 246 per person for a bumpy bus ride. The enthusiastic driver wanted to reach Haldwani in no time; he was literally flying dirt off the roads.
Day II:
We reached Haldwani at 3 am and were a little worried about our safety on the deserted streets but luckily two auto drivers helped us locate a taxi. After much bargain we got him down from 2500 Rs to 1400 Rs for the 70 kms drive to Mukteshwar. The two hour drive was as silent as a broken clock and lurking in the dark was the whistling winds of Uttarakhand. We both slept peacefully while the gaudy Bollywood songs played in the background.
We reached Camp Purple at 5:30 am and witnessed the beautiful sunrise. It never fails to amaze me how the sky looks like a pale ink on fine silk at that time. The reflection of clouds in blue, the sun eyeing everything lasciviously, the trees shivering in their vividness and the stunning beauty of Camp Purple with its sublime landscape threw us in a trance like state.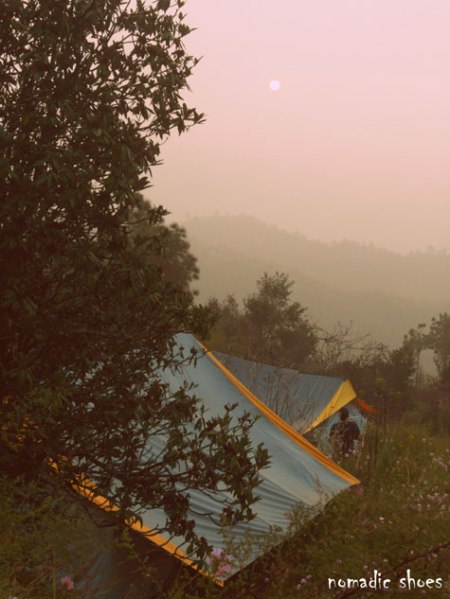 We had planned to do some adventure activities like Rock Climbing, Rappelling, Jummarring etc. at `Chauli-ki-Jali` but changed our mind at the last moment after reaching there. It's a 3.5-4.5 km (depending on the route) walk from the camp and Hansa, our guide was a sweet young lady who took good care of us. She even tried motivating us to do the adventure activities but we were so put off by the crowd at Chauli-ki-Jali that we just sat there and saw other people doing it. One can do bird watching, meditation at Shri Mukteshwar Maharaj ji's Samadhi or take a hike in the nearby forest. Lazy as we were, we skipped everything and headed back for the camp in a local bus with Hansa.
After coming back to the camp, we slept for a few hours and woke up refreshed for lunch. It was raining by then, so we found a corner to ourselves, played some good music and enjoyed the ever changing colourful scenic beauty where the clouds were playing hide and seek. My mind traced the stream of light on the horizon watching over the graphic movements of birds, the glorious rainbow after the rain seemed like God's promise of a better tomorrow. By the time evening cast its shadow on our camp, we were stoned by the place. The staff at Camp Purple were humble and warm. Hansa, Deepu, Sonu and Anand entertained us with their wilderness stories. The bonfire in the middle added an orange hue to their faces and the stories seemed to leap out of their hearts; the full of life feeling in their mannerism won our hearts. It was a perfect evening by all means. We retreated to our tent after dinner and hogged on a full plate of Jalebis, all thanks to Anand.
Day III:
Initially we had planned to leave Mukteshwar by the 6:30 am bus to Haldwani but we overslept and woke up late. After breakfast, we hung out a little with Camp Purple staff, bought a bottle of Apple jam and headed towards Bhatalia which is 2 km away from Sargakhet where the camp is located.
We walked for two kms till Bhatalia from where we took a shared jeep to Dhanachauli. On reaching Dhanachauli we were tempted by the nearby sweet shop which was selling Jalebis. We hogged on to a full plate of Jalebi with chole and pakori, the mixture of sweet and salty was a flavourful delight to our taste buds. From Dhanachauli we took a local bus to Haldwani which took two hours to reach the destination. We were tired as hell by the time we boarded our Uttarakhand state bus to Delhi. A long ride of 8 hours and bearing many potholes, we finally reached ISBT Anand Vihar at 9 pm on Sunday night. Weekend at Mukteshwar was a perfect getaway with good food and good company. The joy of exploring a new place and some time for introspection is all I need in life to be happy.
(To read more articles, visit https://www.facebook.com/nomadicshoes)
The Indian Express website has been rated GREEN for its credibility and trustworthiness by Newsguard, a global service that rates news sources for their journalistic standards.