Written by
Rajeev Dhavan
|
Updated: December 16, 2017 12:05:32 am
Book name: Supreme Court of India: The Beginnings
Writer: George H Gadbois Jr (Edited by Vikram Raghavan and Vasujith Ram)
Publication: Oxford University Press
Pages: 312 
Price: Rs 689
A few months before George Gadbois died, I went to Lexington, Kentucky, to see him. He was as gracious as ever, working till the last minute. We had first met beering at a pub in Oxford while eating crisps advertising a game called 'Crinklelogy'. At the next session, I tried to convince the participants that we should not ignore the contribution of Alf Crinkle, whose works were at the Bodleian Library and whose theory concerned the crinkling, uncrinkling and recrinkling in man, nature and society. Good-hearted George allowed the spoof to continue for five minutes. We never looked back since.
The present book arises from George's thesis on the Indian Federal Court (the best ever) and the beginnings of the Supreme Court. In 1970, I ordered it through inter-library loans, fascinated by his style, depth and objectivity. After more research, I realised there was no book like it. Nor will there be a credible successor to Gadbois' Judges Of The Supreme Court Of India: 1950-80, which entailed interviews with judges and their families.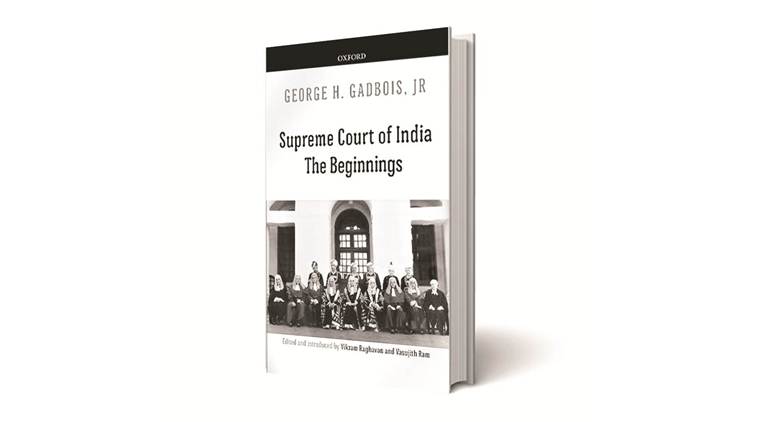 Both of us were interested in numbers. We had planned to organise a conference called 'The Least Expensive Branch'. Alan Gledhill (author of landmark works on the development of the laws and constitutions of India and Pakistan) had once remarked that civil justice was India's best nationalised industry. It is a fact that the judicial, supposedly the most powerful, is also the "least expensive branch". We had both talked to chief justices in India and America on how judicial budgets were negotiated. In India, the process was almost humiliating. One chief justice of UP thought it embarrassing to have a chief minister keeping him waiting in the verandah to discuss the budget for the High Court. Another chief justice entertained a writ petition holding that all stamp earnings belonged to the judicial budget. There was nothing in the case, but enough to accelerate the budget process. Chief Justice YV Chandrachud gave me both insight and documentation on the court's budget. Recently, a brash young contemporary told me that they were working on work-flow and finances of the judiciary — as if the world had just begun with them. For some of us, George and I had a lot to do with it.
I was not particularly unhappy with what I called George's "astrological" work. Well, it wasn't really astrological but part of behavioural science to predict how a judge would vote in future. In India, there are very few sustained dissents. A minority judge who loses a case will happily proceed to accept the majority view which he recently so passionately dissented from as illegal and unconstitutional. So, what was predictable? Only this: the Indian judges mostly abandon dissent and fall in line. There were exceptions (Subha Rao, PN Bhagwati on transferring judges, Krishna Iyer with linguistic artistry arbitrating inconsistency). Eventually, George agreed that astrological behavioural sciences for India was a bit of a mirage even though it did tell us something about the judicial process in India.
At some point in time, scholars will have to go back to George's work for two reasons. The first is that it was written when things happened contemporaneously. Secondly, it had all the objectivity of an academic without a journalist having to flaunt it as "news" the next day. It also had the advantage of George talking with candour to judges who opened up to him. To this, George added his third great quality as a researcher — to pursue the subject with depth. That is why his portrait of the Supreme Court judges took him so long to put together as a book. We now know things we never knew about our judges other than biographies written by judges themselves — often self-centered and leaving out what would have been interesting. But, due to George, we know more, and are all the better for it.
Vikram Raghavan and Vasujith Ram have done an excellent job of putting some of George's writing in print. This is more easily done when you have had the pleasure of knowing him, with friendship, warmth and affection. To a new generation of scholars, he made generous grants. In touch with what was going on, he wanted the legacy of Indian legal research to go further. The effect of his inter-active influence is already visible.
Little is written about the Federal Court that preceded the Supreme Court. MV Pylee's book is disappointing. But it is such an important part of the past of the Supreme Court of India. If you really want to get an insight into this important area of historical judicial research, many questions will be answered by this book. Just as Mrs Indira Gandhi superceded judges she did not like, the British were equally, if not more, unfair with Indian judges just before Independence.
The "Introduction" carries a fund of detail which tells us of George's amazing life and work. That's a story in itself. But I would have liked to see a complete list of his published and unpublished work in print. When I met George during his illness, he had given away many of his books and papers. He was a friend and colleague, like family. It will take a long time for me to get over his passing.
Rajeev Dhavan is a senior advocate at the Supreme Court of India
📣 The Indian Express is now on Telegram. Click here to join our channel (@indianexpress) and stay updated with the latest headlines
For all the latest Lifestyle News, download Indian Express App.