By:
Lifestyle Desk
| New Delhi |
Updated: November 22, 2017 5:56:19 pm
Ever since the Tianjin Binhai Library in China opened its doors for book lovers, people can't stop talking about how majestic the space is. Called a bibliophile's dream-space, photos of the rows of books that reach up to the five-storeyed ceiling took the Internet by storm, with people obsessing over the pictures day after day. And why not, the views are breathtaking.
However, there is a (not-so) tiny detail about those photographs that has recently come to light, and it pretty heart-shattering. Turns out, the top section of the sleek shelf-walls designed by Dutch architectural firm MVRDV are mostly images of books printed on the aluminium plates that make up the backs of the shelves – and NOT actual books as many believed.
According to an AFP  report, initially the top shelves were supposed to have been accessible through rooms behind the atrium, but MVRDV said that a tight construction schedule did not allow for that to happen. The library's deputy director Liu Xiufeng told the news agency that the approved plan allowed the atrium's use for circulation, sitting, reading and discussion, but did not say anything about a request to store books on the shelves. "We can only use the hall for the purposes for which it has been approved, so we cannot use it as a place to put books," Liu told AFP, adding that they might have to remove even those books that are currently on display there.
This means that for all the buzz around accessing books from sky-high shelves, readers would still have to use the other sitting and reading rooms where the books have been kept in more traditional-looking shelves. Quite an anti-climax, wouldn't you say?
The futuristic library has curved lines that also act as bookshelves arrayed on either side of the sphere and the stairs can be used as a seating area too. These contours also continue along the two full glass facades that connect the library to the park outside and the public corridor inside, serving as louvres to protect the interior against excessive sunlight whilst also creating a bright and evenly lit interior. Interestingly though, this design feature has proved to be quite a hazard for the selfie-taking populace, who have been frequently tripping over the architectural quirks, much to the chagrin of the guards on duty.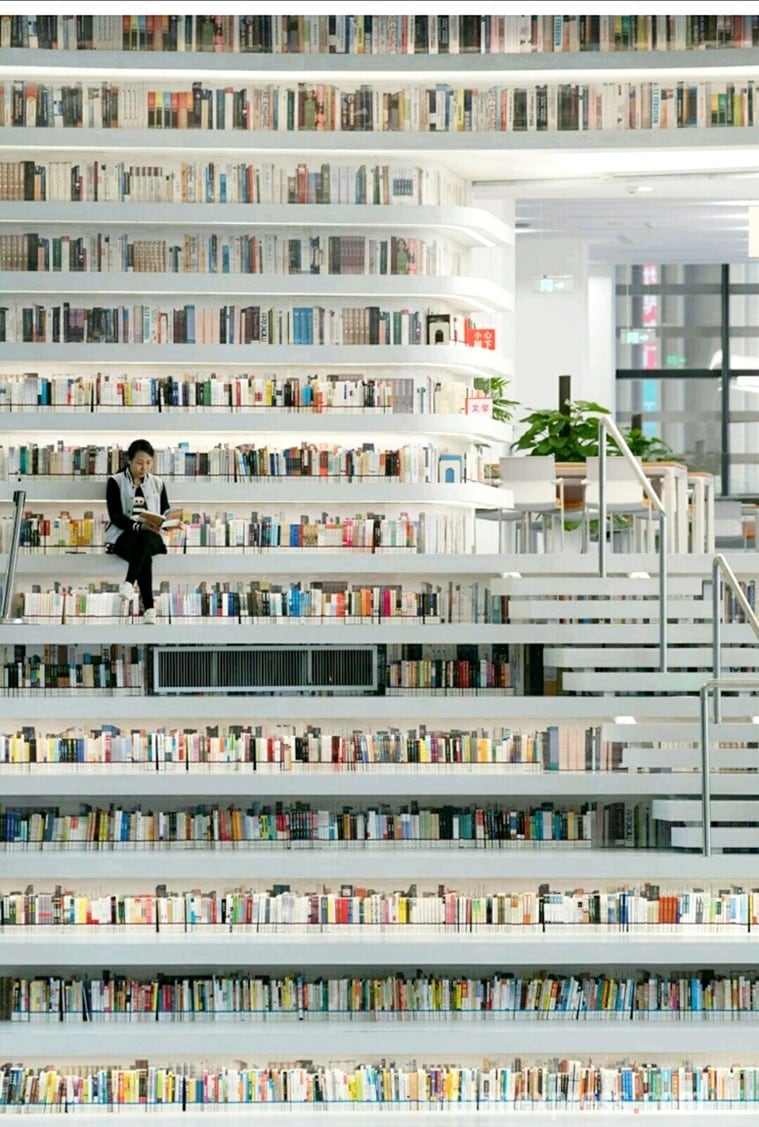 According to media reports, on weekends an average of 15,000 visitors the place. The library contains 200,000 books and it has grand ambitions to grow its collection to 1.2 million. Since the library started the pictures have gone viral on social media and all over the world people are showing great interest located in the eastern port city of Tianjin.
For all the latest Lifestyle News, download Indian Express App