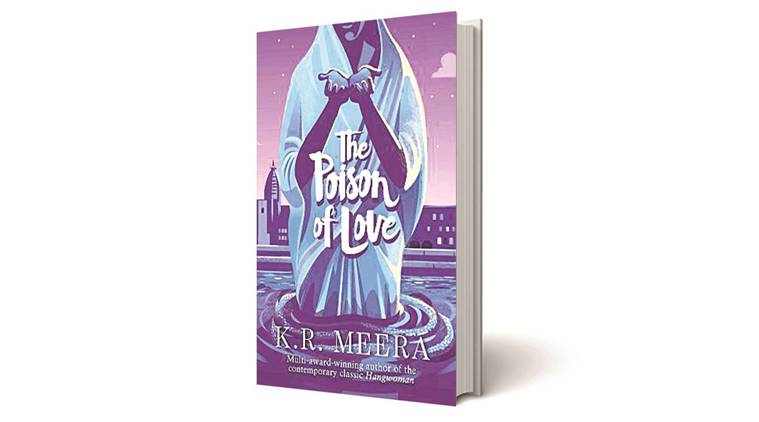 Name: The Poison of Love
Author: KR Meera
Publisher: Penguin Random House India
Pages: 106
Price: Rs 299
Set amidst a sea of anguished widows chanting "Hare Ram" incessantly in the holy city of Vrindavan, it is tough to tell if The Poison of Love by KR Meera is disturbingly enthralling or enthrallingly disturbing. Regardless, the result is a book that resonates powerfully with some of our most primal impulses — a consuming love, a corrosive hatred, a need for vengeance.
The plot is fairly straightforward: the protagonist, Tulsi, a highly promising student, who has recently graduated from IIT Chennai with "record marks", is to be married to her friend Vinay. Days before the wedding, however, she elopes with Madhav, a charming, inscrutable up-and-coming journalist who awakens an intense desire in her, despite her initial wariness about his many previous dalliances. Leaving behind a broken family and the promise of a bright career, she embarks on a life, that she describes at the very start of the book, as: "Love is like milk. With the passage of time, it sours, splits and becomes poison."
What stands out the most in the novella is the sheer power that has now become characteristic of Meera's writing and that she displayed with great verve in the now-classic Aarachaar (Hangwoman). The narrative changes fluidly to suit Tulsi's state of mind, becoming equal parts engrossing and disturbing. Alternating between tender and passionate, loving and hateful, peaceful and destructive, Meera succeeds in blurring the line between love and hatred fairly early into the book, zig-zagging between Tulsi's present (in Vrindavan) and her past while building up to a chilling conclusion.
Despite being translated from the original Malayalam, the book retains enough of its nuances and intensity, due in no small part to the commendable work done by translator Ministhy S. What stands out here is the universality of the imagery and emotions that is evoked by the The Poison of Love. From the horde of corpse-eating ants that trail across the pages of the book in increasingly large numbers — both literally and metaphorically — to the ravenous groups of feral monkeys that Tulsi fights with over food in Vrindavan, the images linger on in the minds of the reader in an insidious way.
Madhav is explicitly linked to the "divine adulterer" Krishna, in both name and his seeming inability to say no to love. Tulsi fancies herself to be a modern-day Meera Bai, as opposed to Radha, though the end result is the same — both went out in search of Krishna. In keeping with the primal, almost timeless nature of Tulsi's location as well as the mythology that she plays out with Madhav, there are very few references to the modern world aside from a few sparse references to Madhav as a successful TV journalist.
In its moments of utter darkness, its depiction of the fragility of human emotions and the dark passions that surround love, there is something positively Grecian about the self-destructive journey that Tulsi leads herself through on being scorned. "In principle, love and spirit are but one. Both ache to break free from fetters and take possession of suitable bodies," says Tulsi. But when love is lost, the spirit can wilt. Unable to drain herself of the poison within her despite her years in Vrindavan, Tulsi experiences some moments of truly vicious happiness when she manages to bring pain to Madhav, despite the fact that she mirrors this pain with even greater intensity within herself. "I needed wounds. To hurt myself more grievously, I needed more wounds," she says.
Towards the end of the barely 100-page novella, it is not easy to cast sympathy on either of the two central characters. Both have left in their wake a trail of anger, sadness and pain in their desire to be with each other. This is, perhaps, the key takeaway of the book, that serves both as a warning against corrosive love and a passionate exploration of the very thing that it seeks to warn readers about.