The dusty town of Etawah is famed as HQ of the home district of former Uttar Pradesh chief minister Mulayam Singh Yadav, but it had shot to global fame in the 1950s, featured in Time, Life and The New York Times magazine. Even US President Harry S Truman singled it out in his public speeches. The reason was the Etawah Project, conceived and directed by a young American architect, Albert Meyer, which was funded by the Ford Foundation. Meyer came to India during World War II to build airstrips in the Northeast and at the end of the war, held "intimate talks far into the night" with Jawaharlal Nehru about model villages and communitarian projects. Meyer's bottom-up, grassroots approach to development attracted a large team of volunteers who involved villagers at all stages of projects — it produced roads and culverts, schools and libraries, brick kilns and cooperative ventures. It went on to establish a model which was replicated in many countries thereafter, albeit with uneven results.
This anecdote in historian Srinath Raghavan's The Most Dangerous Place: A History of the United States in South Asia is not a footnote or a ploy to build an interesting narrative. He focuses in equal measure on ideology, culture and power relations and their interaction in the relationship since the 18th century. The book is both sweeping and insightful, deals with three countries — India, Pakistan and Afghanistan — and it is to Raghavan's credit that he is able to pack so much in so few pages. If politicians and policymakers at the table of high power politics feature prominently, so do the architects, traders, missionaries, economists, agronomists and musicians who were shaping the relationship in their own way.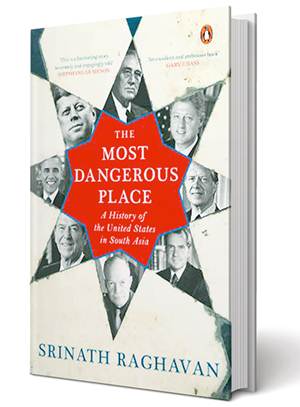 Book: The Most Dangerous Place: A History of the United States in South Asia
Author: Srinath Raghavan
Publication: Penguin Random House
Pages: 472
Price: 799
Take for instance the role of the US government in promoting jazz music in the subcontinent. American officials believed that jazz had a role to play in the contest with Soviet Union for the hearts and minds of South Asians, because it was an art form that originated from the African-American milieu and would revise notions of American racism, besides showcasing its democratic strength. In 1962, it was the Golden Gate Quartet whose performance in Communist-ruled Kerala received such adulation that US State Department officials noted: "This is the red state of India — very excellent." In 1960, it was Duke Ellington whose performance was described by this paper as "Duke Ellington's Orchestra played the poetry of jazz. We lost our hearts". In 1964, it was the superstar Louis Armstrong, and even at the peak of India-US tensions in May 1971, Indian Prime Minister Indira Gandhi attended a three-hour concert in Delhi by the great gospel singer Mahalia Jackson.
Although India would emerge victorious by the end of the year, 1971 also marked the nadir of India-US relations. US President Richard Nixon and Henry Kissinger cast their lot singularly with Pakistani military dictator, Yahya Khan. Mrs Indira Gandhi's ability to snub Nixon and put him in his place was demonstrated during her visit to Washington in November 1971, in what was her final stop to seek international support for the Indian position on Bangladesh. When Mrs Gandhi and Nixon met in the White House on November 4, 1971, Nixon warned her of the consequences of intervening in Bangladesh. During a review meeting next morning, Nixon told Kissinger that Mrs Gandhi was being "a bitch" and "we really slobbered over the old witch". He also decided to play it "cool" during his next meeting with the Indian Prime Minister that afternoon. But it was Mrs Gandhi who assumed her iciest demeanour and made no reference to the subcontinental crisis with Nixon. She quizzed him about US foreign policy across the globe, and Nixon told Kissinger later, "She was playing us… this woman suckered us".
The fascination with Pakistani military dictators among US officials didn't begin or end with Yahya — it started with Ayub Khan and continued till Pervez Musharraf. But it is not US officials alone. Ayub Khan, in particular, was hailed extensively by US academia as the ideal type of an authoritarian moderniser — the kind that the Third World most needed. In 1968, Samuel Huntington, the Harvard political scientist, hailed Ayub as a leader in the mould of "a Solon or Lycurgus, or 'Great Legislator' on the Platonic and Rousseasuian model". It is highly unlikely that such words would be repeated now but with Trump as President, no one can be sure what the US policy towards Pakistani generals would be tomorrow.
Raghavan argues that the growing political proximity between India and the US over the last decade is not just due to common concerns over the rise of China, or the end of the Cold War, whereby India had to jettison its policy of non-alignment. He posits that liberalisation of the economy and the willingness to embrace US-led globalisation made India an attractive partner because of its large market, while allowing the US to export its ideas of consumer culture that had cemented its hegemony in Western Europe and East Asia. The extraordinary success of Indian immigrants in the US led to a change in the attitude of American policymakers towards India, visible in contemporary dealings between the two countries.
In today's environment, Mrs Indira Gandhi's allegations in the 1970s against the CIA's "foreign hand" in Indian politics are often mocked. But Raghavan reminds us that the CIA's efforts to covertly influence Indian politics started in the 1950s, when the CIA-funded Congress for Cultural Freedom (CCF) had a front organisation known as the Indian Committee for Cultural Freedom (ICCF). Jayaprakash Narayan and Minoo Masani were among the members of the ICCF and the CCF even organised global conferences attended by a stellar cast of foreign speakers in India. Nehru rightly suspected ICCF to be "an American-organised committee trying to put across the American viewpoint". In 1955, CCF funded an Indian journal of ideas, Quest, which was edited by poet Nissim Ezekiel, but its elective affinity to American anti-communism hobbled it, leading to its closure within a few years.
Unlike Quest, Raghavan's The Most Dangerous Place won't be consigned to the dustbin of history anytime soon. It is a definitive account, and the sheer scope and expanse of coverage sets the book apart from all earlier efforts on US and South Asia. It is a fascinating story, told accurately and engagingly, which is not going to be bettered but only added on to by future scholars of international affairs.
The Indian Express website has been rated GREEN for its credibility and trustworthiness by Newsguard, a global service that rates news sources for their journalistic standards.