Title: Devil's Advocate: The Untold Story
Author: Karan Thapar
Publisher: Harper Collins India
Pages: 215
Price: Rs 699
Karan Thapar is an endangered species. They don't make them like him anymore. True, thousands have gone to the Doon Valley School after him, as indeed to Oxford and Cambridge universities. But Karan Thapar is more than the sum of his upbringing. He's a gentleman journalist. The first few chapters of his book bear testimony to the qualities of his head and heart, that are so rare to come by these days in the media, and testify to his wit, wisdom, elegance and charm.
Much of the attention given to the book in the media has focused on two chapters — his interview, rather, "non-interview" — of Narendra Modi and the cheeky one with Amitabh Bachchan. Thanks to the controversies generated, the book would be selling well. The real strength of this book, however, lies in the sheer elegance of Thapar's prose. Thapar's account of his personal and professional life offers a unique window into a bygone India. Growing up in a Delhi that was still bureaucratic, the adventures of youth and the range of interesting friendships make for delightful reading.
The inner self of this externally gregarious person comes through in the chapter on his late wife Nisha. The poignancy of a simple sentence says it all; "Nisha and I have been married for six years, four months and 19 days. We'd known each other for about two years prior to that. Now at 33 — which also was her age when she died – I faced the rest of my life on my own."
With Nisha's death comes to an end a la-di-da life in which names such as Benazir Bhutto, Sanjay Gandhi, Aung San Suu Kyi and a host of other high-flyers flit in and out. One day, Thapar is eating ice cream on the bonnet of Benazir's car, and, another day, he's being driven up a hillside by Sanjay Gandhi. Anyone who wants a glimpse into the life of post-Independence Delhi's Nehruvian elite would enjoy reading the early chapters of this book. Thapar is candid and colourful in his rendering.
Moving to India after over a decade of working with British media, Thapar became a highly regarded pioneer in news television. His account of the many people he interviewed during that period offers a glimpse into the still cosy relationship between media professionals and politicians in late 20th century India. From PV Narasimha Rao to Lal Krishna Advani, India's senior politicians were willing to share confidences with a senior journalist and the latter reciprocated the trust.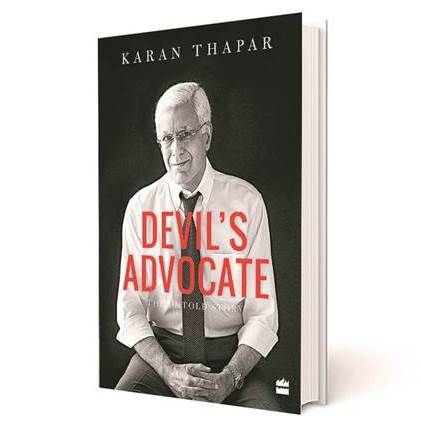 Thapar entered my life in 2004 with a series of letters seeking an interview with Prime Minister Manmohan Singh. Impressed by his persistence, I finally called him up and told him that Dr Singh would not be giving any television interviews. That did not deter Thapar. His letters arrived periodically and we established a bond of friendship that outlasted my time at the PMO.
The past 15 years have been Thapar's most active in the media. He not only did his lively weekly show Devil's Advocate, but also a regular weekday show on contemporary economic, political and foreign policy issues. It is, therefore, surprising that he could not get the four key political figures of this period — Narendra Modi, Sonia Gandhi, Manmohan Singh and Rahul Gandhi — to grant him an interview. At least, Narendra Modi walked in and out of his studio (when he was chief minister of Gujarat). The other three did not even walk in. When Thapar was asked at his book launch what question he would have for his chief guest, Manmohan Singh, were he to interview him now, he replied tongue-in-cheek, "Why did you not give me an interview?"
The strength of Thapar's journalism lies not merely in the manner of his questioning his interlocutors but in the quality of his questions. Thapar stood tall, way above the competition in Indian television, by doing his homework. His research staff would be the envy of any television anchor, but they were only assistants to a man with a profound knowledge of contemporary India.
Much has been made in the media about Thapar revealing his sources. When one reads the relevant chapter the intention does not appear mala fide. Perhaps, as he himself confesses, it was an error of judgment. I do accept the distinction Thapar draws between private conversations that are confidential and those that are merely casual. Faced with the daily cacophony of conversations on television, one hopes Thapar will return to the medium sooner rather than later.