Updated: May 1, 2016 2:53:36 pm
They were part of the childhood of almost every Indian in the 1960s, '70s and '80s, the closest thing many of us had to a Friendly Neighbourhood Spider Man (the Marvel band DC universe was notoriously difficult to find and finance in the nation in those pre-liberalisation days). They were hoarded, borrowed, lent and fought over for decades. And then they disappeared, having entertained millions, giving way to newer heroes.
We are referring to the likes of the Phantom "The Ghost Who Walks" and Mandrake "The Magician", the cult comic heroes of pre-liberalisation days, who were seen in the famous Indrajal Comics series. They were joined from time to time by the likes of Flash Gordon and perhaps India's most successful action comic hero, Bahadur. The comics were a rage, banned from schools, and sometimes frowned upon by parents, who preferred nudging children towards the 'healthier' and more 'historically relevant' Amar Chitra Katha and Chandamama. Of course, that only made them more popular.
The arrival of the DC and Marvel comic heroes in the '80s and '90s, however, seemed to have swept them into a sort of nostalgic oblivion. Indrajal Comics itself shut shop in 1990. And while other brands (Diamond Comics most notably) has reissued the older comics, they have not been the greatest in terms of quality and have tended to be expensive.
Which is why we were delighted to see the Phantom, Mandrake and many of their Indrajal Comics cast back in their original form in the digital world. They are available on Amazon's Kindle app. Just go to the Amazon India website, head to the Kindle Store and Kindle eBooks. Once there, search for "Indrajal Comics", and you will see dozens of your old favourites in digital format, in prices that range from Rs69 for a single comic to about Rs300 for collections of about 15 comics.
And what makes these comics especially special (pun intended) is that they are scans of the originals, so as you browse through them, you will not only see the odd stain and smudge, but also those wonderful cartoons like 'Henry' and the 'Little King', those Fanta and Parle G advertisements and those Ripley's Believe It or Not fillers that so many of us read with as much interest as we did the comics themselves. Even the covers are exactly the same — squinting into the left corner of one of them revealed the words "Price Re 1.00 per copy. Annual Subscription Rs 26 (by post)." Yes, these are not just the illustrations and the stories, but the entire comics as they used to be, warts, ads, ink stains and all.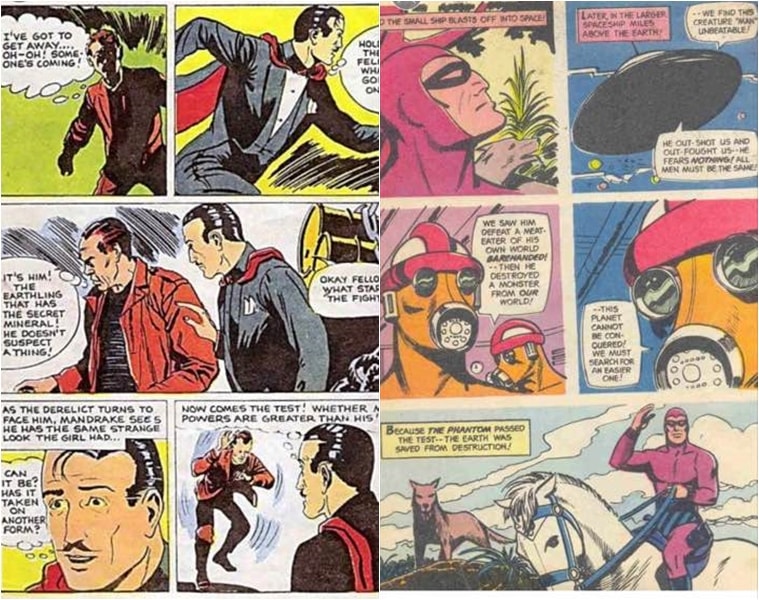 We would like to stress, however, that you read them on the Kindle app and not on the Kindle e-book reader, as the e-book reader cannot display colour, which kind of kills the fun of reading these gems. Our recommendation is to download the Kindle app on your smartphone or computer (the app is available for iOS, Android and Windows, so you are pretty well covered), buy the books (or just download a few free samples) and then sit back and read.
And don't be surprised if after a while, even while your eyes see Mandrake gesturing hypnotically to make villains believe they are being eaten by sharks, or the Phantom teaching a lesson to those who violated his garden of Eden (where animals live together and eat fish, not flesh), or Flash Gordon trying out his friend Zarkov's anti-gravity belt, your ears will be filled with sounds of your friends playing somewhere, of a school bell, of the approaching footsteps of your parents or teachers, or of a song or cricket commentary playing on a crackling radio somewhere.
The Phantom, Mandrake and Co. are back on the Kindle. Exactly as they used to be. No, the experience is not the smoothest – you cannot go frame by frame and the page turns can be erratic. And some of the pages seem smudged. But what the heck, to quote The Carpenters, it is yesterday once more.
Download at your peril. It will take you back in time.
For news updates, follow us on Facebook, Twitter, Google+ & Instagram