Written by Devapriya Roy |
Updated: September 22, 2018 12:15:48 am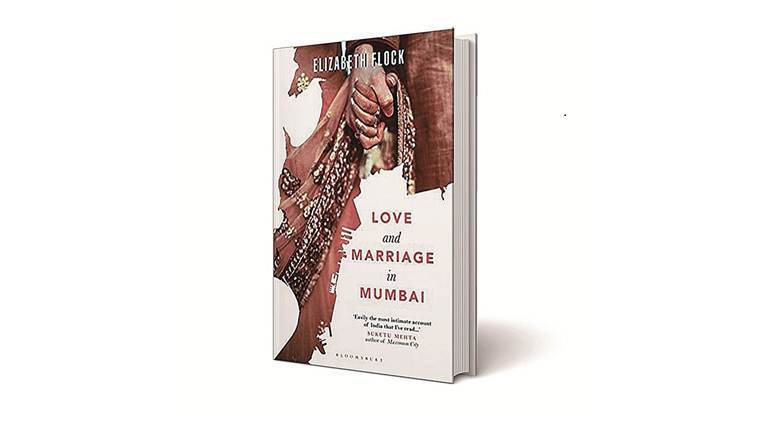 Book: Love and Marriage in Mumbai
Author: Elizabeth Flock
Publication: Bloomsbury
360 pages
Price: Rs 499
Despite my suspicion of anthropology — a whiff of its distinctly colonial origins still emanates from its extremities — I invariably end up fascinated with experiments in ethnography. Elizabeth Flock's book, Love and Marriage in Mumbai, an intimate account of the loves and lives of three Mumbai-based couples, documented first-hand over nearly a decade, drew me in, not only because it's beautifully written and well-crafted structurally, but also because marriage provides a minefield of sorts for an outside observer to navigate.
There is the matter of methodology, too. An ethnographic enquiry is rooted in a certain process — even in an applied setting such as this — whether secondary data collection to primary interviews, both structured and unstructured, and, most vitally, immersive fieldwork. But is it at all possible to immerse oneself in the marriage of two other people, even if we eschew barriers of culture or language?
Flock tackles this thorny fundamental question right at the beginning, in the Author's Note: "This is a work of nonfiction. I began writing it when I first met these people in 2008, but the bulk of the reporting was done when I returned to them in 2014 and 2015. For months, I lived, ate, slept, worked, and travelled alongside them. We mostly spoke in English, though sometimes in simple Hindi…I was present for many of the scenes detailed in these pages, but the majority that took place in the distant past were reconstructed based on interviews, photographs, e-mails, text messages, diary entries, and medical and legal documents. I interviewed each couple separately and together, formally and informally, over hundreds of hours…Even when I was not in India, we spoke constantly."
Armed with this context, we follow Flock into the homes — and bedrooms — of three couples. First, Veer and Maya, Marwari Hindus, who share, arguably, the most complex equation of the three. A memorable character, almost straight out of a novel, Maya fell in love with Veer when she was around 16 and he was in his early twenties and was determined to have him (we glimpse this determination again and again, when she sets up a pre-school, fights with her in-laws or steps out of the conventional boundaries of marriage). Maya's father was dead set against the match — even though the families belonged to the same caste — and eventually the two eloped and got married.
The years that followed Maya and Veer's life together provide a unique glimpse into a changing India. As the economic circumstances of the family change — Veer upgrades from his family's aluminium foil business to exporting medicines to Africa and Maya's school is a success — the aspirations that Maya had from marriage and life also transmute irrevocably, changing the nature of their relationship for good. A man called Subal comes into the picture and becomes Maya's "best friend".
Shahzad and Sabeena, natives of the bustling Crawford Market area, meet only once before their wedding in 1983, and then settle into an arranged nikah that is redolent of the old India. Even as Shahzad chafes against the injustices of life — their childlessness — and attempts to reinvigorate their conjugal life with all manner of pills and powders and potions, Sabeena gently tames his predilections, ever the loving and accommodating spouse. If Maya provides the animating energy of Flock's narrative universe, Shahzad provides a deep human touch and unwitting, darkly comic interludes, with his obsession with masculine heroism in the extended clan intersecting with his pathos about the innate smallness of our lives.
Ashok and Parvati, perhaps the closest to the author in age, are Tam-Brahms who exemplify the curious mix of privilege and limitations that this caste group stands for. Parvati gave up her college love affair with Joseph, a Catholic classmate in IIT-Chennai, and through a peculiar welter of coercion, peer pressure and societal expectations ended up on Bharat Matrimony, where she met aspiring novelist and journalist Ashok. They live in Mumbai's upscale suburbia Powai, and, as Parvati comes to terms with the regrets of her past in a safe space where Ashok lets her be, they find a way to build a marriage together. It is interesting that while Ashok remains the same in his social views, Parvati, once the rebel, takes a conservative turn.
A book as ambitious as this one could have gone awfully wrong. But, to her credit, Flock navigates the stories of her protagonists with compassion, withholds judgment, transposes their language carefully into their stories — so one begins to hear them talking — and attempts to include a great level of atmospheric detail into the scaffolding of the text, so that in the final analysis Maya and Veer, Shahzad and Sabeena, and Ashok and Parvati seem to reverse the reader's gaze and enter the reader's bedroom.
Love and Marriage in Mumbai provides a window into a world that is familiar to most Indians, of course, but it ends up raising the right questions about the successes and failures not only of the institution of marriage per se but of the great Indian family where love and longings are played out daily.
Devapriya Roy is a Delhi-based author, most recently of Indira, a graphic biography of Indira Gandhi, co-authored with Priya Kuriyan.
📣 The Indian Express is now on Telegram. Click here to join our channel (@indianexpress) and stay updated with the latest headlines
For all the latest Lifestyle News, download Indian Express App.
The Indian Express website has been rated GREEN for its credibility and trustworthiness by Newsguard, a global service that rates news sources for their journalistic standards.