Written by Usha Rai |
February 27, 2016 12:47:01 pm
To understand and appreciate where Indian women stand today in terms of health, social, educational, legal and political status, this collection of essays by academics, activists and journalists is invaluable. It's a heavy tome, which looks at women's development through the framework of government policies, labour laws and, of course, from the historical perspective.
The book captures the struggle and growth of Muslim women, the Dalits and the working class. The writers, Romila Thapar, Indira Jaising, Shyamala Pappu, Vimla Ramachandran, Neerja Chowdhury, Jayati Ghosh, Syeda Hameed, Nidhi Sadana Sabharwal, Renana Jhabvala, Betwa Sharma, Niharika Netkerur, Simrit Chhabra, Pavan Karkar, Aman Kwatra, J Devika and Mina Swaminathan, are distinguished scholars on the subjects written. The last chapter is a statistical profile of women and it has been authored by two eminent bureaucrats, AR Nanda and OP Sharma. Both had worked with the Census Commission of India.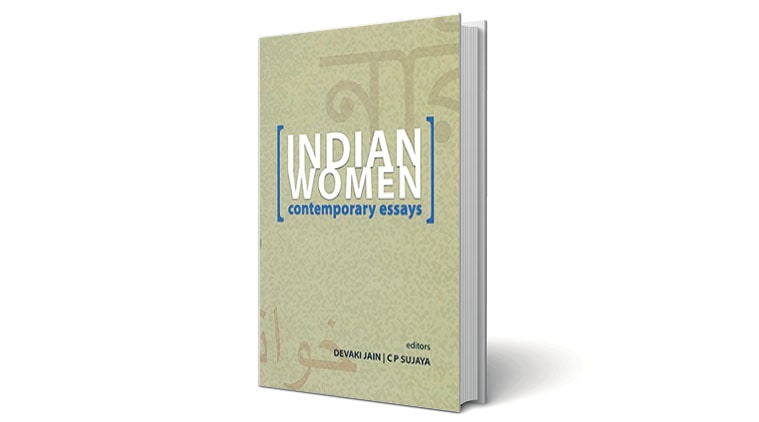 This is the second volume of essays on "women", the first was brought out by the Ministry of Information and Broadcasting in 1975, around the time the Towards Equality report was brought out by Phulrenu Guha and Veena Mazumdar. The editors of the new volume, Devaki Jain and CP Sujaya, both of who have contributed to the women's movement, point out that however pro-women and well-intentioned government policies might be, though there has been progress for many, success is still elusive for "all women."
However, despite the continuing challenges for women's growth and empowerment, the recognition of gender equality in the 1970s by the state has given confidence to women to claim new spaces. There are many types of oppression that women still face across class and caste, and patriarchy is still a big stumbling block. On the positive side, they say, "organised voices and fresh knowledge are making inroads into national and local debates".
Though all the essays are insightful, the ones by J Devika on women in contemporary Kerala and Mina Swaminathan's portrait of Chellamma, the elderly south Indian woman belonging to the semi-rural upper caste middle class, made good reading and offered new information. Referring to the demise of the marumakkathayam system (in which the mother's property went to her daughter) in Kerala, Devika argues that it was strategised by male leadership of the party in power. After marriage, a woman could stay in her maternal home and the husband would visit her. However, this system was done away with as men asserted their power.
She demolishes the rosy image of Kerala touted by most people when they talk of empowerment of the country. She refers to the increasing demand for dowry, rising violence against women, the lower rates of women's migration, employment and work participation as drawbacks to progress. Though in Kerala girls are not eliminated at birth, are not denied education and are relatively free to pursue employment, they are subjected to "ideological bombardment" that wants them to remain docile. Malayalee women are also mentally stressed and this is reflected in the high rates of suicide or attempted suicide.
Sayeda Hameed's essay on Muslim women refers to those who broke the glass ceiling. She writes about the first English school for Muslim women being opened in Aligarh and the appointment of Nawab Sultan Jahan Begum, ruler of Bhopal, as the first woman vice-chancellor of an Indian university in 1920 — Aligarh Muslim University. Foremost among the men who took up the cause of Muslim women was Khwaja Altaf Husain Hali, whose feminist poem Chup ki Daad (In Praise of the Silent) in 1905 was recited at the All India Muslim Educational Conference and stunned the all-male audience. The poem became a charter for rights of all women and Hali became the first feminist poet of the Urdu language.
Though the Quran considers Muslim men and women as equals, contemporary India treats them differently. Poverty, she says, is a big setback for Muslim women, followed by the stranglehold of the Muslim Personal Law Board. In fact, in the 67 years since Independence, Muslims have fallen behind Dalits and tribals.
However, this volume has nothing on women in the corporate sector, those who run their own businesses and those in the entertainment industry who play a big role in influencing the public mindset about  Indian women.
Indian Women: Contemporary Essays
Editors: Devaki Jain & C P Sujaya
Publishers: Publications Division, Government of India
Pages: 247
Price: 335
Usha Rai is a veteran journalist and writes on developmental issues
The Indian Express website has been rated GREEN for its credibility and trustworthiness by Newsguard, a global service that rates news sources for their journalistic standards.