Bikash Ganguly, popularly known as Uncle Bikky, inspired by eminent ornithologist Bikram Grewal, sets out with his niece Chunmun, a wildlife photographer, and her pet dog Duggu in search of the Himalayan Quail, a bird that has not been spotted for decades. Together the trio explores the country's wildlife marvels through different landscapes. At the Pakke Tiger Reserve in Arunachal Pradesh, a haven for hornbills, they come across the birds. Through Uncle Bikky, the readers see the mother hornbill and her chick hiding inside a tree hallow to avoid predators. Many such animal trivia form the crux of wildlife cartoonist, Rohan Chakravarty's latest book The Great Indian Nature Trail with Uncle Bikky, launched at the World Wildlife Fund (WWF) office in Delhi last week.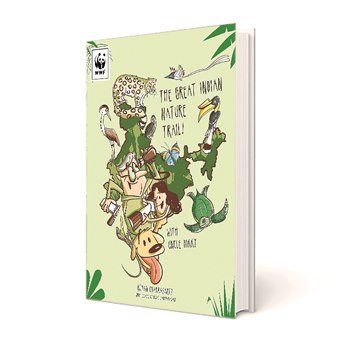 Delhi-based illustrator Chakravarty is the creator of Green Humour, a series of comics on wildlife and nature conservation that he started in 2010. Winner of the WWF International President's Award 2017, and the RBS Earth Heroes Award, he says, "The aim was to acquaint children with wildlife across India in a fun and engaging manner. The concept itself was challenging. For most of my professional work, I use animal characters. For this book, I was asked to not personify animal characters, but to use human characters to tell stories."
As the artist introduces us to the fruit-eating Nicobar Parakeet found on the Nicobar Islands, and the underwater dugong, often called the 'sea cow', Chakravarty reveals how some of the stories are a result of his research on places he hasn't visited, including Ladakh and the Desert National Park in Rajasthan. "But I have been birding in the Himalayas and Western Ghats, and those have crept into many chapters. The characters too are based on people I personally know. Chunmun is based on a close friend of mine from Himachal Pradesh, Munmun Dhalaria, who makes documentaries on wildlife, and even the dog is inspired by Doginder Singh, my friend and conservationist Prerna Bindra's pet, who was also the chief guest at the evening of the book release," he says.
A chance encounter with a tigress at the Nagzira wildlife sanctuary in Maharashtra at the age of 19 gave the 30-year-old self-taught artist a direction. He read up more and began doodling wildlife, and later gathered enough courage to follow the profession of cartooning full-time after a course in dentistry and an animation job. American cartoonist Gary Larson, known for his comic strip The Far Side that ran in over 1,900 newspapers, from 1980 to 1995, is Chakravarty's favourite cartoonist. "In the peak of his career, he employed a dark and different kind of humour that most cartoonists were afraid to do. He would be very inappropriate, his comics would be offensive and wouldn't cater to the regular taste of readership in the US. He was breaking away from the mould that professional cartoonists had set for themselves, and that really appealed to me," he says. Talking about the importance of wildlife cartoons, Chakravarty says, "They are instrumental in bridging the gap between wild animals and human beings because information around these creatures in lacking. Also, cartoons eliminate the jargon around wildlife."
The artist has now turned his lens to campaign against the play back of bird calls, a method used by bird photographers who use audio recordings to attract birds that are usually shy and don't normally come out. The birds tend to think that there are other birds venturing into their territory and come to defend their borders. "This is rampant in the Northeast and the Western Ghats. I have been trying to campaign against this and encourage birdwatchers to employ more ethical means of photographing," he says, hoping that his tongue in cheek humour will serve the purpose.
📣 The Indian Express is now on Telegram. Click here to join our channel (@indianexpress) and stay updated with the latest headlines
For all the latest Lifestyle News, download Indian Express App.