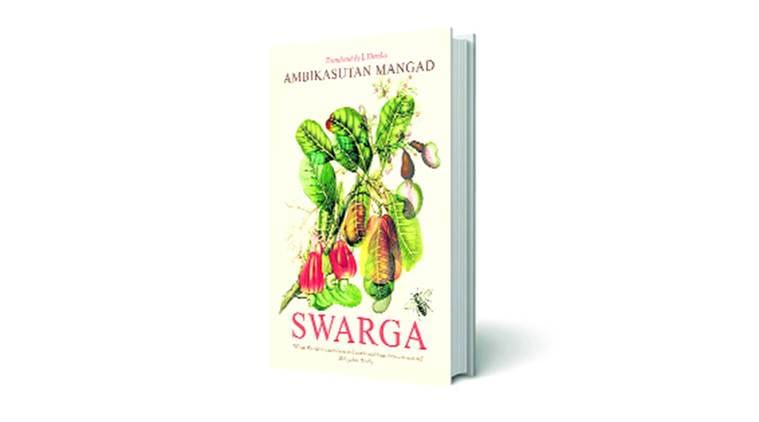 Title: Swarga                                                                                                                                                                                 Author: Ambikasuthan mangad
Publication: Juggernaut
256 pages
Swarga is an ambitious attempt to fictionalise an ecocide that has been unravelling in Kasaragode district in Kerala for many years. Thousands of people, particularly children, have been afflicted by a host of debilitating diseases, that are blamed on the aerial spraying of Endosulphan, a pesticide, in cashew plantations ringing the Kasaragode ghats. The public debates triggered by the tragedy has raised fundamental questions about modern agricultural practices and the responsibility of public institutions towards citizens. Endosulphan spraying was banned in 2000 and reports from the region point to the regeneration of local flora and fauna that had disappeared when pesticide use was rampant in large government-plantations.
Swarga, first published to much acclaim in Malayalam as Enmakaje in 2009, tells the story of the villagers of Swarga, Enmakaje and many other such hamlets who fought the PCK, which meant the state itself. The novelist, Ambikasuthan Mangad, however, has sought to turn what could have been a dry, grim catalogue of data and protests into an epic about modern man's search for meaning in a technology-mediated world of consumption.
His narrators are a couple who, disgusted with urban life, have taken refuge in the forests of the Jadadhari hill in the shadow of which lies Swarga. Mangad calls them the Man and the Woman, since the two had decided to strip themselves of their past, identities and memories, when they left the city to retire to the jungle. Their attempt to reject an anthropomorphic worldview and journey back to a life in nature almost becomes a parable of the first man and woman, Adam and Eve, retracing the steps back to the Garden of Eden. When the woman — her name, we are told later, is Devayani — returns home with an orphan, the Man revolts. However, the baby, who turns out to be a stunted child, exposes them to the world beyond their Eden.
It is a world of a people, whose ancestors had sinned against nature and built a society of exploitation. The couple joins the struggle launched by a visiting activist, a local doctor and a journalist to bring justice to the people. The novel ends with a manipulative politician attacked by a golden serpent, who had worked against the interests of the people, and the couple, Devayani and Neelakantan, finding their awakening in a cave in the Jadadhari hill.
The patches, where Mangad tries to sketch a life for the couple in the city, jars the narrative. Blame it on the activist self of Mangad, parts of the novel assume a didactic tone which disturbs the philosphical armature he seeks for the subject. These anomalies, however, do not detract from the novel's importance as flagging a seminal issue of our time: How best do we build our lives without violating the basic tenets of life itself.