By:
Lifestyle Desk
| New Delhi |
Updated: September 4, 2018 2:54:56 pm
Qandeel Baloch's life was riddled with controversies. She had (in)famously said she will strip for cricketer Shahid Afridi if he can win a match against India. Later, she had also proposed marriage to Imran Khan even while his divorce proceedings were on. Later in July 2016, she was allegedly murdered by her brother.
Baloch meant different things to different people. Her comments infuriated some, but many identified her as a feminist much like Baloch saw herself.
Karachi-based journalist Sanam Maher, in a book titled The Sensational Life and Death of Qandeel Baloch has documented this. Her book has been shortlisted for Shakti Bhatt First Book Prize 2018.
EXCERPT:
On her visits home, she does no work. She sleeps for most of the day. A lady comes to the house to rub mustard oil in her hair and massage her body. Qandeel colours her hair on the trip, peering into a small mirror above the sink in the only bathroom in the house. She gets a call from Mansoor. He tells her some of his friends want to meet the Qandeel Baloch. They are planning to hold a party on a boat this week. Come with me, Mansoor says. She tells him she is in Multan. When I come back, she promises, we'll go on a cruise together.
She does an interview over the phone with a man who runs an online interview series. He takes a few calls from listeners. One man asks her why she does not use her fame and celebrity to do some good work so that the people who curse her and call her names can then have something to praise her for. 'I definitely plan to do some positive work, but these days there are so many issues I am dealing with,' she replies. 'There are the court cases…the controversies that won't leave me, and then on top of everything, my brothers want to kill me.''
The caller interrupts her. 'But you are planning to do some work which will bring glory to Pakistan?' The host does not ask her about her brothers, and she does not mention them again. She likes to sit with her mother and massage her feet. She feels happiest when she is doing this. Her father has come down with a cold. She plays Abida Parveen songs for him on her phone. Her younger brother is there as well. After they eat dinner together, he offers to go buy the milk that her mother gets every evening. He pours swirls of sweet, ruby red Rooh Afza in the chilled glasses of milk. Her phone's battery dies while she is playing the songs. She goes to her room to charge it. She gets a phone call. At last! Some good news.
She texts Mec, 'I am very much happy.' She is out of credit on her phone. Send me some balance, she tells him. I have something to tell you. She promptly calls him when the money comes through. Why didn't you let me call you if you have no money on your phone? he chides. But she wants to be the one calling—in the future, years later, she wants to remember that she had called him and told him her life was going to change. He asks her if everything is all right, and if she is still having problems with that maulvi.
She tells him that has been cleared up. Promise me something, she says. What promise? Promise me you'll come to Karachi with me. Mec says he can't travel at the moment. He has too many events lined up. Are they more important than me? she pretends to sulk. When she finally gets him to say what she wants to hear, she tells him she has received a phone call from the woman who organizes the entertainment and fashion industry's biggest awards show every year. This year, they want Qandeel to open the show, she says to Mec with a squeal. With Ali Zafar! One of Pakistan's best known singers! The organizer's daughter had shown her Qandeel's photographs and videos. The people—the women—in this industry have been talking about her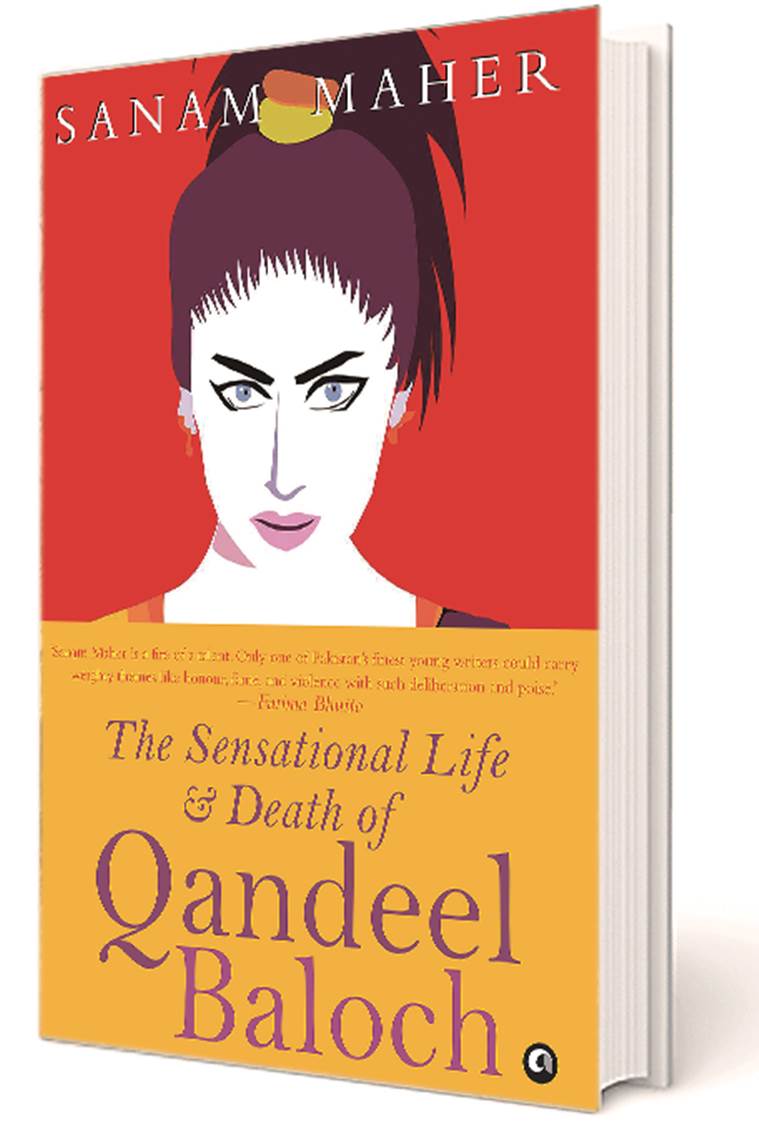 Some are envious, some are in awe, and others are disgusted. But there is a great deal of respect after the incident with Mufti Qavi. For so many years, people in the industry have been judged by the religious conservatives and scolded on live TV shows or been subjected to fatwas about everything from how they dress to their personal lives and the films they star in. Now, finally, one of their own—yes, they could accept her as one of them—has thumbed her nose at them all. She has guts, they grudgingly accept
Mec has to come with her to Karachi. She won't go without him. Forget everything else that has happened. Sab wash kar do. Now she will start over, and she will do things differently. There are no more secrets—all that she has hidden for years, the life she has pretended to live, all of that is finished. She has known it all along: if you have strong will power, definitely nothing can let you go down. Life has taught her lessons at an early age. It has not been easy to become a woman who supported herself and her family. She will tell everyone exactly how she did it.
Maybe she can even start something, some organization, some agency to help girls who have the same dreams as her. She will make sure that they do not have to go through what she did. Do you know what she is? What she is becoming? A girl power. A one-woman army. An inspiration to those ladies who are treated badly and dominated by society. Everything is going to change now. There will be new tricks, or perhaps none at all. After all, she is no longer just Qandeel Baloch. She is also Fouzia Azeem. Will Fouzia Azeem make videos and take selfies and tell Imran Khan she loves him? What will Fouzia Azeem, the woman who escaped an abusive marriage, the woman who supported her family, the woman who has a child, have to say? There will be more work, more countries to visit—but can she leave the country if there are two court cases pending against her? Perhaps she should ask Safdar Shah to look into that. Get a passport made for yourself, she instructs Mec. We're going to have many travels together. She is going to make it as a singer. She will do concerts. Concerts in Dubai!
She wants to be back in Karachi as soon as possible. She wants to book her flight first thing in the morning. Will Mec make sure she is up early tomorrow? She has been told to come back to Karachi quickly and choose her wardrobe for the awards ceremony. He promises to call her in the morning and wake her up. Promise me you'll come with me, she insists. I'll send you a ticket as soon as I'm back in Karachi. He promises.
The next day, 16 July, a Saturday morning, Mec keeps his word and calls Qandeel. There is no answer. Silly girl. She must have stayed up late again, and will now sleep until the afternoon. He had sent her a message the night before. 'I am so happy. May you remain happy. I'm always praying for you. My heart is so happy.' I think I'm afraid to be happy, because whenever I do get too happy, something bad always happens… It is 10.30 a.m. She has not called him back and is not answering her phone. He messages her: 'Good morning. Have a nice day.'
📣 The Indian Express is now on Telegram. Click here to join our channel (@indianexpress) and stay updated with the latest headlines
For all the latest Lifestyle News, download Indian Express App.
The Indian Express website has been rated GREEN for its credibility and trustworthiness by Newsguard, a global service that rates news sources for their journalistic standards.