Published: September 26, 2015 1:13:53 am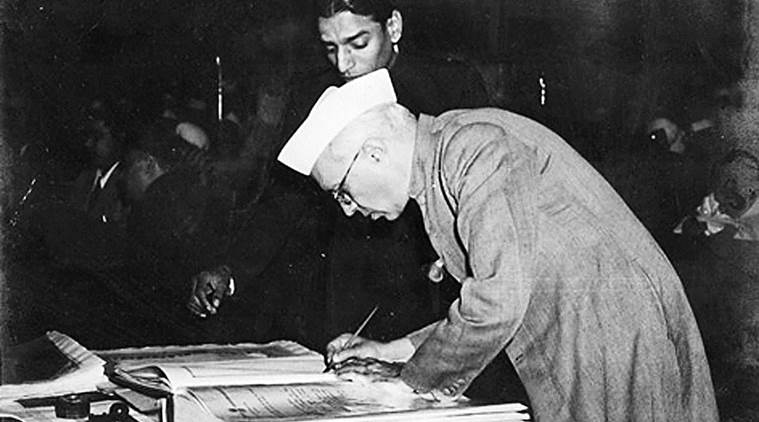 By Vedica Kant
Asked by the Statesman in 1954 how he would like to be remembered, Jawaharlal Nehru replied, "This was a man who with all his mind and heart loved India and the Indian people. And they in turn were indulgent to him and gave him their love most abundantly and extravagantly." As Nayantara Sehgal notes in the introduction to the collection of essays she has edited, Nehru's India: Essays on the Maker of a Nation, during his 26 years of participation in the national movement and then as independent India's first prime minister, Nehru had come to know India and the country had come to know him better than any other political figure save Gandhi. Nehru was a political leader who was larger than life, and there is little doubt that India did love the man back. He served as prime minister for 17 years, not as a dictator but having sought the mandate of the people in three democratic elections. Yet, Nehru's legacy hasn't endured in the way he would perhaps have hoped.
Today, in the 125th year of his birth, Nehru is largely a figure of dislike, even hatred, rather than admiration. For many, India's first prime minister was on the wrong side of history whether it was in his socialist agenda, his secularism or his non-alignment. Particularly egregious to them are his role in the Kashmir dispute and the Indo-China war of 1962. This antipathy to Nehru hasn't been helped by the rather dismal legacy of the Nehru-Gandhi dynasty and despite his credentials as a democrat to the core, the continuity of his family in politics has meant that, as the historian Ramachandra Guha has argued, the sins of the his descendants have been visited on him. If anything, with the return to power of the BJP this trend has only gained currency, with a seemingly concerted effort to downplay Nehru's status as a national icon. In some respects, such debate or revisionism is perhaps overdue, especially since the Congress has itself been rather ignoble in its disregard of key post-independence figures who don't fit the Gandhi family narrative (Patel is a prime example).
But there is no doubt that for many on the Hindu right such a move is motivated by dislike of the anglicised figure who banned the RSS for its role in the assassination of Mahatma Gandhi.
In light of such an environment it is hardly surprising that Sahgal, Nehru's niece and a staunch Nehruvian — to such a degree that she had a falling out with her cousin Indira over the imposition of the Emergency — felt that Nehru's 125th birth anniversary was the right time to remind readers that the debt India owes him is immense. Sahgal rightly notes that the "making of a nation" cannot quite convey the immensity and diversity of the enterprise undertaken by Nehru. The book aims to lay out through a series of essays by commentators such Mani Shankar Aiyar, Gopalkrishna Gandhi, Hartosh Singh Bal and others on how Nehru approached the task at hand.
The essays provide personal takes on Nehru and his attempts to shape the nation. Aditya and Mridula Mukherjee examine Nehru's contribution to building India's post-colonial economy, in particular evaluating why his socialist stance was important at the time, as well as crediting his focus on science and technology, which were important for economic development in the longer term. Bal's essay on how Nehru's view of history impacted his politics and Rakesh Batabyal's essay on the ways in which Nehru approached nation-building as a "homemaking" process are interesting takes on Nehru's hopes for India and how he went about achieving these. Kiran Nagarkar's essay on Nehru as the larger-than-life presence in the development of his intellectual and political ideas is particularly touching and highlights how important Nehru's intellectual legacy has been for many Indians.
However, despite their noble cause, this reader did feel that some of the essays in this book did occasionally let down their subject in their seemingly blind admiration of the Nehru legacy rather than a robust, critical engagement with it. Note, in particular, Aiyar's essay where, defending Nehru's planned approach to the economy, he writes: "Planning, the key instrument for establishing the 'socialist pattern of society' raised the GDP growth rate from the pre-Independence (1914-47) annual average of 0.72 per cent to over 3.5 per cent — an increase of five times, which, if maintained subsequently, should have led to our economy growing at 15 per cent per annum and not the miserable annual average of 5 to 6 per cent attained in the years of liberalization." There are legitimate arguments to be made about why a planned approach to the economy was the right path post-Independence (it's worth debating whether unfettered capitalism would have been ideal with the kind of de-industrialisation and income inequality that India had in 1947) but such false arguments are, if anything, detrimental to those making such a case.
Such statements only help highlight why arguments for and against Nehru seem to take place in echo chambers; you either love him and write to a loving audience or hate him and write for a similarly disposed audience. If a true assessment of Nehru's role in making India is needed, he has to be accepted with warts (by his admirers) and with respect (by his naysayers).
Moreover, such an assessment must also make use of proper archival sources to paint a more holistic and grounded picture of Nehru, the prime minister. Sadly, such analysis, partly due to the dismal state of India's post-Independence archives and the lack of emphasis on proper historical evaluation of political figures, has been lacking. Essayists will always add colour to our knowledge of Nehru but the man's legacy deserves a more academic assessment.
Vedica Kant is the author of If I Die Here, Who Will Remember Me?
Nehru's India: Essays on the Maker of a Nation
Edited by Nayantara Sahgal
Speaking Tiger
Pages: 192 ; Price: 399
📣 The Indian Express is now on Telegram. Click here to join our channel (@indianexpress) and stay updated with the latest headlines
For all the latest Lifestyle News, download Indian Express App.