Last week, the famous Pithora folk art practiced by Bhil, Bhilala and Rathwa tribes was presented in this column towards our pursuit of highlighting the traditional occupations underscoring rich art and aesthetics from rural India.
Bhilala tribe and their indigenous occupations are studied by anthropologists and cultural studies enthusiasts with much passion and fervor owing to their flair for colors and creativity. Beautiful, symmetrical and meticulously intertwined glass and plastic beads, which the Bhilala women weave into necklaces, armlets, earrings and rings is what makes the household economics complete – with Bhil men engaging in Pithora folk art and their female counterparts celebrating their traditions by creating beaded necklaces, chokers or vernacularly known as 'Galsan Maalas'.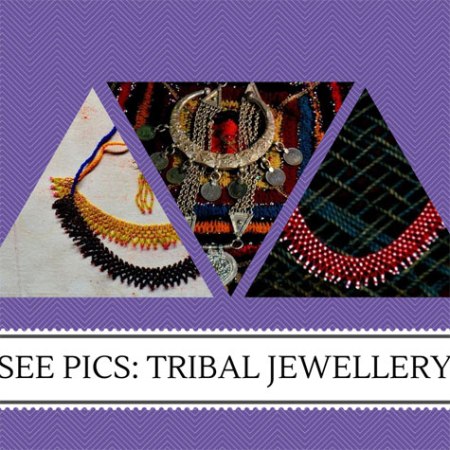 Ancestral silver: Vintage value and Inspiration
Jewellery is an important means of saving for rural women. A walk down the villages of Aadharkaanch or Dehrikheda villages in the district will highlight the socio-economic and psychological aspect tribal women associate to jewellery.
Lack of safe and secure spaces to store precious jewels is one reason why most women almost always wear silver Hansli (collar necklace), heavy armlets, anklets and earrings. Also, to dress up for the local haat bazaar with rich embroidered Ghagras in rich purples, pinks and reds with silver, every Sunday.
It is a delight to notice these colors embellished with such ethnic antique pieces of jewellery of royal and intricate styles which exude authenticity, and is a luxury to find these days in the era of substitutes lacking originality.
Their ancestral and royal, Chaandi ki Hansli made of coins and silver is one of the most sought after vintage pieces of tribal jewelry valued by cultural connoisseurs all across the globe. This passes on from mother to daughter, daughter in law thereby preserving its hereditary quotients and its innate historical appeal.
Because jewellery is such an integral part of their lives, women from this tribe unleash their creative talents into hand-made ornaments heavily drawing from their traditional metal and silver jewels. Cowrie shells, embroidered cloth, wool, sequins, glass and plastic beads – are all easily accessible to Bhilala women for bead work.
Heavily influenced from parts of Gujarat and also dependent on the territory for raw materials– this beautiful weaving of beads travelled to Jobat in Alirajpur from parts of Gujarat and Rajasthan before metamorphosing into one of the primary occupations of women in the district receiving attention and support from administrations.
The 'Galsan Maala' of beads, used by tribal women as a convenient day to day ornament, and also to make a living is a noticeable inspiration from the traditional silver Hansli. More importantly, these beaded necklaces also suit the urban styles and contemporary demand patterns originating from adjoining cities like Indore and Bhopal.
Bead work: An important means of income for women
Over and above their agricultural engagements, Mahua, Tendu collection, women use their spare time for practicing bead work. Since low working hours are involved in weaving beads into beautiful necklaces and earrings – a large number of women engage in this occupation with the tradition passing on from one generation to the other.
Economic independence and developing skills in bead work has been an important social shift in community dynamics of these tribes- as women now actively contribute towards family income thereby, also enhancing their own socio-economic status while unleashing their creative imagination with simple ingredients such as bead and thread.
Opportunity
These handcrafted bead works which are quite famous in local markets and formal markets outside Alirajpur, maintain the equilibrium between demand and supply in the local supply chain of bead jewellery. Over the past few years, government administrations have contributed enormously to beadwork promotions. Many Bhilala women are now associated with self-help groups engaging in bead art works and have been formally trained by experts.
Since they engage with colors on a daily basis owing to traditions, and creatively express through handmade pursuits, bead work on textiles and fabrics could be introduced which would add versatility and diversification through a unique blend of beads and textile designing. This could be an easy method of introducing livelihood innovation as Bhilala women have a penchant for heavy embroidery work, visible from their attires and appurtenances.
Additionally, a marketing outlet or an exhibition for bead jewelry and folk paintings could be started in the district headquarters with the support of government administration and private investors. This could be an 'art store' housing all important forms of traditional art increasing visibility of indigenous occupations of men and women and cultural byproducts of their chores – heritage tribal jewelry and folk paintings which are important repositories of tribal cultures and knowledge.
Training programmes could be organized at this centre where bead artists, painters could be invited for capacity building of the Bhilalas. Subsequently, online marketing of Galsan Maala and folk paintings could be introduced with detailed catalogues. Such an initiative would increase market accessibility and visibility of these groups and position Alirajpur on the global map of indigenous arts.
📣 The Indian Express is now on Telegram. Click here to join our channel (@indianexpress) and stay updated with the latest headlines
For all the latest Lifestyle News, download Indian Express App.
The Indian Express website has been rated GREEN for its credibility and trustworthiness by Newsguard, a global service that rates news sources for their journalistic standards.