Renowned ceramic artist Roger Cockram, 72, complains of the Delhi heat as soon as we begin to talk. The heat and dust of the Indian Capital is far removed from the tiny, ancient and windy village of Chittlehampton in England's North Devon where he belongs. The weather is starkly different and then there's the sea, which has has inspired much of his porcelain art. The scientist-turned-artist started his practice by making kitchenware like jugs, cups, plates and soup bowls — with small, round handles, which became popular for they were easy to hold and hang on a hook. It was later that porcelain became the perfect canvas for him to paint colours of the sea, for it "makes him alive". It includes a variety of vases, jars and tea bowls.
A fellow at the Craft Potters Association of Great Britain and a member of the Devon Guild of Craftsmen, Cockram's work can be found in several private and public collections in countries such as the UK, Netherlands, Canada, Germany, Israel and the US. The artist was on his first trip to India, on the invitation of Delhi Blue Pottery Trust, for "Porcelain 2018".
Excerpts from an interview:
You discovered your fascination for the sea after being in ceramic art for nearly 10 years.
Yes, that's because I started my work living in the countryside, away from the sea. The landscape was green, brown and very rich. It was also the beginning of my career in art and I needed to sell things that people could use and identify with easily. But I'm passionate for the sea and the environment. I try to include a sense of its rhythm and movements of its colours in my work. When we moved to a place near the sea, I felt like I had come home. By then I had started working with porcelain. It's a difficult material to use, but rewarding on the colours. I would float glazes just like when the sea comes around your ankles with white foam, on the coast.
What's your most memorable moment of the sea?
One day I was diving when a shoal of fish, maybe hundreds or thousands of them came whooshing along all around me. It felt as if they were going through me. To them probably I was something coming in their way, maybe a lump of wood. It carried on for just two-three minutes but it was a very moving experience. I felt I was a part of the universe, a part of the sea.
How do you transport what you see of the sea in your work?
What you mustn't do is try and do it right away. What's best for me is to go back and do something else. In a week or two or even three months, when the memory re-emerges, the ideas are softer and more abstract, and then I make glazes to reflect that experience.
You initially studied zoology and marine ecology and worked as a teacher and scientist. How did ceramics enter your life?
I wanted to study art and English literature at school, but my teachers suggested that I study science for I had the qualification. I became a marine biologist and my work involved sub aqua diving and snorkeling to study the distribution of species and health of the sea. Gradually I became interested in art again, it started as a hobby, and later I joined the Harrow School of Art to study ceramics. It involves making something in space but also, potentially, giving an expression to feelings. Initially it was more figurative, then gradually moved to more abstract themes that the sea gave me.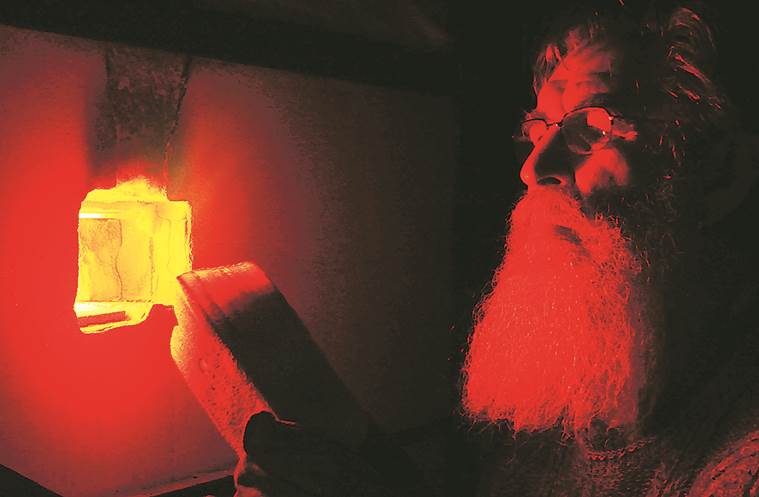 How has your experience with porcelain been?
It started very simply and I just enjoyed the soft colours with plain glazes. My science, from many years before, was very useful, as I made all my glazes using a different recipes. It's like cooking — lots of mixtures, testing and experiments. Gradually, I got better and it is a journey I'm still on.
Ceramic artists say that working with porcelain is a long process of trial and error, making and breaking. Can you take us through your approach?
Porcelain dries quickly and unevenly, and one has to work on it when it is in the correct stage of drying. Unlike other artists, I don't do what they call biscuit firing with porcelain. Most pottery in the world is made using that method – firing it halfway with no glaze, taking it out to put glaze on, and then firing it to the correct temperature. I do it all in one stage. I put the glaze on when the clay is damp but not dry inside. It's much more gentle and takes longer as you're putting two firings together. But this is much better for me, I find it a natural way of working, one that's difficult but beautiful. Maybe that's also true about life and people.
Thirty five Indian artists presented their work at the exhibition, which celebrated 10 years of porcelain art in India. It was a mix of quirky and serious work, and many artists worked with porcelain for the first time.
That's what is so wonderful, and I hope it appeals to the people of all kinds, sophistication and taste. To my knowledge, India has a tradition of terracotta which is just used for ordinary household things, whereas the creative possibilities of any medium are much more than we imagine. These pieces are as serious an art as painting.