Karva Chauth 2018 Moon Rise Time Today: Karwa Chauth or Karva Chauth is a festival celebrated by Hindu married women. The festival falls on the fourth day of the Hindu luni-solar calendar and this year, it will be observed on October 27. The Puja Muhurat will start from 05:40 pm and end at 07:07 pm, which means, a duration of 1 hour and 26 minutes.
The moon is expected to rise at 07.55 pm in New Delhi and Agra, Uttar Pradesh while it will rise at 08:30 pm in Mumbai on October 27. The Chaturthi Tithi will begin at 02:07 pm on the same day and will continue till 11:24 am on the next day, that is, October 28, 2018.
Karva Chauth can be broken down to Karva and Chauth – 'Karva' means earthen pots used to store wheat and 'chauth' means the fourth day. On this day, married women and those reaching the marriageable age fast from sunrise to moonrise, praying for the safety and longevity of their husbands, fiancés or desired husbands. In India, it is mostly observed in the northern belt in states like Madhya Pradesh, Rajasthan, Punjab, Haryana, Himachal Pradesh and parts of Uttar Pradesh.
Women observe a full day of fasting on Karva Chauth and it is only when the moon rises that they break their fast and eat their first meal of the day.
Women dress in bright and colourful ethnic wear and try to recreate their wedding day look by wearing beautiful traditional wear, accessorising with heavy jewellery and applying gorgeous mehndi on their hands to impress their other half. Right after the moon rises, they look at the moon through a sieve and then look at their husband, seeking his blessing while praying for his long life.
Live Blog
Karva Chauth celebration in Shimla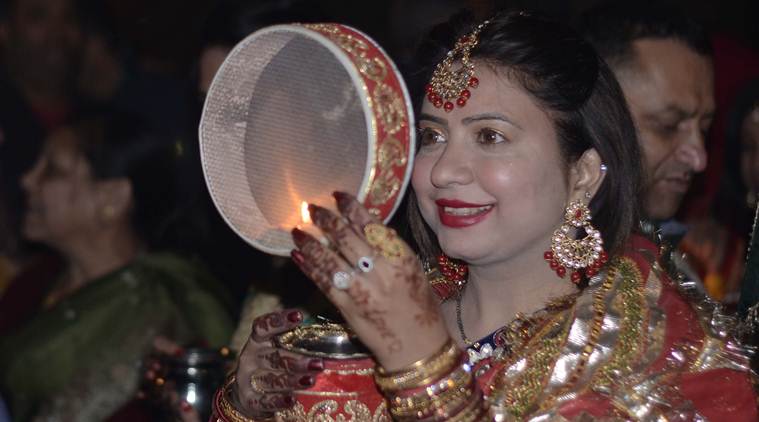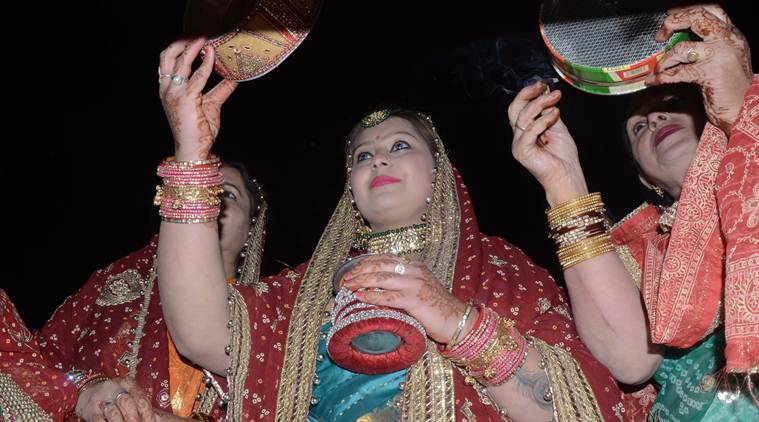 Women celebrate Karva Chauth festival in Shimla. (Express Photo by Pradeep Kumar)
Happy Karwa Chauth: Sonam-Anand, Abhishek Bachchan, Ayushmann Khurrana spread festive cheer
The Indian entertainment industry is busy celebrating Karwa Chauth and is spreading the festive cheer on social media. Celebrities like Abhishek Bachchan, Ayushmann Khurrana and Shabana Azmi wished everyone a happy Karwa Chauth. Check out their messages here
Karva Chauth 2018 sari and lehenga ideas: Try out these celeb-inspired looks
On the occasion of Karva Chauth, we have curated a few looks of Bollywood celebrities for inspiration. Right from Alia Bhatt's bright chartreuse lehenga to Aishwarya RaiBachchan's gold embellished sari, Katrina Kaif's beautiful take on red lehengas to Shilpa Shetty's unusual ways of draping saris.
Click here to check out the best ethnic outfits sported by the fashionistas.
Karva chauth celebrations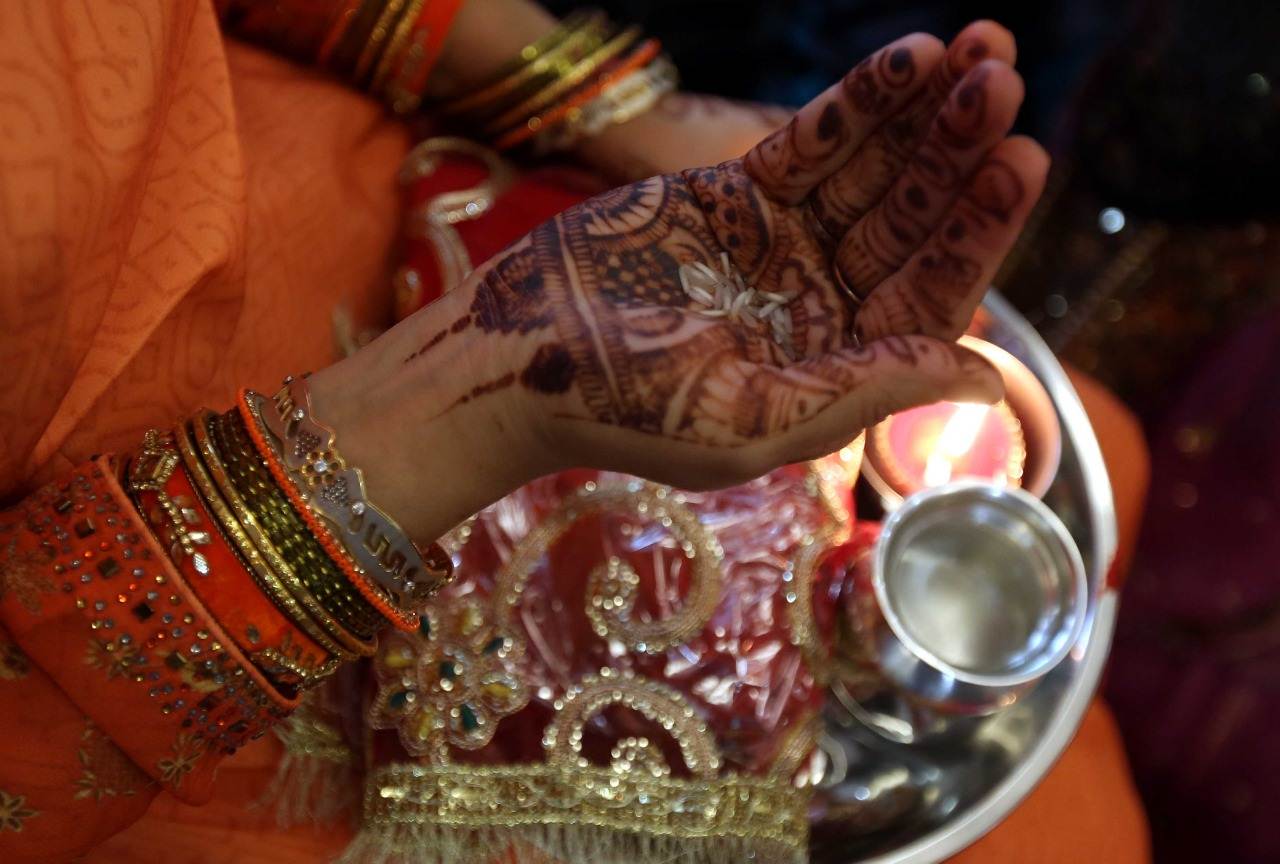 Women celebrating 'Karva Chauth Pujan' at Ludhiana's Sanjivni center. (Express Photo by Gurmeet Singh)
Karwa Chauth 2018: Wishes, images and photos, SMS and text messages, Status for Whatsapp and Facebook
Sample these:
* I started living the day you came into my life
So if you are fasting for me then,
I just want to let you know
I want to live as long as you are there with me.
Happy Karwa Chauth!
* A dark cloud of gloom is hovering over my heart,
I am praying for your happiness and long life,
You are always in my heart,
Missing you very much on this Karwa Chauth!
If you want to send out some love on this special occasion, here are a few wishes and greetings you can choose from. Click here
Women in Punjab Celebrating Karva Chauth
Karwa Chauth Recipes: Seviyan Kheer by Ruchkar Mejwani
Ingredients
2 tbsp – Ghee
1 Cup – Vermicelli
1 Litre – Milk
1 Cup – Sugar
1 tsp – Cardamom Powder
Raisins
Method
* In a pan, heat some ghee. Add the vermicelli and roast it well. Then add raisins and dry fruits and mix everything well.
* Add milk and mix it well. Let it boil completely. Then add sugar, keep stirring
* Add cardamom powder and keep stirring.
* Let the kheer boil till it becomes a little thick.
* Garnish it with dry fruits and serve.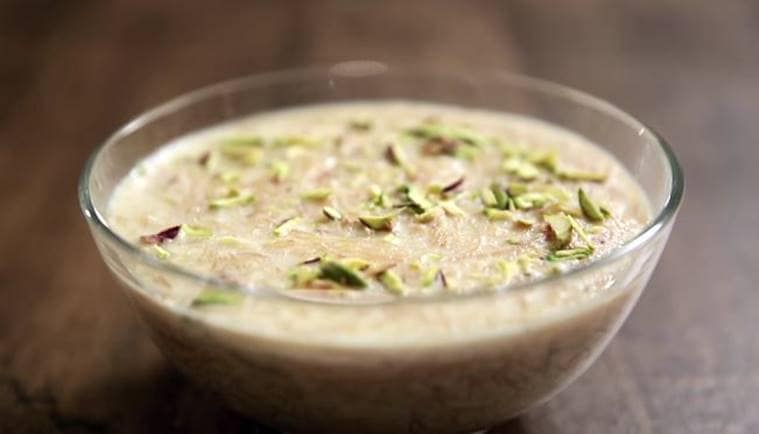 Seviyan Kheer forms a part of Sargi of Karva Chauth fast. (Source: YouTube/Ruchkar Mejwani)
Karwa Chauth Rituals
The festival falls on the fourth day of the Kartik month in the lunisolar calendar. It gets its name from 'Karva' which means earthen pots used to store wheat and 'chauth' means the fourth day. Women buy new earthen pots or Karwa and decorate them and put gifts like bangles, bindis and sweets inside them. On the day of Karwa Chauth, they exchange their karwas with other ladies.
Women wake up early before sunrise to observe the rituals. They begin their day with sargi – a plate full of heavy and nutritious meal which consists of ghee loaded halwa, dry fruits and fresh fruits given by their mother in laws. Following which the women observe a rigorous fast without food and even water for the entire day. It is only when the moon rises that they perform further rituals and worship the moon to break their day-long fast. Usually, husbands and fiances are expected to feed the first bite of food to their wives.
Karwa Chauth Recipes: Moong Dal Gulgule Curry by Swaad Anusaar
Ingredients
For Gulgule:
1/2 cup – Soaked moong dal
1-3 – Green Chilies
1/ tsp – Water
1/ tsp – Salt
Caraway seeds
Oil as required
For the gravy:
4 – Tomatoes
Ginger
1/2 tsp – Red chili powder
Approximately 1 litre water for the gravy
1/2 tsp – Sugar
1 cup – Milk
Method
* Heat a wok, add oil and let it heat.
* In a mixer jar, add soaked moong dal, green chilies and grind it for few seconds.
* Add water to the dal and grind it again to a paste-like consistency.
* Once you're done grinding, transfer it to a bowl and add salt and caraway seeds.
* Mix them well. Make rounds of the batter and leave it inside the hot oil.
* Fry them nicely, until they're golden brown in colour. Once they are done take them out on a plate.
* In a jar, add tomatoes and grind them.
* In a vessel, heat oil and add caraway seeds, ginger.
* Fry them nicely until the raw smell goes away. Add the tomato puree, salt, red chili powder, and water.
* After adding the water, give it 2-3 boils on high flame – the gravy is ready.
* After you are done cooking it, add milk and keep stirring. You can serve the curry with gulgule in it.
* Garnish it with coriander.
Karwa Chauth (Karva Chauth) Puja Muhurat, Timings
The puja muhurat starts at 5.36 pm and continues till 6.54 pm – a duration of 1 hour 17 minutes. The moon is expected to rise at 8 pm but the timing may vary according to the climate. The Chaturthi Tithi will begin at 06:37 pm on the same day and will continue till 04:54 pm (October 28).
Origin of Karva Chauth
The origin of Karwa Chauth can be traced back to Mahabharata when Savitri begged the god of death, Lord Yama, for her husband's soul. Another episode in the epic talks about Pandavas and their wife Draupadi. Arjuna went to the Nilgiris to pray and meditate for a few days, worried about his safety Draupadi sought her brother Krishna's help. He advised her to observe a strict fast just like Goddess Parvati did for her husband Shiva's safety. Draupadi adhered to it, and soon Arjuna returned home safely.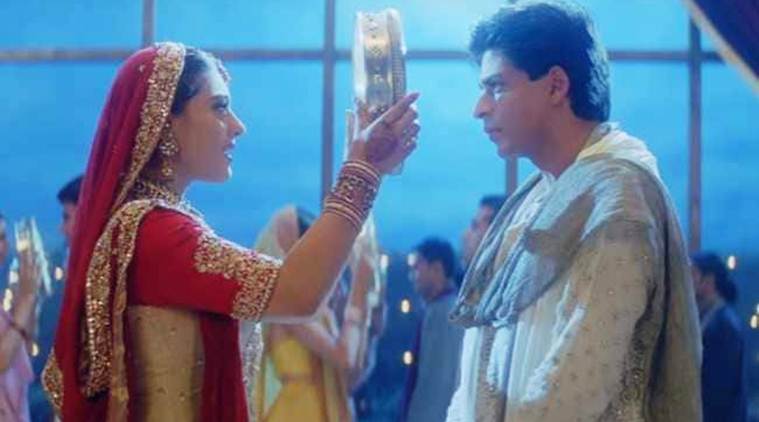 Karva Chauth Recipes: Malpua by Hebbar's Kitchen
Ingredients
For malpua
1 cup - Maida / plain flour / all purpose flour
½ cup - Rava / semolina / bombay rava / sooji
¼ cup - Sugar
½ tsp - Fennel / saunf powdered
¼ tsp - Cardamom powder / elachi powder
½ cup - Milk / rabri
Water as required to prepare batter
Oil for deep frying
Rabri for serving
Dry fruits for garnishing
For sugar syrup
1 cup - Sugar
½ cup - Water
¼ tsp - Cardamom powder / elachi powder
Few threads of saffron
Note: 1 cup = 255 ml
Method
* In a large mixing bowl, take maida, rava, and sugar and add fennel powder and cardamom powder.
* Add milk or rabri and mix well making sure there are no lumps in the batter. Add water if required. Make sure the batter is of smooth pouring consistency
* Further whisk the batter for at least 5 minutes. Cover and let it rest for 30 minutes.
* Pour a few spoonful of the batter into hot oil/ghee.
* Once the malpua starts to float, splash oil over it. Also press gently with the help of a perforated spoon. The malpuas will puff up like pooris
* Now fry both sides till they turn golden brown.
* Drain the malpuas onto a kitchen towel to remove excess oil.
* Now soak the malpuas into the hot sugar syrup.
* Rest for 10 minutes making sure both the sides of malpua are soaked well.
* Serve them hot with rabri