Only an expensive surgery can ensure both my kids' survival. Please help me save them
Updated: November 2, 2018 11:23:36 am
You can help Arya by donating to his fundraiser on Ketto.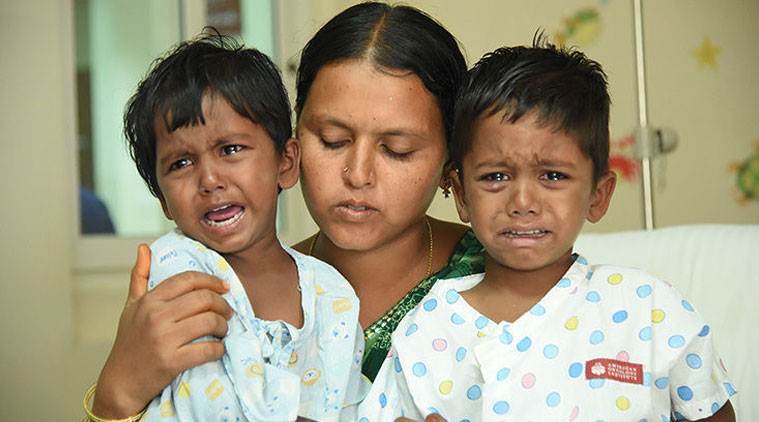 My name is Raju Mayak and I work as a manual labourer in Kurnool, Andhra Pradesh. My monthly salary is Rs. 6,000 ($81) and this is my story. My two kids, Swarupa and Jaswanth were diagnosed with a disorder called Thalassemia Major at a very early age. It's a serious disorder in which normal haemoglobin is absent in the body. Ever since I became a father, I've not known a life without hospitals and blood transfusions.
I am the only earning member of my family. My meagre salary is used to run the house as well as pay for blood transfusions every month. I cannot even begin to tell you how terrifying the idea of not being able to receive these transfusions is. My children need these to live. Towards the end of every 15 days, I see my babies getting weak. Only getting a transfusion makes them both normal again. Who would want a life like this for their children? It pains my heart to find myself so helpless!
Every month, without fail, I have to take Swarupa (4 years old) and Jaswanth (2 years old) to the hospital for regular blood transfusions. I cannot afford to miss even a single transfusion because that could cost both their lives. The doctors told me that Bone Marrow Transplantation (BMT) is the only curative option for this condition and it should be done as early as possible since their condition is very serious. The total cost of the BMT for both my kids is Rs 56 lakh ($ 75,814), a number far beyond the reach of a poor man like me.
I have managed to secure loans to the tune of Rs. 4 lakh ($ 5,422) to kickstart the treatment. However, I'm nowhere close to the staggering amount required to pay for the BMT. It breaks my heart to see them cry during transfusions. Please help me give this chance to my beautiful kids. They have done nothing to deserve a life like this. With your help in the form of donations and sharing, you can help Swarupa and Jaswanth survive their ordeal.
If not for crowdfunding, I would've completely given up hope. Mine is a fight against time, against circumstances. Please help me save my babies.
You can help Arya by donating to his fundraiser on Ketto. Please click here to donate