RRB Group C ALP, Technician Answer Key 2018: The Railway Recruitment Board (RRB) has released the answer keys for RRB Group C recruitment exam that was held last month on September 14 at 9 am. The answer keys will be available on the official website – indianrailways.gov.in till September 18.
[Read | RRB Group C ALP, Technician exam 2018: Objection tracker to release today at indianrailways.gov.in]
To raise objections for ALP, Technician recruitment exam, the candidates have to log in with user ID and they need to go through the question and answers carefully. Remember the objections must be entered only in English. The objections can be raised only against questions and their respective alternatives. In the remarks column, enter your reason for objection clearly.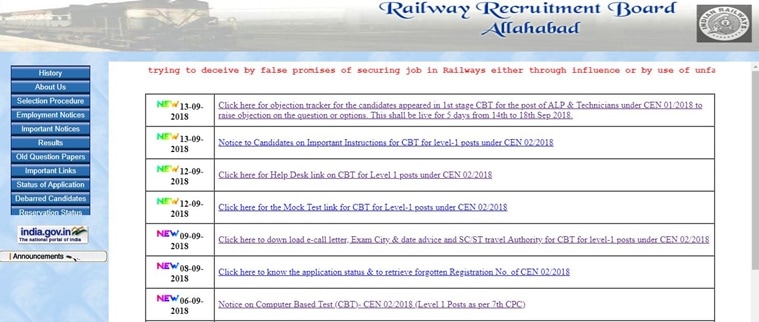 [READ | RRB Group D Exam 2018 Date: Exam date, city, schedule for CBT starting after October 16 releasing today, websites to check]
Post-September 18, the RRB will check all the objections and is expected to come with some update by the end of the month. A record total of 76.76 per cent attendance was registered for the Group C exam. "We have successfully completed 1st stage CBT for more than 47 lakh candidates, competing for 64,037 ALP and technician posts, with a record attendance of 76.76 per cent in the history of RRBs. Applicants in previous ALP/Technician exam was about 32 lakhs and attendance was 47.47 per cent," the ministry tweeted from its official handle.