OVER THE last two months, a survey conducted by jail officials across Bihar showed that the share of its weakest sections, especially SC and ST, among those arrested under prohibition far outstripped their share in the state's population. Yet, there is a reason why the government continues to flaunt prohibition as a landmark achievement.
It can be seen on the faces of women in hundreds of villages across the state, like Manjhiyama in Arwal district, where the alcohol ban has meant more money in households, new houses and a better life.
READ | Widows and elderly jailed, children picked up for ferrying liquor
"I don't get beaten up by my husband now. Whatever he earns, he gives it to me. Whatever people may say, Nitish Kumar has done a very good thing by banning liquor," says Asha Devi, 40, in Manjhiyama, around 100 km southwest of Patna.
When The Indian Express met Asha, she was preparing to serve lunch — rice and besan curry — to her husband Sanjeev Sah, and their two young daughters and a son. Such family moments, she says, were rare when Sanjeev, a tractor driver, used to spend most of his spare time and money on alcohol.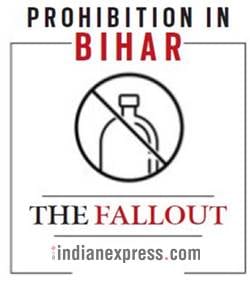 "I earn Rs 7,000 per month and earlier, on most days, I would head to the liquor shop at the first opportunity. Now, I head directly back home," says Sah with a sheepish smile.
In Manjhiyama, with a population of around 5,500, the most visible signs of progress post-prohibition are the rows of 20 new pucca houses, including five each in the EBC and SC settlements. "With the money that villagers have saved, we have seen a boost in household income. For example, around 700 litres of milk used to be sold from this village every day before prohibition. Now, the sale is around 1,000 litres with at least 25 per cent more people having started maintaining cows," said Umesh Sharma, who owns six Jersey varieties and counts himself among those who have benefitted from prohibition.
"This was the same village that saw almost 40 per cent of its men, aged between 20 and 50, line up at the liquor shop in the evenings. The shop would remain open from morning till midnight," says a local official. Read | Editorial: Bihar's new sorrow
Manjhiyama is one of the nine villages in Khatangi panchayat with a mix of upper-caste Bhumihar, EBC Sah, and the SC Manjhi, Paswan and Ravidas communities. "Most members of the EBC and SC communities are engaged as farm workers by the Bhumihars," says the official.
READ | Bihar's prohibition crackdown: Two years later, OBC, EBC, SC, ST face the brunt
In the SC settlement, Lachhmi Devi, 40, points to her new house being built under the Pradhan Mantri Gramin Awaas Yojana. "We got government funds and put in an extra Rs 30,000 from our own savings to build a spare room. That was only possible because of the money we saved after my husband (Ramchandra Paswan) stopped drinking," she says.
Shekhar Manjhi, 45, and his wife Ramanti, 40, are happy to flaunt their new assets – six goats, two pigs and a dozen "desi" hens. "My husband was a drunkard but in the last two years, he has learnt to save money. We have to get our 19-year-old daughter Puja married. For us, prohibition happened just at the right time," says Ramanti.
But the days that followed the imposition of prohibition on April 6, 2016, were difficult, with no medical support or counselling, says Prabha Shanker, 35, a rice-mill owner.
READ | Bihar liquor law targeting Dalits, poor: Opposition
"I was among the hardcore drinkers and the abrupt ban changed everything. There were withdrawal symptoms for weeks. Some of us, who could afford it, went to see doctors on our own. After six months of prohibition, life finally starting coming on track," he says.
In Patna, government officials refer to a survey conducted by the Gender Resource Centre (GRC) under Bihar's Social Welfare Department that shows a "significant reduction in violence against women and girls in homes, public places and during festival and social functions" after prohibition was imposed.
The report states that its findings are based on interactions with 2,368 people from the districts of Nawada, Purnia, Samastipur, West Champaran and Kaimur, between April and November 2016. "We had 26 focused group discussions with 1,001 women, 20 focused group discussions with 242 women and 10 discussions with 647 adolescent girls, spread across all geographical areas. We concluded that a major impact of prohibition was a substantial reduction in domestic violence cases, from 54 per cent to five per cent. The case of verbal abuse against children by fathers and relatives also came down from 35 per cent to five per cent," says Anand Madhab, principal consultant, GRC.
The report states: "Consumption of food and non-food items has gone up by over 30 per cent. Money that is getting saved from liquor is being spent on buying green vegetables, milk, fish, meat, hiring private tuitions, better clothes and even snacks for children."
In Manjhiyama, prohibition has had an unexpected fallout, too.
Says Nityanand Kumar, who used to earn Rs 5,000 by renting a portion of his house for the liquor shop: "I have now bought two cows to make up for the loss."
Tomorrow:

Politics of prohibition