The Food Corporation of India and state government agencies are expected to procure 32 million tonnes (mt) of wheat in the just-started rabi marketing season that will go on till end-June. This would amount to nearly a third of the total crop size of 97.11 mt, as per the Agriculture Ministry's estimates.
The accompanying chart shows that the share of government procurement to total production for wheat rose from a mere 14.7 per cent in the 2006-07 crop year (July-June) to a high of 40.2 per cent in 2011-12, before falling to 24.9 per cent in 2015-16. But in 2016-17, it went up to 31.3 per cent and is projected to increase further in the current crop year.
The ratio of governmental purchases to production is even more in the case of paddy. The Union Food Ministry initially pegged the overall rice (milled paddy) procurement for 2017-18 at 43 mt or 38.7 per cent of the country's estimated production of 111.01 mt. But the latest assessment suggests procurement will be just around 40 mt, marginally higher than last year's record 38.11 mt. But even this would work out to over 36 per cent of production, as against only 26.9 per cent in 2006-07.
The main reason for rising governmental procurement of wheat and paddy has been the steady increase in their minimum support prices (MSP). Between 2006-07 and 2017-18, these have gone up from Rs 850 to Rs 1,735 per quintal for wheat and from Rs 620 to Rs 1,550 per quintal for common paddy.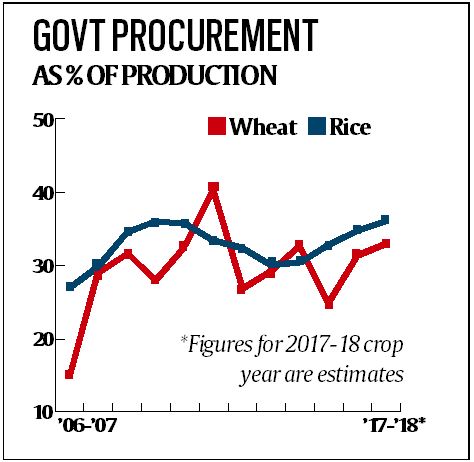 But equally important, unlike in other crops, the higher MSPs for the two cereals have been accompanied by actual procurement in more and more states. From being initially concentrated only in Punjab, Haryana, Andhra Pradesh and Tamil Nadu, procurement of wheat and paddy has in the last decade spread to Madhya Pradesh (under the BJP chief minister Shivraj Singh Chauhan), Chhattisgarh (BJP's Raman Singh) and Odisha (Biju Janata Dal's Naveen Patnaik). One can see a similar attempt now being made by the Yogi Adityanath-headed BJP government in Uttar Pradesh, which has targeted wheat procurement of four mt for the current year, up from 3.7 mt in 2016-17 and 0.8 mt in 2015-16.
With national elections not too far and the Narendra Modi government promising to give farmers a minimum 50 per cent return over production cost – which may take the MSP for common paddy close to Rs 1,700 per quintal – the coming year could witness a further jump in procurement by government agencies. But that would also imply further displacement of the private trade: In paddy and wheat, the "state" has clearly today become the "market".
📣 The Indian Express is now on Telegram. Click here to join our channel (@indianexpress) and stay updated with the latest headlines
For all the latest India News, download Indian Express App.