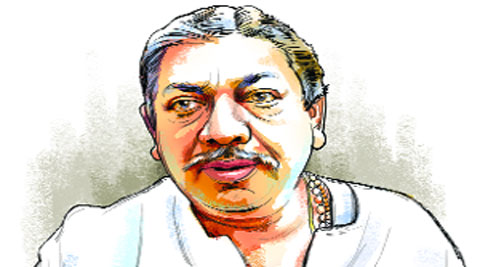 Somen Mitra, 70, Trinamool Congress MP from Diamond Harbour, is set to resign and return to the Congress at a time the latter is struggling in West Bengal. A towering opposition leader with seven stints in the assembly since 1972,  he was Sealdah MLA and heading the state Congress when Mamata Banerjee broke away to form the Trinamool Congress, then went on to join her party in 2008. Excerpts from an interview:
Is it true that  you will join Congress after resigning on January 15?
Let me resign from Parliament first. It is unwise to talk about my next move as long as I am in the Trinamool Congress.
What or whom are you unhappy with in the Trinamool?
I have nothing against anyone, and Trinamool leaders have not publicly insulted me either. I am leaving because the party has been moving away from the principles it promised to follow and on the back of which it came to power. It is difficult for me to adjust with its new stand. The party's slogan was, "We want change, not vengeance," but we have seen a huge deviation. Women are being assaulted and raped, the administration is not taking notice. Thousands have been cheated by chit fund companies. Land is being grabbed by land sharks. In a nutshell, the "Ma, mati, manush" slogan has taken a different turn. Ma is being raped, mati is being encroached on, and the manush is being cheated. Party leaders are making comments such has "hurl bombs at police" and "cut off the hands of the opposition", the party chief knows it, but neither the party nor the administration is doing anything against these people. The police, on top of it, are giving them security. I wanted to talk to the chief minister but she didn't have the time to sit with me. Perhaps these things are trivial to her.
How has the party taken this?
When I joined the Trinamool Congress on July 21, 2008, my objective was to start a movement against the Left Front, something no individual or party had managed to do. I had declared I would be with Mamata Banerjee until she took the chief minister's seat. Now that she has, I don't think anyone can point fingers at me. My commitment is clear. When people are leaving the Congress, I am returning to what had been my home.
Will others in the top order leave the Trinamool?
Those who had been with the Trinamool since its inception are being ignored and insulted now. They are crying but don't have the courage to come out of it. We call it "Red Trinamool" and "Green Trinamool"  now. People who joined after the party came to power are now controlling it. I did not force anyone to leave the Congress and join the Trinamool when I did, nor will I do that now. But if they want, they will be welcomed in the Congress because it is a party where there is a place to debate and discuss.
Once, you were one of the reasons why Mamata Banerjee left the Congress (Mitra was PCC chief then). Is she paying you back?
It is a forgotten chapter. History will show that when Mamata declared she would start a party, the All India Congress Committee asked me to remove her from the party. Saugata Roy, then the general secretary of WBPCC, would vouch that I had said it would be a foolish move but the AICC insisted and I had to follow its decision. There is no question of a payback.
Can any promise or assurance help change your decision?
No, there is no question of going back. I have a clear idea about the position of the Congress here. I will join it because I feel I will have the freedom to express my views. In the Trinamool, everyone is suffocating; people have the right to follow, not to discuss.
The chief minister is upset that you wrote to the Centre without discussing those issues with her first.
I wrote to the Centre about the growth of chit fund companies and the abysmal results in the Teachers' Eligibility Test. I wrote about how lower-level TMC leaders were taking money from poor job aspirants but being unable to give them the jobs. These poor people had borrowed in lakhs and bribed these leaders and could not repay the debts. The party realised later that the letters were written in the interest of the government.
It is often said your wife forced you to join the Trinamool Congress. Will you now ask her to follow you to the Congress?
I will not force anyone. When Sikha realises she should, she will. She is a newcomer to politics. She can express her views in public.